Celtics
5 takeaways as Jaylen Brown, Semi Ojeleye lead Celtics over Orlando Magic
"I work hard. I'll say that first and foremost. Semi probably works harder than me."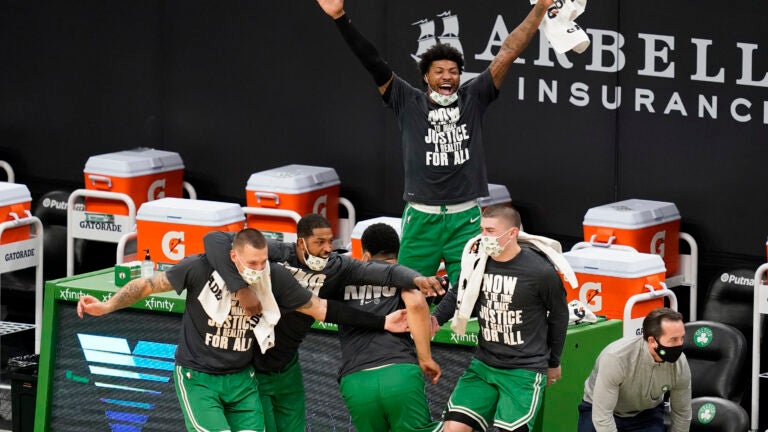 The Boston Celtics returned to the court after a lengthy COVID layoff and methodically picked the Orlando Magic apart with a limited roster, rolling over Orlando 124-97 without Jayson Tatum or Rob Williams (or, of course, Kemba Walker and Romeo Langford).
Five takeaways as the Celtics found some semblance of normalcy.
Returning from a COVID break wasn't quite as weird this time.
The first time the NBA shut down due to one positive COVID case, the rest of the country followed suit. Other sports leagues stopped play immediately. Offices closed. Many restaurants shuttered their windows and never opened them again.
Nearly a year later, everything has been so normalized, it seems the country would barely blink if a sports league shut down due to a massive influx of positive cases. The NBA has said it won't, but the league is clearly struggling as game after game is postponed — 13 total after Memphis and Minnesota hit pause on Friday.
Some of the Celtics weren't surprised by the postponements.
"As weird as it probably sounds, [the shutdown] wasn't that strange at all," Brown said. "Seeing some of the events that have transpired even at the end of 2020, early into 2021, I think it's probably fitting, to be honest."
According to Marcus Smart, Brad Stevens tells the Celtics to be "ready for curveballs," which is sound advice for anyone under the current circumstances.
"Our prayers go out to everybody who's dealing with it," Smart said. 'Every family members, family, friends, enemies, everybody that's going through it, we're praying for them and just hoping that they can get past this and cope with it as best as they can."
Semi Ojeleye looks more and more like a consistent rotation player.
In previous seasons, Ojeleye was often a focal point after games against the Milwaukee Bucks, when he would play major minutes to defend Giannis Antetokounmpo, but he spent most of the rest of the season glued to the bench.
But Ojeleye has been solid this year. Per Cleaning the Glass, the Celtics have outscored opponents by a team-high 28.1 points per 100 possessions. Individually, Ojeleye has hit 40.7 percent of his 3-pointers and has shown flashes attacking closeouts off the dribble.
Ojeleye's teammates were visibly thrilled for Tacko Fall when the big man hit a jumper and attacked an opponent off the dribble. But asked about Ojeleye after the game, both Jaylen Brown and Marcus Smart were similarly encouraged.
"I work hard, let me just say that first and foremost," Brown said. "And Semi, like I always say, probably works harder than me. Semi is a hard-working guy, man. And I've seen it for the last four seasons. I've seen him continue to get better. I've seen things not go his way. I've seen him not play minutes. And I've seen him get frustrated at times. But Semi can play basketball, man. And I'm glad he had a game like this so other people can start to see."
Ojeleye, a devout Christian, said his comfort comes from his faith when asked about his improvements.
"It sounds crazy but whether I'm in the game or out of the game, I just focus on that love and trying to show that to others, whether it's the end of the game cheering for my teammates or talking to guys on the bench," Ojeleye said. "That's freed my mind up so much that I've played well."
Jaylen Brown is simply a good passer now.
Two interesting stats, courtesy of Cleaning the Glass: Jaylen Brown's assist rate — the amount of his teammate's shots that Brown assisted — has skyrocketed from 9.6 to 17.6. In percentiles around the NBA, that's a jump from 45th to 82nd. Meanwhile, Brown's assist/usage rate — how often a player assists based on how often he has the ball — has jumped from the ninth percentile league-wide to 51st.
On Friday, Brown dished out a career high eight assists in just 25 minutes. His previous career high — a December game last year against the Pacers — required 34 minutes. Interestingly, six of Brown's eight assists — including the first five — resulted in 3-pointers. Collapsing the defense and kicking out to shooters is a skill he has showcased more this season.
After the game, Brown was quick to note he has a lot of room for growth.
"Every year I try to get better, but at the same time, I've gotten more and more opportunities," Brown said. "So I think that's the biggest difference — just opportunity. You get experience, and experience starts to turn into awards and performances. So I'm just grateful to be able to be in this position to have this responsibility and I'm trying to handle it the best I can."
Payton Pritchard offered reliable offense off the bench without Tatum or Brown.
Pritchard submitted yet another intriguing performance, carrying the second unit offensively with Brown out of the game. The rookie finished with 16 points on 6-for-13 shooting and keeps finding ways to contribute and impress.
"We've seen it with Payton before the guys went out," Smart said. "Payton has been doing it, coming in and really excelling. Really just surprising us and everybody else in this league. He's showing that he belongs here."
The Celtics have two assistant coaches in quarantine.
As reported by ESPN's Tim Bontemps, Jay Larranaga and Jerome Allen are both quarantined due to health and safety protocols.
The Celtics are trying to do make do for the time being.
"We've got a big staff," Stevens said. "We've got a great staff. You don't want to have anybody missing or out, but those guys are still adding as much value as possible while they're out. Those guys were on zoom calls with us all the time, they're on zoom calls with their individuals. I'm sure Jay has rewound Tacko's jump shot 58 times already, and watched it with great joy. They work together and he spent a lot of time in the gym with him. So, I'm sure they both missed being here and they'll be back with us soon."
Get Boston.com's browser alerts:
Enable breaking news notifications straight to your internet browser.