Celtics
5 takeaways as the Knicks crush the Celtics, including Kemba Walker's chemistry with Jaylen Brown
"He's killing it. I don't want him to think just because I'm back he can't keep killing it."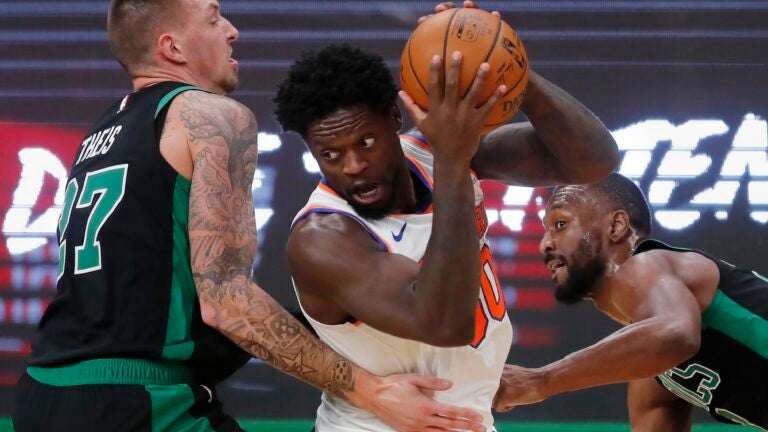 Commentary
The Boston Celtics put together their worst performance of the season on Sunday, falling 105-75 to the New York Knicks as Kemba Walker made his season debut.
Here are five takeaways from a game the Celtics would probably prefer to forget.
Kemba Walker doesn't foresee any issues re-integrating with Jaylen Brown.
One element of Walker's return that probably merits some attention is his chemistry with Jayson Tatum and Jaylen Brown. Last season, Walker slid into a tertiary role during the postseason, but he never appeared to be moving well and his role made a lot of sense.
Now Walker looks healthy and told reporters after the game he's pain-free. When the rust falls away (he committed five of Boston's 17 turnovers), he will shoulder a major role in the Celtics' offense again — he started last year's All-Star game and was an All-NBA selection two years ago. That offense will a big boost for a Celtics team that has missed Gordon Hayward's production.
The Celtics have thrived with the ball in Jaylen Brown's hands. Per Cleaning the Glass, Brown's usage rate has been 28.2 percent so far this season — a career-high by a significant amount. Trusted with more, Brown has done more: 25.8 points with shooting splits of 53.7/41.9/80.
Clearly, the Celtics need to keep the ball in Brown's hands, and Walker doesn't foresee any issues.
"None. None at all," Walker said. "He just has to keep on being super aggressive, and that's it. With me, I'm going to be out there and I'm going to do my part. I'm going to play hard, I'm going to shoot my open shots. He's killing it. I don't want him to think just because I'm back he can't keep killing it, because he can. That's what I'm here for. I'm here to continue to encourage him just to be great, which he's been all year. I just want to try to add onto it. That's it."
Walker isn't certain how long he will have a minutes restriction.
Walker went down hard in the third quarter after taking a shot to the ribs, and he briefly went back to the locker room. After assuring Brad Stevens he was fine (and that he wasn't lying), Walker still didn't return to the floor due to his 20-minute limit.
After the game, Walker said he wasn't certain how long he would have restrictions, but he felt great.
"I'm going to be honest, I hope it's over next game," he said. "But I'm sure it's going to be for a few games. I'm just getting back. We just want to see how my knee reacts after these games and stuff like that. It'll ramp up though. I'll get there. It's no rush. I already took my time coming back and I'm going to keep taking my time until I'm full go."
The Celtics were terrible in nearly every area. 
You can start with the counting stats for the Celtics and run nearly the entire way down the line. The Celtics shot 29.8 percent from the floor, 15.2 percent from three, and 62.1 percent from the free-throw line. Two players scored in double figures, one of whom — Marcus Smart — had 10 points on 4-for-15 shooting. They turned the ball over 17 times and gave up 10 offensive rebounds. The Knicks outscored the Celtics 48-32 in the paint and 38-25 from the bench.
Dig a little deeper, and the numbers are even worse. Per Sean Grande of 98.5, Boston's 29.8 percent performance was its in 17 years. The 37-point deficit Boston achieved in the fourth quarter, meanwhile, was its largest at TD Garden since the Celtics' 53-point loss to Detroit in 2003.
More statistical ugly from Sunday…

At 29.8%, it was the Celtics' worst shooting game in 17 years (Jan. 5, 2004 vs. Detroit)

37 was the largest deficit for the Celtics since March 2015 at Cleveland, the largest at home since the historic 53-point loss to Detroit Jan. 31, 2003 https://t.co/UXoyKRJarB

— Sean Grande (@SeanGrandePBP) January 17, 2021
"They just played way harder than us," Daniel Theis said. "They really whipped our ass from the first minute. Throwing the ball all over the place, we had so many turnovers, we couldn't hit a shot. So we're going to look at film, but then it's just moving on. You're going to have nights like this, but hopefully it's just one night or two in the whole season. We can live with it if we learn from it, and go next game, and just play way harder, play our way again."
Brad Stevens isn't certain if quarantined players will be back before Wednesday (if Wednesday's game is played).
The Celtics could use Jayson Tatum and Rob Williams against the Philadelphia 76ers, but Stevens doesn't know whether either will be available yet. Based on their quarantine schedules, Wednesday is the earliest both could potentially return.
"That'll all be dependent on how the next few days go," Stevens said. "Everybody's got their own different testing protocols they have to go through and the timeline that they have to be on. So I don't know what to expect for Wednesday night. We'll just play it by ear and go with the information we get every morning."
However, the Celtics might not even have to travel by Wednesday. The Sixers' game against the Oklahoma City Thunder on Sunday was postponed, as Philly was forced to quarantine due to contact tracing. Per Kyle Neubeck of the Philly Voice, the Sixers have no positive tests to report, but they played the Memphis Grizzlies on Saturday, who played Karl-Anthony Towns and the Timberwolves on Wednesday. Towns recently tested positive for COVID.
The most important thing on Sunday was simply getting Walker back in the lineup.
An afternoon tip with two players missing due to COVID against a lottery team in mid-January is a recipe for a trap game. Add in the new element of Walker, as well as New York's recent struggles, and Sunday's result isn't surprising.
None of that excuses the loss, of course, and the Celtics didn't ask for excuses. The point is just that Sunday's game — while ugly and presumably embarrassing for the Celtics — probably doesn't warrant panic.
"We got beat by a team that was better than us today," Stevens said. "That's the beautiful part about basketball. You're good if you play good in that 48 minutes. That's it, that's all that matters in a given game."
Get Boston.com's browser alerts:
Enable breaking news notifications straight to your internet browser.