Celtics
Kemba Walker's knee 'pain free' in return to lineup: 'It feels weird actually not having pain'
"I've been hurt for a very long time."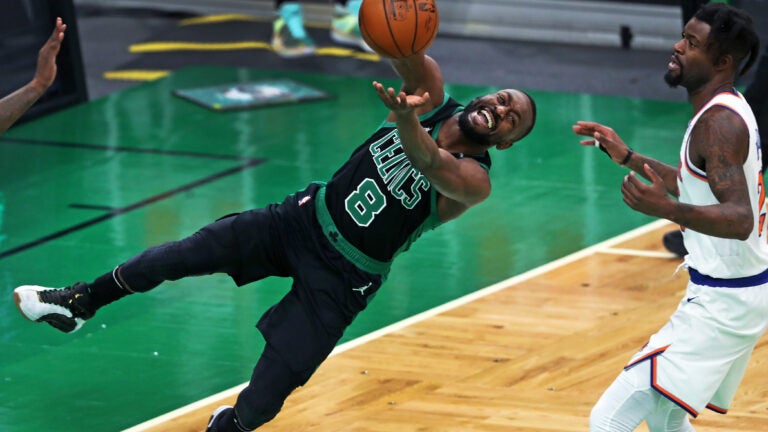 Kemba Walker had good reason to be in a good mood on Sunday afternoon, even after the Boston Celtics took their worst loss of the season — a 105-75 beatdown at the hands of the New York Knicks.
Walker, who made his season debut after missing the first few weeks to rehab, said he felt no pain in his previously balky left knee for the first time in recent memory.
"I felt really comfortable making my moves. Pain-free, which I haven't been for a very long time," Walker said after making his return. "It feels weird actually not having pain, if that makes sense. It's kind of a weird feeling. I've been hurt for a very long time so I was really just happy to get out there, just super excited. It was fun, can't wait to get back out there."
Walker, who noted after the game that he wasn't particularly focused on his stats, finished just 3-for-13 from the field and 1-for-8 from deep.
But as Walker noted, his primary goal on Sunday was re-integrating him back into a starting lineup that has missed him. His teammates were enthusiastically ready to do so.
"I think today my teammates were so excited that I was back, they kind of just sat around and wanted me to do so well and wanted me to shoot and get back right away," Walker said. "I'm just trying to tell them to play ball and not worry about me. We have to get that chemistry back. I've been out for a while, I haven't been playing with the team or practicing much. It's only a matter of time."
After a lackluster performance in the Disney World bubble, Walker got a stem-cell injection in his knee this offseason hoping to alleviate the soreness that limited his productivity. After the injection, he and the Celtics put together what Brad Stevens called "a hell of a plan" meant to get Walker back on the court and keep him there.
That strengthening forced Walker to miss the first few weeks of the season, but the Celtics barely missed a beat — Sunday's blowout loss dropped them to 8-4, tied for the second-best record in the Eastern Conference. If Walker is back to full health, he and the team will be thrilled with the results.
"At one point it was like, mentally that's all I could think about," Walker said. "Like, on the court, in the bubble, that's all I could think about was my knee. Every step I took, every move I made, it was something, even when I wasn't playing. Now I'm out there and I'm trying to do a step-back and the first thing out of my mind is like, 'Damn, this is probably going to hurt.' Not even worried about making or missing the shot, it's just about the pain.
"Today when I'm out there, I'm making the moves I normally make and I don't feel anything and it's joy. I'm excited. I put in a lot of work. I really attacked my rehab to get where I'm at, and I want to continue to build off this and just try to stay healthy. That's the most important thing."
Get Boston.com's browser alerts:
Enable breaking news notifications straight to your internet browser.