Celtics
Celtics' Robert Williams woke up sweating due to COVID-19, says virus 'took a toll'
"I'm here, so I can't complain. I'm happy."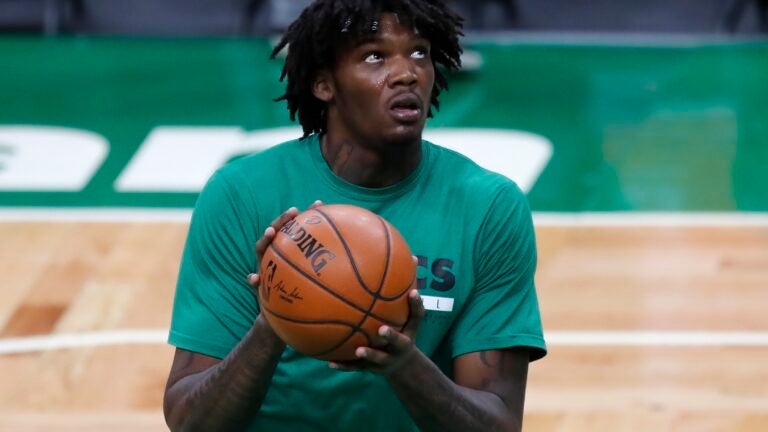 Robert Williams said he learned he had tested positive for COVID-19 as the Boston Celtics landed back at home after their trip to play the Miami Heat earlier this month.
The resulting quarantine — from which Williams finally returned on Tuesday — was a "difficult time" for the third-year big man.
"It's all I know," Williams said. "So it took a toll on me. But, like I said, I'm just happy to be back."
Unlike Marcus Smart, who tested positive for COVID in March, Williams did experience flu-like symptoms, including cold sweats. He described a sleepless night pulling his blankets on and off as he tried to get comfortable.
Still, Williams had bigger concerns. Shortly before his own diagnosis, he learned that his daughter and his daughter's mother both tested positive for COVID, as well as his own mother three days ago.
Williams said his daughter and her mother both recovered.
"My daughter, she didn't really show any symptoms," Williams said. "Still playing around, still running around, but I had to keep an eye on her."
For his own health, Williams focused on hydration. The NBA is strict about what players can do after a positive diagnosis — no exercise is allowed for 10 days, then the player is required to go through two or three monitored workouts.
"As the days progressed, I got strength back," Williams said. "When I felt like I could move around and do stuff, I did a couple of stretches at home, just trying to stay on top of my conditioning, staying strong a little bit. But for the most part, it was just downtime."
Williams was part of a large contingent of Celtics who were forced to miss time. Jayson Tatum reportedly tested positive as well, and Jaylen Brown, Grant Williams, Tristan Thompson, Javonte Green, and Semi Ojeleye were all forced to quarantine due to contact tracing. Carsen Edwards was later ruled out due to health and safety protocols as well.
Tatum won't return for Wednesday's game against the Philadelphia 76ers, and Brad Stevens said Tatum's status for Friday is still "to be determined."
The quarantined Celtics kept up a group chat, checking in on each other and offering encouragement.
"Just telling people to stay safe, stay healthy, check in on people's family members," Williams said. "It's a lot of team effort put into that which I thank my teammates for checking in on me too obviously because it was a tough time."
With a matchup against the Sixers and Joel Embiid looming, Williams is happy to be back on the court.
"Really just happy to be back out here with my guys. The test, it had me down a little bit, flu symptoms. But I'm here, so I can't complain man. I'm happy."
Get Boston.com's browser alerts:
Enable breaking news notifications straight to your internet browser.