Celtics
Celtics' Marcus Smart rips officiating after loss to 76ers, says Joel Embiid 'flails' for calls
"It's tough to play like that. It's tough."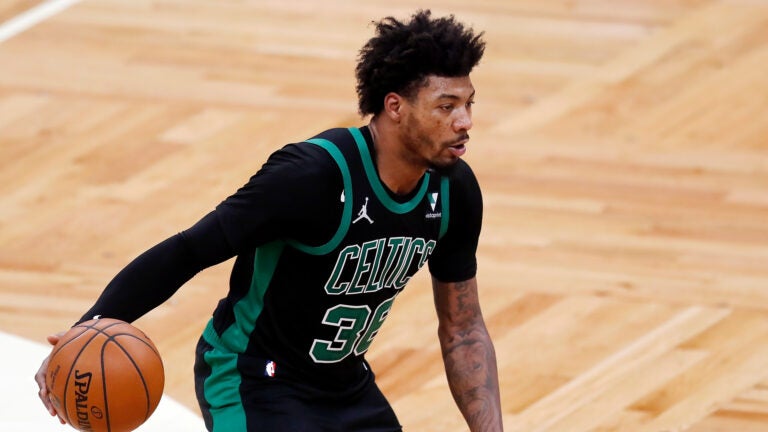 Boston Celtics guard Marcus Smart was quick to the podium on Wednesday, following the Celtics' 117-109 loss to the Philadelphia 76ers.
Still wearing his uniform and brandishing a stat sheet, Smart sat down at the table and examined the numbers as he was asked the first question about the foul disparity — Philadelphia shot 43 free throws to Boston's 20. Of Philly's 43 attempts, star big man Joel Embiid took 21.
"He shot — alone, himself — 21 free throws," Smart said emphatically. "Our team shot 20. Can't beat that. They shot 36 for 45, we shot 13 for 20. Hard to win that way."
The Celtics, without Jayson Tatum, held on for more than three quarters against the Sixers and took a lead into the fourth. But down the stretch, Embiid's physicality punished the Celtics, and he went to the free-throw line repeatedly. As a team, the Sixers shot 17 in the fourth quarter (15 if you subtract an intentional foul to stop the clock in the final minute).
Smart criticized Embiid's style of play.
"It's tough. It is tough," Smart said. "Especially when we've got our hands up a lot of the times, and he flails and gets the call. And then down on the other end, we've got our guys attacking the rim, getting a lot of contact and we're just not getting the whistle. It's tough to play like that. It's tough.
"If the roles were reversed I'd do it every time. I mean, I'd be on too if every time I threw my arms up, or every time I got touched I'm going to the free-throw line. I mean, it's kind of hard not to get into a rhythm that way when you shoot 21 free throws alone and they allow you to hack on the other end. It's tough, but we battled. The team did a good job. We were right there to give ourselves a win and try to run it back again on Friday."
Asked about Smart's comments, Embiid noted Smart himself is known to search for foul calls.
"Marcus Smart just told me that I flail a lot?" Embiid asked. "Come on. I'm sure he knows himself, and he knows his game too, he does a lot of that.
"And I don't think I do. I mean, if you watch basketball and if you're a student of the game and if you actually pay attention during the game, we all see. Every single foul, I get fouled."
Embiid added that other players are often more physical with him — a 7-foot behemoth with quick feet and a soft touch.
"I guess I'm just smarter than everybody else," Embiid said. "I just take advantage of it. I just take advantage of how they're guarding me. You can call that, I don't know, basketball IQ. Like, if you're going to put your hand up there, I'm going to take advantage of it and I'm going to get to the free-throw line, because I know that I'm a great free-throw shooter, and that's a better chance for me to help the team win in those situations."
Kemba Walker was less critical when asked about the mini-controversy.
"Embiid is smart, man, he knows how to get fouled," Walker said. "He understands that part of the game and he's been doing that for a while now, having guys foul him. He's a huge body. It's not much you can do but to foul him sometimes.
"We've got to help our bigs. Stopping Embiid is not a one-on-one thing. That's close to being impossible. You can stop him a few times, but you've got to count on your teammates to help stop that man."
Get Boston.com's browser alerts:
Enable breaking news notifications straight to your internet browser.