Celtics
5 takeaways from Celtics vs. 76ers, as Joel Embiid has a good point about free throws
"The game is physical, other teams tend to try to be extra physical against me."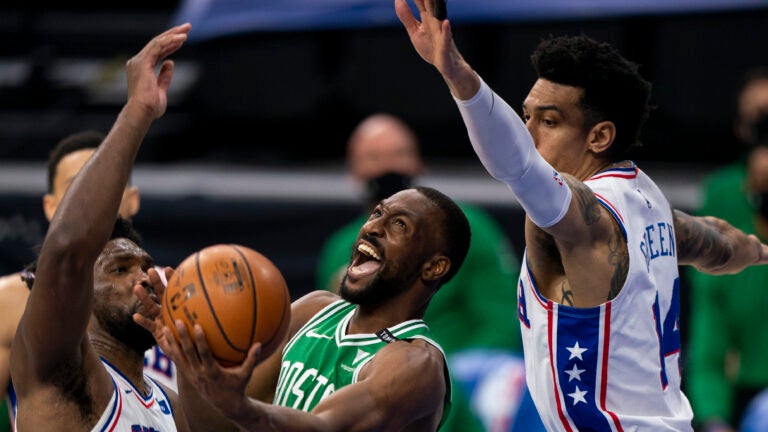 Presumably, the Boston Celtics hoped Tristan Thompson would be at least something of an answer for Joel Embiid.
After all, while Thompson is just 6-foot-9, he's a sturdy 250 pounds. That Celtics big-man archetype has given Embiid fits in the past (looking at you, Enes Kanter).
This season, however, Embiid looks like a different player. The Sixers star dropped 42 points on 19 shots in Philadelphia's 117-109 victory over the Celtics. He was ruthless getting into the paint and punishing smaller Celtics defenders, and the Sixers moved the ball crisply around the perimeter when Boston sent a double team.
Asked about Boston's defense against him, Embiid sounded unintentionally condescending.
"Hey, they got some pretty good players," Embiid said. "Tristan Thompson, he's been in the league for a long time, he's won it. Daniel Theis, he's a big guy, he's doing a great job. …
"So it's not about the size. They got plenty good big men. I guess, you know I just did a better job through the double and triple teams that they sent."
The Celtics had nothing but complaints postgame about the officiating for Embiid. Embiid worked his way to the free-throw line 21 times and shot back at Marcus Smart when the Celtics guard criticized him for flailing afterward.
"Marcus Smart just told me that I flail a lot? Come on," Embiid said.
He then noted — not incorrectly — that teams defend him differently due to his combination of size and skill.
"The game is physical, other teams tend to try to be extra physical against me," Embiid said. "And I guess I'm just smarter than everybody else, I just take advantage of it. I just take advantage of how they're guarding me. You can call that, I don't know, basketball IQ. If you're going to put your hand up there, I'm going to take advantage of it and I'm going to get to the free throw line, because I know that I'm a great free throw shooter and that's a better chance for me to help the team win in those situations."
The Celtics need to find a way to defend Embiid better. On Wednesday, Robert Williams didn't play, and while Williams isn't a perfect option against Embiid, a different look might help. One other option (and bear with us here): Tacko Fall is taller than Embiid and roughly as heavy. On Friday, giving Fall a look might be worthwhile. He has been solid at times this season, he can match Embiid's size and weight, and the Sixers don't really have the personnel to punish him in the pick-and-roll.
One thing is clear: Thompson and Theis aren't the answer 1-on-1. Embiid has gotten too good.
Romeo Langford isn't going to be back any time soon.
Langford was spotted working out and getting up some jumpers prior to Wednesday's game.
Romeo Langford doing some light shooting here in Philly. pic.twitter.com/vTevoUQPQ3

— Adam Himmelsbach (@AdamHimmelsbach) January 20, 2021
According to Brad Stevens, however, he still has a ways to go.
"Just the next step is getting shots up pregame," Stevens said. "I mean, there's not much going on. He is shooting with the right hand, which is encouraging, has been for five days or so. But I don't even know if he was shooting threes tonight or not. I know that they started out shooting 17 footers just to not stress the wrist, so he still has a long way to go."
Kemba Walker and Daniel Theis have a good connection.
Last season, Walker struggled when he played with bench units — per Cleaning the Glass, lineups with Walker but no Tatum or Brown were outscored by seven points per 100 possessions.
On Wednesday, however, Walker showed a nice connection with Theis, who has been coming off the bench behind Thompson. If Theis keeps coming off the bench, and if he continues to slot in nicely with Walker, the Celtics might have a solid work-around that can help them stagger their top guys throughout the lineups.
"If you go back and watch last year, and how Theis finds Kemba both in transition and in the half court and how Kemba has a good feel for the speed of his rolls, where he's going to be, when he needs to be there, all that stuff, that was one of the reasons why I thought Theis at the start of last year really separated himself," Stevens said. "Because he had a great way of finding others and making them better. I thought he played well tonight. He did a lot of great things, not just the shooting, obviously, but the way that he got in and out of screens, and I thought he fought defensively. That's a hard guy to guard."
Walker looked healthy and felt good. What's next?
Both the Celtics and Walker have emphasized the importance of keeping him healthy long-term. On Wednesday, he looked speedy and shifty once again, and he poured in 17 of his 19 points in the first half.
Still, Stevens sat him for nearly the entire third quarter and limited Walker to just 22 minutes as the star point guard works his way back after undergoing a shot and a strengthening program for his balky left knee.
"It's hard to play five-minute stints and then don't play for however long it was before he went back in at the end of the third quarter," Stevens said. "But we've got a lot of guys on the bench that do that, and it probably gives Kemba an even better appreciation for those guys, and being called on at unique times and always having to be ready."
Walker said sitting the third quarter was "tough" but that that Stevens was upfront about his plan. He added, however, that he isn't certain what the next step will be.
"I definitely feel like I could've [played more]," Walker said. "But really, I'm just working my way back, man. It's going to take some time just to get those minutes up. I'm still trying to get the speed of the game down and I just feel like I'm a little behind, just a little bit. But I'm getting back and I'm not going to rush the process."
Long live the "He's Too Little" trash talk
Finally, here's to the celebration in which, after a bucket, a player holds his hand a few feet above the ground to show his defender he's too little to do anything.
Joel Embiid broke it out against Tristan Thompson on Wednesday, only for Jaylen Brown to do the same in the second half when he worked Ben Simmons to create a jumper.
Jaylen Brown in his BAG pic.twitter.com/0aP9LwiUDR

— Boston Celtics (@celtics) January 21, 2021
That particular celebration is profoundly insulting, which is the point of any good trash talk. Friday's game could be a lot of fun.
Get Boston.com's browser alerts:
Enable breaking news notifications straight to your internet browser.