Celtics
Danny Ainge discussed Jayson Tatum, NBA officiating, and his 'Trader Danny' reputation
Ainge also explained why he has no time for the Bill Belichick-Tom Brady debate.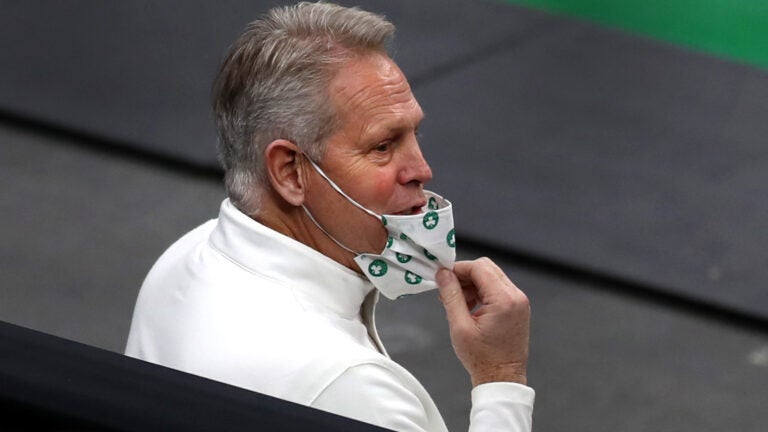 Despite the Wednesday night loss to the Eastern Conference rival 76ers, the potentially imminent return of Jayson Tatum from having COVID-19, and comments from Marcus Smart about the discrepancy in fouls called by NBA referees, Celtics president of basketball operations Danny Ainge jumped into his weekly interview with 98.5 The Sports Hub's "Toucher & Rich" on a different note.
Shortly after starting the Thursday interview, Ainge took umbrage with the debate amongst fans about if Tom Brady or Bill Belichick was more important to the Patriots' success.
"Why can't we, as New Englanders, just appreciate what a great era we've had with Bill Belichick and Tom Brady?" Ainge lamented, asking why fans can't just "enjoy that, instead of having a competition between Belichick and Brady and who's more important?"
"That is so weird to me," said Ainge. "That's like who's more important, Red Auerbach or Bill Russell? Like no, they both played a big role."
Ainge related the debate to perpetual comparisons between current Celtics Jaylen Brown and Jayson Tatum.
"What difference does it make?" asked Ainge. "We need them both. You need them all. This internal competition is sometimes created by the outside world, not so much by their own existence, and everybody is talking about it, so maybe there's sensitivities that develop in that."
An update on Jayson Tatum.
On the subject of Tatum, who is recovering from COVID-19, Ainge noted that things were progressing towards the 22-year-old's return.
"He looks good," said Ainge. "I'm on my way in to watch him work out right now, and talk to him and see how he's doing. But yeah, he seems in a good place and I don't know when he's coming back, but I'm guessing within the next few games he'll be back playing, being himself.
"With being out for a couple of weeks and not being able to do anything while he had COVID, it's tough," Ainge continued. "We're just being cautious and careful with Jayson, but yeah it's a conversation that he has with our medical staff, with our trainers and they'll make that determination."
His thoughts on foul calls during the Celtics-76ers game.
The Celtics' Wednesday loss to the 76ers included a major difference in free throw totals for the two teams. Boston made it to the free throw line 20 times, while Philadelphia totaled 45 (76ers center Joel Embiid notched 21 just by himself).
Ainge admitted the team isn't at its peak in terms of defensive performance.
"I think that we're not where we need to be defensively, and I think we'll get better defensively," said Ainge.
Asked if he thought the officiating was particularly bad — and specifically if there were "some sort of shenanigans" involving how the game was refereed — Ainge admitted he felt Boston had not received all the calls that should've been made.
"I don't think they're shenanigans, but I do think there were a couple — like the one where Kemba [Walker] got fouled on was definitely a three-point shooting foul," said Ainge. "That is a no-brainer, like that is not a good call, but that happens. Bad calls happen."
The issue received particular attention after Smart complained following the game that 76ers center Joel Embiid was embellishing contact in order to draw more fouls.
"I thought Marcus felt like he got frustrated because Joel Embiid does the kind of James Harden move where you stick your arms out and you draw contact and you really didn't do anything as a defender except your arm was in the way, and we're always trying to hide your arms so they can't seek it, but I don't like the look of that," Ainge noted. "I don't like what that does. I think it's an ugly look for the game.
"I'm not blaming those players that are good at it," Ainge added. "Players with long arms stick their long arms out and get fouls and they're just seeking fouls. They're not trying to make a shot, and Marcus I think felt like he got bumped on a couple drives to the hoop. He thought he should've had a couple and-ones where he got hit and there was contact. And he didn't get those. So I think it was a frustrating defensive game for us, but yeah we have to do a better job of not fouling."
He doesn't think his reputation for winning trades has hampered future deals.
In a recent Celtics Blog piece from Keith P. Smith (in which current and former NBA general managers discussed what it was like to complete a trade with Ainge), the Celtics executive's history of winning lopsided deals for Boston was analyzed.
Asked if he thinks current peers are weary of trying to trade with the Celtics because of his past successes, Ainge said he hasn't seen proof of it.
"I don't get that sense," Ainge said, laughing at the notion. "I mean I have a lot of teams that call. So there hasn't been any slowdown in the amount of calls that we get about trades.
"I mean look everybody's trying to make changes to their team," he explained. "We've obviously had good teams. I think we've won more playoff games over the last 13 years than any team in the league. Again, we have numerous conversations with other teams about trades, so I don't really know what the article is about or what people think, but we just have our own job to do about trying to get a better team."
Despite fans' notions of how NBA trades work, Ainge stressed the difficulty in making them, even in a straightforward scenario.
"Making trades is hard," said Ainge. "It's not as easy as people think it is. People sometimes think that making trades is like playing video games. You just switch a player out and put LeBron James on the Boston Celtics in 2008 and play a video game, but making trades is a very difficult process in our league."
Get Boston.com's browser alerts:
Enable breaking news notifications straight to your internet browser.