Celtics
Jaylen Brown doesn't want Americans to get complacent during Joe Biden's presidency
"I definitely want to keep the same energy up in terms of having awareness and pushing for change."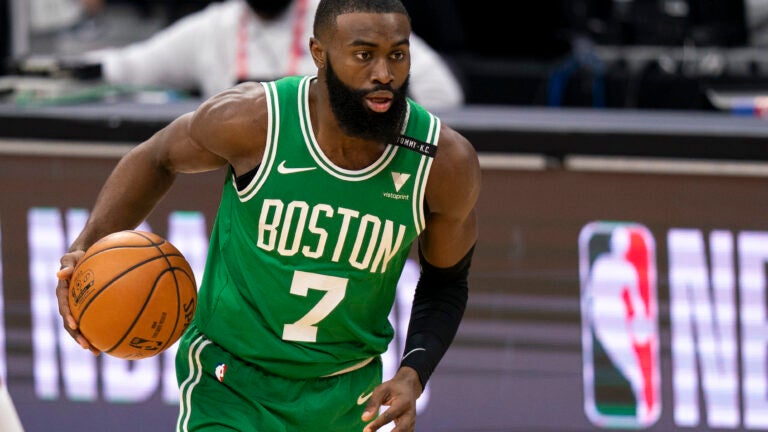 Boston Celtics wing Jaylen Brown was deeply involved in the Black Lives Matter movement this summer.
In May, Brown drove from Boston to Atlanta to lead a protest over the killing of George Floyd. After Jacob Blake was shot while the league was in the Disney World bubble, Brown supported a wildcat strike started by the Milwaukee Bucks — standing up for Bucks players who acted without the approval of other NBA players. Throughout his career, Brown has been an active voice in movements pushing for change.
So what did Brown think of President Joe Biden's inauguration on Wednesday? It's complicated.
"I think that's a complex question," Brown said on Thursday, speaking to reporters via Zoom. "My dilemma was never with any presidency or selections of different faces. It's more about the system. I think that needs to be changed. I definitely think a lot of people feel at ease knowing that there's a different president that's going to be representing our country going forward. I know there was a lot of stress attached to our former president, potentially. But I definitely want to keep the same energy up in terms of having awareness and pushing for change."
Brown said he has had "glimmers" of hope for lasting change at times, but nothing substantial has materialized. He hopes the current momentum doesn't dissipate just because a new president has been installed.
"I want people to keep the same energy, and just because we have a new president doesn't mean the system doesn't need to be changed and people need to be pacified or anything like that," Brown said. "We've got to keep the same energy up, people still have to care, people still need to make phone calls. I'm looking forward to continuing to fight for change."
Brown said activists should be opportunistic, even if they are relieved to see Donald Trump leave office.
"I think we've seen this before," Brown said. "I think we've had, in the past, previous presidents or previous people in place who gave those same glimmers of hope. And people were still dying that should not have died. The system — people were still being incarcerated at a high rate. There's still systemic oppression that exists. So I think we've seen these situations before… I don't want to be pessimistic, but I think now having a new face, people are taking their foot off the gas and thinking that everything is OK now and I would like to challenge that. I think that we still have a lot of work to do, regardless if Biden is in office or not."
Get Boston.com's browser alerts:
Enable breaking news notifications straight to your internet browser.