Celtics
Celtics' Jayson Tatum out vs. Philadelphia 76ers on Friday as he continues to rehab from COVID-19
Tatum tested positive earlier this month, sparking a rash of absences.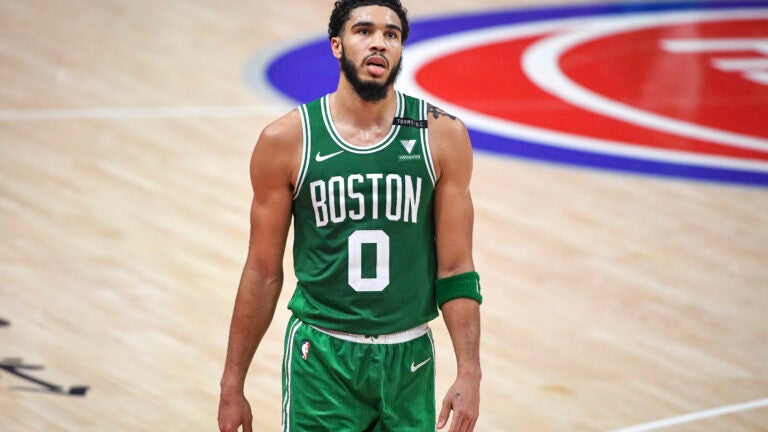 Jayson Tatum will miss Friday's game against the Philadelphia 76ers, the Celtics announced on Thursday.
Tatum reportedly tested positive for COVID-19 earlier this month, sparking a round of contact tracing that forced the Celtics to postpone three games. On Wednesday, Brad Stevens told 98.5 that Tatum was "50/50" for Friday.
Speaking to the media after Thursday's practice in Philadelphia, Stevens said he wasn't certain what Tatum's status would be, but that the fourth-year forward was still in Boston.
"He feels great," Stevens told reporters on Wednesday. "He's out of the protocol but now he has to ramp back up the activity."
Robert Williams also tested positive for COVID. He was available to play against the Sixers on Wednesday but received a DNP (coach's decision).
Williams said that Boston's quarantined players stayed in touch while they were forced to isolate.
"We were all checking in on each other every day within the group text message, just telling people to stay safe, stay healthy, check in on people's family members," Williams said. "It's a lot of team effort put into that which I thank my teammates for checking in on me too obviously because it was a tough time."
In 10 games, Tatum has looked like a superstar again this season — 26.9 points on 47.4/43.8/88.9 shooting splits to go with 7.1 rebounds and 3.8 assists. The Celtics are 7-3 when he plays and have lost two of the three games played without him.
Stevens was asked about the difference between ramping a player up from injury (such as Kemba Walker, who is working his way back from knee issues) as opposed to COVID.
"The cardiac screening has to be done before you can enter the gym and before you can do anything, and obviously as a coach, that's all I can really think about," Stevens said. "I would never want to put somebody out there who hasn't gone through that. And then the part that the minutes restrictions is decided by, once they're cleared, with the cardiac stuff, is just how many minutes were they playing prior to, what was their activity level in the 14 days, which is usually completely none, and then you're just trying to balance getting ramped up in a game scenario with the idea of preventing muscular injury. It's more about that than it is anything else, because they haven't done anything. … We want to be very, very careful as guys come back into play."
Get Boston.com's browser alerts:
Enable breaking news notifications straight to your internet browser.