Celtics
Morning sports update: Kendrick Perkins weighed in on the Marcus Smart-Joel Embiid controversy
"You're my boy, but Joel was not flopping last night," Perkins said of Smart's accusation. "He was just imposing his will. That's it."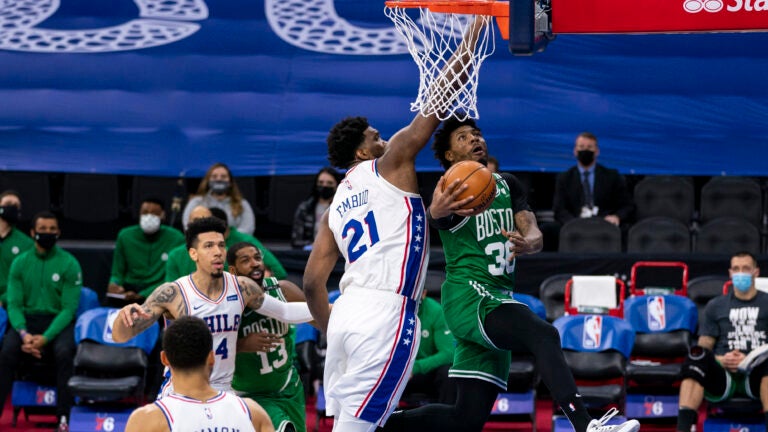 The Bruins defeated the Flyers 5-4 in Thursday's 2021 home opener. Boston emerged victorious after a shootout, and some timely saves from Tuukka Rask.
Pretty solid.#NHLBruins | @tuukkarask pic.twitter.com/Wlw2g3s6Hu

— Boston Bruins (@NHLBruins) January 22, 2021
Tonight, the Celtics face the 76ers at 7:30 p.m. in a rematch of Wednesday's contentious matchup between Eastern Conference powers. Boston aims to avenge the earlier defeat and end a two-game losing streak.
Elsewhere on Wednesday, the Revolution selected University of Pittsburgh forward Edward Kizza 24th overall in the MLS SuperDraft, also adding Manhattan College defender Francois Dulysse in the second round.
And this weekend, the Boston Pride begin play in the 2021 NWHL season bubble at Lake Placid.
Kendrick Perkins weighed in on the Celtics-76ers rivalry: Following Wednesday's 117-109 loss to the 76ers, Celtics guard Marcus Smart had some thoughts on the officiating of 76ers center Joel Embiid, who had more free throw attempts by himself (21) than Boston did as a team (20).
"It's tough. It is tough," Smart said of defending Embiid. "Especially when we've got our hands up a lot of the times, and he flails and gets the call. And then down on the other end, we've got our guys attacking the rim, getting a lot of contact and we're just not getting the whistle. It's tough to play like that. It's tough.
"If the roles were reversed I'd do it every time. I mean, I'd be on too if every time I threw my arms up, or every time I got touched I'm going to the free-throw line. I mean, it's kind of hard not to get into a rhythm that way when you shoot 21 free throws alone and they allow you to hack on the other end. It's tough, but we battled. The team did a good job. We were right there to give ourselves a win and try to run it back again on Friday."
Not surprisingly, Embiid had a response for Smart.
"Marcus Smart just told me that I flail a lot?" Embiid replied. "Come on. I'm sure he knows himself, and he knows his game too, he does a lot of that."
On Thursday, former Celtics center (and current ESPN analyst) Kendrick Perkins was asked about the controversy, and "which side" he was on.
"I love it," Perkins began. "No more of this buddy-buddy ball. Go at each other. I love the beef."
"I'm on Joel Embiid's side right now," Perkins continued. "He's been playing phenomenal. But the start of the game, he established himself in the paint. He established himself [and] was dominant in the paint. Look, a lot of those calls were fouls. They were fouls. He did a great job of mixing it up, from shooting his one-two dribble pull-ups, stretching the floor, shooting his three. And then when the times got tough, he went down to the low block and got to the free throw line."
Perkins, possibly conscious of his Celtics ties, added a note empathizing to an extent with Smart.
"Marcus Smart, I get it, right, we all flop," said Perkins, using the term to describe drawing fouls. "We know you're a flopper. You're my boy, but Joel was not flopping last night. He was just imposing his will. That's it."
Smart, 26, has been accused of attempting to manipulate calls in his favor before. Some of his more conspicuous flops have received attention in the past. He offered a defense of the "flopping" in 2019.
"I flop on defense, your favorite player flops on offense," Smart explained in 2019. "That's the only difference. Especially in a game where the offense has nothing but the advantage, the defense has to do something to get the advantage back."
Smart and Embiid will face each other again on Friday at 7:30.
Trivia: Joel Embiid and Marcus Smart were both selected in the 2014 NBA draft. What two-time All-Star and member of the 2019 All-NBA First Team was taken in the second round of that draft?
(Answer at the bottom).
Hint: Like Embiid, he didn't play in the entirety of his rookie season. Unlike Embiid, it was not because of injury.
More from Boston.com:
Jaylen Brown's call to keep focused even with a new president:
"I want to keep the same energy up in terms of having awareness and pushing forward for change"

Jaylen Brown talks about the importance of continuing to fight for social justice pic.twitter.com/5fpmGBs4P1

— Celtics on NBC Sports Boston (@NBCSCeltics) January 21, 2021
Robert Kraft's remarks on Gillette Stadium's usage as a mass vaccination site:
"While the @Patriots and @NERevolution have certainly proven to be assets to our community, so is this building in which they play." pic.twitter.com/FFrfpKolEJ

— Gillette Stadium (@GilletteStadium) January 21, 2021
On this day: A year ago at the World Indoors Bowls Championships, Nick Brett cooly chuckled at the analysis from teammate Greg Harlow before delivering an absolutely perfect shot.
Daily highlight: Let Jake DeBrusk's deciding goal in Thursday's shootout win for the Bruins take you into the weekend.
Oh that's just cheeky, @JDebrusk. 🤭#NHLonSN pic.twitter.com/dzxUgOlfw5

— Sportsnet (@Sportsnet) January 22, 2021
One more angle on the perfectly weighted floater:
A kick and a float.#NHLBruins | @JDebrusk pic.twitter.com/nStbyTdfa6

— Boston Bruins (@NHLBruins) January 22, 2021
Trivia answer: Nikola Jokić.