Celtics
5 takeaways from Celtics vs. Sixers, including Jaylen Brown vs. Joel Embiid
The Celtics couldn't defend Joel Embiid for the second time in two games.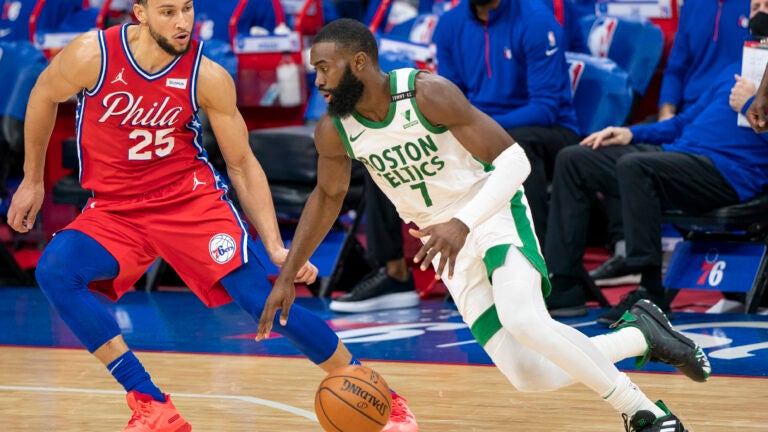 Two days after giving up a monster game to Joel Embiid in a loss, the Boston Celtics gave up a monster game to Joel Embiid in a loss.
Embiid dominated the Celtics for a second consecutive game on Friday, as the Philadelphia 76ers pulled away in the second half for a 122-110 victory.
Five takeaways from a chippy, occasionally ugly game.
Tristan Thompson just doesn't have anything for Joel Embiid.
Embiid punished the Celtics in the paint and worked his way to the free-throw line 15 times. His numbers — 38 points on 11-for-15 shooting — were nearly as ridiculous as Wednesday, and nothing the Celtics tried slowed him down in the slightest.
Prior to the season, the hope for the Celtics was that Tristan Thompson could play Embiid 1-on-1, but that simply isn't feasible. Thompson is strong, but he's not tall enough to contest when Embiid extends fully (and he might not be strong enough either, frankly). Before the game, Brad Stevens admitted to Brian Scalabrine that the Celtics don't have the pure muscle to handle Embiid like they did in the past — presumably a reference to Al Horford and Aron Baynes. Even last season, the Celtics had Enes Kanter, who was big enough to bump back.
Now, it's less clear what Boston can do. The best option might be to double team and scramble, but the Sixers have loaded up on shooters and are much better equipped to deal with that strategy (Seth Curry, somehow, is shooting nearly 60 percent on 3-pointers alone this season).
Maybe it's time to give Tacko Fall a chance?
Jaylen Brown appeared to be completely fed up with Embiid's antics.
On Friday — perhaps egged on by Marcus Smart's implication that he "flails" in search of fouls — Embiid's dominance might have been a little more personal. He snarled after every basket and appeared to be searching for calls, throwing his arms up at any contact with an incredulous look at the officials.
At one point, Embiid and Brown appeared to exchange words while Embiid was at the free-throw line, and the Sixers star approached Brown to say something else. Brown's face remained blank, but he immediately scored consecutive aggressive baskets at the rim, and he appeared to play with more of an edge the rest of the way. At one point, he swatted Ben Simmons's shot away and stood over the Sixers' forward for a long moment before offering a hand (Simmons declined).
Brown finished with 42 points on 28 shots. Getting Tatum back will be big, but Brown is a true star at this point. The story of the next few weeks will be watching how Boston tries to maximize the trio of Tatum, Brown and Kemba Walker.
Kemba Walker's surprise layups are fun to watch.
Once again, Walker — whose minutes restriction was lifted to 25-28 minutes — looked fast and healthy, scooting around screens and finding space in the defense for a variety of shots.
Over the years, Walker has developed an impressive layup package — a byproduct of being a high-usage scorer who checks in under 6 feet. His surprise layups are an entertaining part of his bag — Walker is great at catching a towering big man off guard and flipping a shot up off the glass.
Here's one example.
What an absurd finish by Kemba. pic.twitter.com/TlltA3JzNp

— Tom Westerholm (@Tom_NBA) January 23, 2021
Scoring over a player as big as Embiid requires some creativity.
The Celtics lost Embiid-less minutes in the third quarter.
When the Sixers pulled away in the third quarter, Embiid was on the bench. The Celtics can't really afford to lose those minutes against Philadelphia, and they certainly can't afford to lose those minutes by double digits.
After the game, Stevens expressed disappointment in Boston's execution down the stretch. Beating the Sixers when they are beatable would be a nice start.
Here's hoping Payton Pritchard is okay.
The Celtics' rookie guard went down with what the Celtics called a knee sprain in the first half, crumpling to the ground after Brown was pushed into his leg. Pritchard appeared to be in quite a bit of pain, and he was helped off the floor without using any weight.
The Celtics announced Pritchard suffered a knee sprain. Brad Stevens had no updates after the game and said he expects more tests will follow in the coming days.
Get Boston.com's browser alerts:
Enable breaking news notifications straight to your internet browser.