Celtics
Celtics' Jaylen Brown is 'one of the best young players in the league,' per Marcus Smart
"I'm just very, very proud of the way that he approaches every game."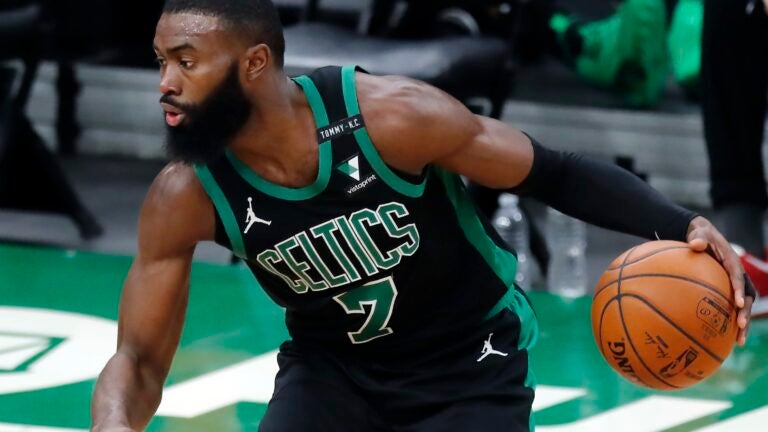 Marcus Smart, the longest-tenured member of the Boston Celtics, remembers Jaylen Brown as a rookie.
A spring-loaded athlete full of potential, Brown had a limited role on the 2016-17 Celtics team led by Isaiah Thomas that earned the No. 1 seed in the East and made a run to the Eastern Conference finals.
For the most part, Brown spotted up in the corner to shoot and attack closeouts. What Smart remembers best is Brown dropping his flat-top and driving blindly to the hoop. As a rookie, Brown shot 42.1 percent driving to the hoop, per the NBA's stats. He was, very clearly, a rookie.
Fast forward to this season, and Brown is shooting 59.1 percent on drives. That's just one area that shows the leap Brown has taken — other examples abound — but it illustrates what a different player he has become.
"His patience and poise when he has the ball," Smart said. "His rookie year, year two, that Jaylen Brown would just put his head down and go and not understand where he was going. But he worked hard, you've got to give him credit. And it shows. That's why he's one of the best young players in this game and doing what he's doing – and doing what he's doing for this team. So I'm just very, very proud of the way that he approaches every game, and like I said you can see it and it's working out for him."
On Sunday, Brown eviscerated the Cleveland Cavaliers as the Celtics broke a three-game losing streak with a 141-103 win. Brown dropped 33 points on 13-for-20 shooting in 19 minutes — a historic output for a team that desperately needed a victory.
As has often been the case this season, Brown's offense came in a variety of ways. He opened with a tough turnaround jumper. In the third quarter, he paraded to the rim against an outmatched Cavaliers' defense. He finished 3-for-4 from 3-point range. He broke down Cleveland in the pick-and-roll and buried four of his six mid-range jumpers — raising his mid-range shooting percentage to 58.5 percent for the season.
"He's been great with the scoring, he's making great physical drives, obviously, open catch-and-shoot shots but then also really tough shots sprinkled in," Brad Stevens said. "So he's constantly working to improve. He doesn't play passive. And I think that his skill, his improvement, and his aggressiveness are a good combination."
At some point, the Celtics are going to need more from other players on the roster (the bench has been inconsistent at best), and they still need to prove that Brown, Jayson Tatum, and Kemba Walker can share the floor effectively. Walker's return coincided with Tatum's positive COVID-19 test, and while Tatum is slated to return on Monday against the Chicago Bulls, Walker will miss the second night of a back-to-back.
Still, Brown — who has scored 29.5 points per game since Tatum went out earlier this month — has been handed one set of keys to the Celtics' future. Over and over, he has proven the franchise is in good hands.
"I'm just grateful to be put in positions to have responsibility and have weight and things like that," Brown said. "I've looked forward to the challenge. I'm grateful that it's finally gotten here, but I'm just trying to do the best with what I've got."
Get Boston.com's browser alerts:
Enable breaking news notifications straight to your internet browser.