Celtics
Celtics defeat Bulls 119-103 as Jayson Tatum returns from COVID-19 restrictions
The Celtics won their second game of a back-to-back.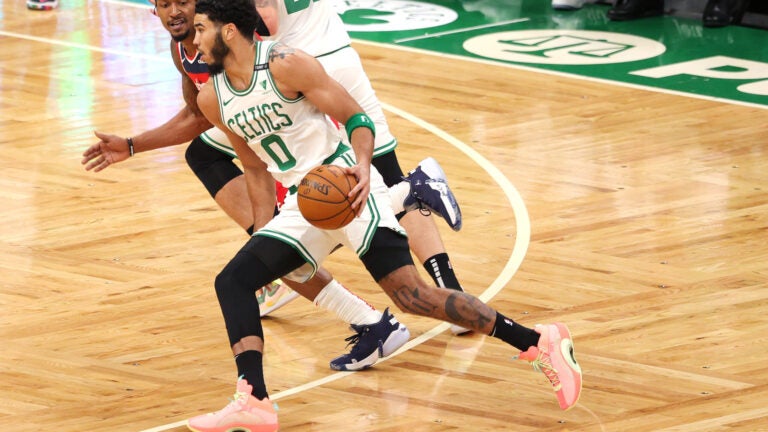 The Boston Celtics got Jayson Tatum back on Monday and looked a little more like themselves.
With Tatum back in the lineup and Jaylen Brown still rolling, the Celtics knocked off the Chicago Bulls 119-103. Brown led all Celtics scorers with 26, while Tatum added 24. Marcus Smart posted 13 points and 11 assists.
Here's what happened.
FINAL SCORE: Celtics 119, Bulls 103
FOURTH QUARTER
0:00 – Strange game, but a good win for the Celtics, who claim both ends of the back-to-back. Chicago never let the Celtics really pull away, but also never really got that close.
3:27 – The Bulls threatened briefly with an 11-0 run, but Grant Williams sank a corner 3 that pushed the lead back to 13. Chicago isn't particularly good, but it has scorers who can heat up in a hurry.
6:50 – Tatum really does look great. He's getting to the rim and getting to all of his best spots at a high level. Meanwhile, he doesn't look gassed at all. If there were concerns about his conditioning, they can probably be put to rest.
10:45 – The Celtics' rotations are so much easier with Tatum back. Taking Tatum out early allows him to join the second unit, where he is dominant — lineups with Tatum in and both Brown and Smart out have outscored opponents by 21.7 points per 100 possessions. Brown, meanwhile, is good enough to be the best player in the first unit minus Tatum, especially with Smart and/or Kemba Walker on the floor as well.
Having a lot of good players, it turns out, makes being a good team a lot easier.
Celtics 91, Bulls 76
0:00 – Really odd quarter: The Celtics felt like they had pulled away, then they seemed to let Chicago grab hold of the rope again, then they closed the quarter relatively strong. Jaylen Brown has 25 points, but presumably you expect that at this point.
5:08 – After the Celtics extended the lead to 20 or more on multiple occasions, Chicago trimmed it back to 12 with a 10-2 run. Leads are hard to hold in the modern NBA, and the Bulls have a lot of scoring weapons.
6:03 – Smart's 10th assist was a beauty — a perfectly-placed lob to Theis. Theis finished the dunk, then hit the deck hard, and Smart committed a quick foul to get him back in the play. Back-to-back nice moments for Smart.
9:11 – Twice in this quarter alone, Brown has swept to his left with a euro-step in transition and finished with his left hand. That's a tough shot, but he didn't make either look particularly difficult.
10:31 – And just like that, the Celtics did what they threatened to do in the first half and broke the game open a bit — a 7-0 run to start the half, capped by Jaylen Brown's 3-pointer, pushed Boston's lead to 17.
THIRD QUARTER
HALFTIME NOTES
– Brad Stevens has said one of the reasons he likes his two-big lineup is it gives Robert Williams a chance to get in the game. With both Walker and Smart back, the only way to start the two-big lineup is to send one to the bench, but the alternative is limited minutes for Williams, who has shown real growth this season. Stevens has a tough decision looming.
– Tatum and Brown are a combined 9-for-23, but the Celtics have shooting splits of 47.9/41.7/90.0. Daniel Theis and Marcus Smart (combined 9-for-13) have helped keep the shooting numbers respectable.
Celtics 60, Bulls 50
0:00 – The Celtics don't look dominant. They do, however, look better than the Bulls
0:02 – Brad Stevens subbed Jayson Tatum in with nine seconds remaining in the half after a long break, and Tatum delivered a perfect short-range pass to Daniel Theis for a layup as time expired. Getting Tatum in the game quick was a nice decision by Stevens.
1:09 – One game removed from a historic shooting night, Jaylen Brown is 4-for-11 in the first half. Small regression to the mean so far, but he has plenty of time to heat up.
3:41 – The Celtics haven't really been able to put any distance between themselves and the Bulls — Chicago has kept itself in the game with fast-break points (14-5) and second-chance points. Boston keeps threatening, however — Nesmith just buried his second triple of the game.
7:15 – Chicago went zone, and Aaron Nesmith buried a 3-pointer. Good sign for the Celtics both that they punished a zone and that Nesmith made his first shot of the game.
7:48 – First four minutes of the quarter have been ragged (to put it kindly). Chicago's bench has outscored Boston's 19-7 so far.
SECOND QUARTER
Celtics 33, Bulls 25
0:00 – Nice quarter for the Celtics. The two-big lineup showed more encouraging signs, and Tatum looks ready to contribute.
0:35 – Tatum gave the Celtics a great 2-for-1 opportunity with a bullet pass to the corner for Javonte Green, who knocked down a 3-pointer. Tatum had one or two bad misses in the first quarter, but he looks pretty nearly ready to go.
2:42 – Another funny note from the first quarter: At some point, someone (it sounded like Smart) shouted, "Okay, Otto, weight room!" loud enough for the court microphones to catch it. Otto Porter does indeed look like he added some muscle.
2:42 – Marcus Smart (10), Jaylen Brown (9) and Jayson Tatum (7) have combined for 26 of Boston's 28 points so far.
7:08 – First substitute of the game is Carsen Edwards, which is fascinating. Edwards had a really nice game against the Cavaliers and has impressed Stevens in practices this season, but he has mostly been a garbage-time player. With Payton Pritchard out, Edwards has a chance to show some things.
8:30 – Since I started writing the segment about Tatum's first basket, he made two more. Looks like he might be okay. His third bucket was a 3-pointer that sent the Bulls into a timeout.
9:20 – Tatum's first basket is a mid-range jumper, which he rattled in after bumping back LaVine and shooting right over him. Tatum and LaVine share a trainer, Drew Hanlen, who has had a lot of success in recent years.
11:45 – The No. 1 story is Jayson Tatum. The first basket is Jaylen Brown.
FIRST QUARTER
PRE-GAME
– Per Brad Stevens, Jayson Tatum is not a minutes restriction necessarily, but the team will monitor him for fatigue.
Stevens was asked how Tatum has looked in practice.
"I'd be lying if I said that I knew," Stevens said. "He said the first day he could feel it from a wind standpoint, but that was Wednesday. So he's had several days since then to get his shots up and work."
– The Celtics will have to figure out how to contain Zach LaVine, who is No. 8 in the NBA in scoring at 26.8 points per game on 49.7/38.2/87.4 shooting splits. LaVine, however, hasn't exactly made the Bulls a juggernaut — with LaVine in the lineup, Chicago has been outscored by 6.5 points per 100 possessions, according to Cleaning the Glass.
Get Boston.com's browser alerts:
Enable breaking news notifications straight to your internet browser.