Celtics
ESPN's Brian Windhorst says he would only trade Celtics' Jaylen Brown for '3-4 players'
"He's on my MIP ballot, he's on the All-Star ballot, he's on the All-NBA ballot."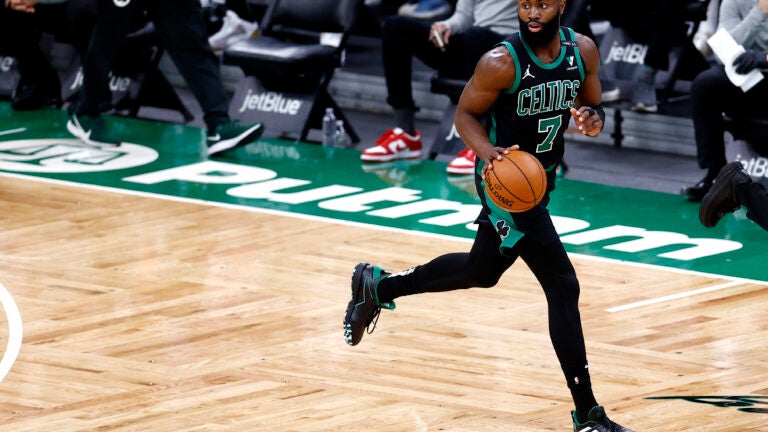 Boston Celtics wing Jaylen Brown drew plenty of praise after he became the first player to score 33 points in 20 minutes on Sunday as the Celtics eviscerated the Cleveland Cavaliers.
Brown put up points in a variety of ways, scoring at the rim, behind the arc, and in mid-range sets. Throughout the season, he has shown he can both score and create for others in new ways, and he appears headed for his first All-Star selection among other potential accolades.
On ESPN's The Jump, Brian Windhorst was asked if Brown is his frontrunner for Most Improved Player.
"He's on my Most Improved ballot, he's on the All-Star ballot, he's on the All-NBA ballot," Windhorst said. "I've got to be honest, there's only 3-4 players in this league right now I would probably trade Jaylen Brown for, and the contract he signed — while it is a $100-million contract, it's well less than the max, making the Celtics thrilled that they got him on that deal. He's arguably one of the most valued dollar-for-dollar players in the league right now, and if you watch the way he got the points in this game, he showed everything. …
"A couple years ago when he was in his second year, I thought he was going to be sort of a 3-and-D player. Hard-nosed defender who would score when the ball came to him, he wasn't getting the ball much. Now you look at him and say, 'He's a foundational piece of a championship contender.'"
Former NBA star Vince Carter, who often hosts The Jump with Rachel Nichols, concurred with Windhorst that Brown is on pace for All-Star and MIP contention, adding that Brown hit the ground running after a successful stint in the bubble.
"I think right now, [it's a] Most-Improved, the All-Star level that he's playing at right now," Carter said. "Look out for Jaylen Brown, because the Celtics have a great opportunity to come out of the East because they play on both ends extremely hard."
Carter, who frequently played against Brown during his career, noted that Brown's athleticism and size allow him to guard positions 1-4.
"He's very confident in his game, and you can see his jump shooting and his 3-point shooting, and his confidence putting the ball on the floor just start to soar," Carter said. "And every year now watching him from afar, thinking back to seeing him in his rookie year, like Brian said, you didn't know at first, and you're like, 'Oh, he's a pretty good player.'"
"Now he's becoming a special player."
Get Boston.com's browser alerts:
Enable breaking news notifications straight to your internet browser.