Celtics
5 takeaways from Celtics vs. Bulls, as Jayson Tatum describes mental toll taken by COVID
"Mentally, I can't even lie, it was tough."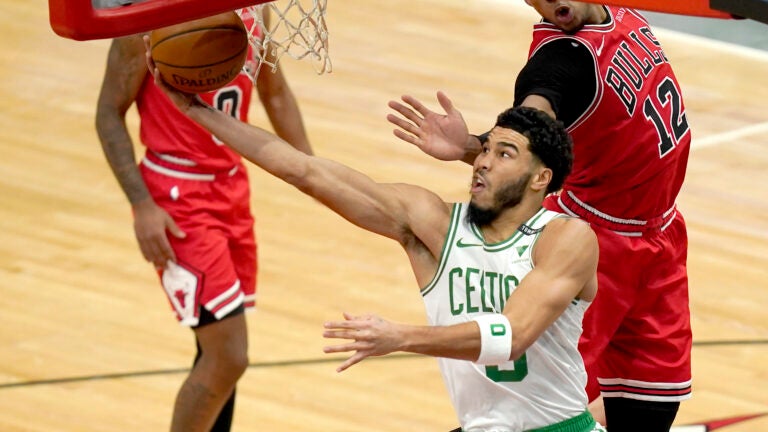 The Boston Celtics kept rolling on Tuesday with a comfortable win over the Chicago Bulls as Jayson Tatum returned to the lineup after his bout with COVID-19.
Five takeaways from the Celtics' second win in a row.
Jayson Tatum did experience mild COVID symptoms, and the mental toll was difficult. 
Initially, Tatum was reported to be asymptomatic, but that wasn't entirely true. Per Tatum, he had a headache and chills the first night he found out about his positive test. For the next few days, he anxiously monitored his symptoms, occasionally a little too closely.
"Mentally, I can't even lie, it was tough," Tatum said. "Especially your initial reaction, once you find out. I don't know if it's panic, but you definitely worry because everything you read about and hear and how many people it's affected and how many people didn't make it. …
"I was thinking like, 'Do I feel okay? Do I not feel okay? Is it in my mind? Can I smell this? Does my chest hurt? Or am I just overthinking?' And then you're on lockdown for two weeks. So yeah, mentally it can be tough, especially at first."
Still, Tatum made it through. He spent his time relaxing and watching the Celtics (he says, predictably, he remains pretty calm when watching).
"I definitely watch differently than just watching a normal game," Tatum said. "Really just dissecting our team because I know that play that we're running or what he called or where we should have been and what we could do better. So I'm not animated, but I'm definitely thinking when I'm watching."
The combination of Tatum and Jaylen Brown didn't miss a beat.
On the court, Tatum looked like himself. He told NBC Sports Boston he felt "clumsy" at first, but he soon settled into a good rhythm. His first basket was quintessential — a mid-range jumper after bumping Zach LaVine off balance and out of defensive position. From there, Tatum dropped 24 points on 10-for-21 shooting, including 3-for-6 from deep.
Stevens pulled Tatum late in the fourth when he hit his minutes restriction and received a nasty look in return.
"He wasn't happy with me," Stevens said. "That's a surefire way of knowing you're the coach when you take a guy out that's on a minutes restriction. He's going to make some sort of unhappy gesture your way."
Still, Stevens said he was "extremely happy" with Tatum's performance. Presumably, Celtics fans are too. Tatum and Brown were swarmed defensively, especially in the paint, but they still managed to combine for 50 points on 42 shots. They can both run their units as the undisputed No. 1 option — Tatum with an all-bench group, Brown with Smart and others. On the floor together, they present an opposing defense with a lot of uncomfortable coverage decisions.
Stevens said he was primarily looking for defensive effort from Tatum.
"That's why you can't play long stretches, if you're playing that hard, the right way," Stevens said. "So I'm looking more for that stuff out of those guys. I don't worry one bit about him finding the basket. That's what he does."
Aaron Nesmith has had back-to-back solid performances.
The Celtics hoped their rookie wing would be able to contribute this season, but in the early going, that looked like a pipe dream. Nesmith, devoid of Summer League or a normal training camp, struggled defensively with the speed and force of the the NBA and didn't look comfortable as a shooter. He clearly still had potential, but this year looked questionable.
On Sunday and Monday, however, Nesmith showed some flashes. He buried three triples against the Bulls and hustled defensively. That's all the Celtics need from him for the foreseeable future.
"It's really just having a mindset of staying ready," Nesmith said. "Even in highly competitive games where I might not play as much or I might not get into the game, still just always being ready and having that mindset so that if my number does get called, I can come into the game to contribute and make plays to help us win the game."
Brad Stevens pushed back a bit when asked about Nesmith's defense.
"Obviously when you're in it every single day and you know every single drill and you know exactly what the job is on every play — sometimes we talk generally about defensive numbers or whatever the case may be, and it's just not all the way that we would evaluate it," Stevens said. "He's actually done a pretty good job all the way through. He got back-cut tonight but he's into the body, he's tough, he's physical, he stays in plays. He got the deflection in transition, and I just think he has a chance to be a good defender and he's worked really hard at learning that."
The Celtics' game against the Spurs on Wednesday is in doubt.
The Celtics are slated to travel to San Antonio on Tuesday for a Wednesday matchup against the Spurs.
San Antonio, however, was not able to play its game on Monday against the New Orleans Pelicans due to health and safety protocols. Stevens said he would rather the Celtics not travel to San Antonio until they know whether or not they will play.
Marcus Smart is throwing everything behind his back.
One entertaining subplot of the last few days: Smart has been finding teammates with style. Here's one of his better passes from Monday's win (in which Smart tied a career-high with 11 assists).
That was SMOOTH

Celtics Rewind is presented by @tmobile pic.twitter.com/2aj8CWttm4

— Celtics on NBC Sports Boston (@NBCSCeltics) January 26, 2021
That wasn't even Smart's best behind-the-back pass in the last 24 hours.
Good decision and a great pass from Marcus Smart pic.twitter.com/bvftuqeVam

— Dan Greenberg (@StoolGreenie) January 25, 2021
Smart is a very good playmaker and facilitator. His newfound affinity for flash is welcome entertainment.
"He's been playing great, especially as of late playmaking-wise, just knowing that especially if Kemba's out, he's the lead guard, making sure we're in the right spots, getting guys involved," Jayson Tatum said.
Get Boston.com's browser alerts:
Enable breaking news notifications straight to your internet browser.