Celtics
Danny Ainge admitted the Celtics' lack of consistency on defense is 'a little bit concerning'
"There are some signs there that aren't good."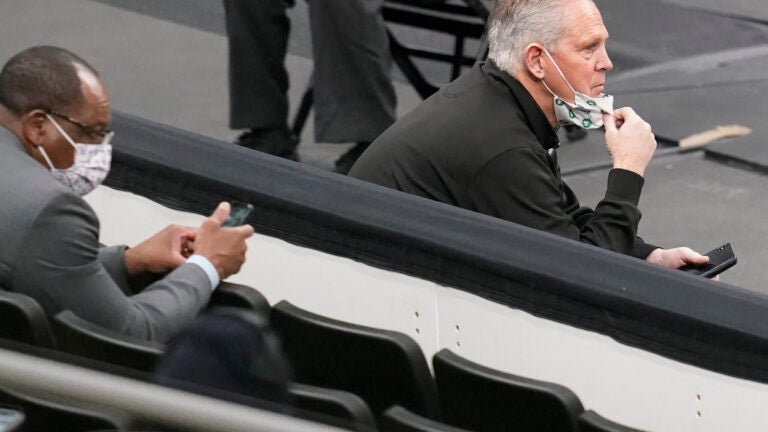 Following a 110-106 defeat against the Spurs on Wednesday in which Celtics coach Brad Stevens admitted his team "couldn't stop a nosebleed," Boston's defensive ability has remained a talking point.
In his weekly interview on 98.5 The Sports Hub's "Toucher & Rich," Celtics president of basketball operations Danny Ainge was asked about the team's issues on the defensive end.
"Yeah I wish I knew the answer there," said Ainge. "It was painful to watch for stretches last night, the defensive effort."
Ainge opened up about the unique challenges of defending as a unit, and some of the particular problems the Celtics have had to confront in 2021.
"The frustrating thing about defense is you'll have a guy that gets beat and he raises his hand or pounds his chest, like 'My bad, my bad,' so then he plays hard the next time," Ainge explained. "And then it's someone else. With defense, you just have to [have] all five guys be on the same page and working together.
"I'm definitely not making excuses as I evaluate this team, but we have [had] little practice time," the Celtics' executive noted. "We have had injuries, and had a few guys who haven't played, but the little practice time and then execution of our defense is bad. I mean Brad's whole time here, in his seven years, we've had a much better defensive team than I would've projected based on our personnel and based on size of our team. He's been able to find teams to play defense, but we have spent a lot more time in practice in the past. Like we go on the road now, you can't even leave the hotel, and anyway it's just a difficult time."
Boston had to deal with a string of games postponed earlier in January after several players either tested positive for COVID-19 or were forced into quarantine due to contact tracing.
In the team's first game back after the postponed games, the Celtics held the Magic under 100 points in a 124-97 win. Since that time, Boston has been unable to keep an opponent from reaching triple digits in the last six games. The Celtics have gone 2-4 in that time.
"It's not an excuse because we just showed against Cleveland, and I thought half of our Chicago game, after being embarrassed with defense in Philadelphia, the team responded," said Ainge. "I know it's in there, I know it's in them, but if you don't play defense consistently…I mean you just don't go on the road and give up 56 percent shooting and win very often. It's a formula for disaster."
Ainge was asked if he thinks the problems are derived from a lack of effort, or if it's simply just a lack of practice time due, in part, to some of the NBA's COVID-19 protocols while team is traveling.
"Just because I know the character of the guys on our team, I think that there's a little bit of conditioning, a little bit of execution and just the time that it takes to be a really great execution team, and injuries," Ainge answered. "I think it's a combination of all of those, but like I said, when we were embarrassed, our team bounced back. I do think that there was a couple of guys that have really been carrying our team that did look a little bit more fatigued last night.
"We played solidly defensively in stretches and then just wouldn't get the rebound," Ainge added. "We wouldn't finish off the possession."
Injuries and missed practice time aside, Ainge admitted the possibility of larger issues.
"There are some signs there that aren't good," he acknowledged. "We'll see how we can bounce back. We have a big game coming on Sunday, and it'll be a good test."
The Celtics face the Lakers at 8:30 p.m. on Jan. 30 at TD Garden.
As he looks to the future, Ainge sees the lack of consistency as something he will keep an eye on.
"We've played probably eight or nine games I would say this year that we played really well," said Ainge, "and played really hard, and it seemed like winning was more important than anything else. That's the nature of the guys on our team. So it's a little bit concerning that we haven't had that consistently, played with that same force."
Get Boston.com's browser alerts:
Enable breaking news notifications straight to your internet browser.