Celtics
Celtics vs. Lakers: Facing LeBron James, Brad Stevens has 'learned not to doubt the greats'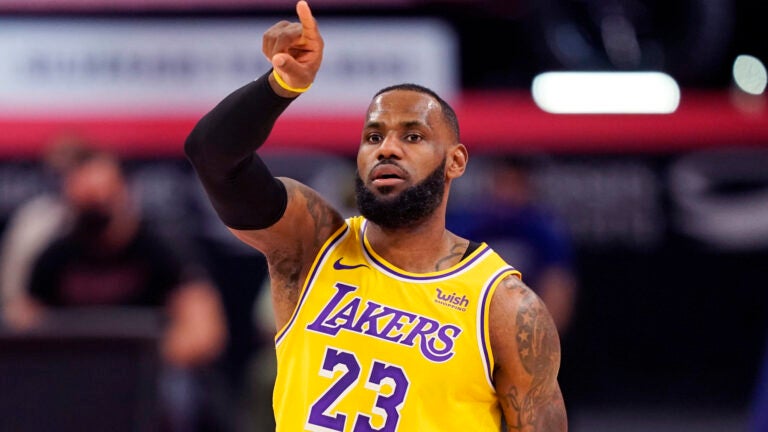 Boston Celtics coach Brad Stevens has faced LeBron James often over the years, both in the regular season and in the playoffs.
James eliminated the Celtics twice in the conference finals while playing with the Cleveland Cavaliers. He ruined Paul Pierce's jersey retirement. When he went to the Western Conference, the Eastern Conference breathed a collective sigh of relief.
Over the years, Stevens picked up on a valuable lesson as he prepped to face James and the Lakers on Saturday night.
"I've learned not to doubt the greats of all time," Stevens said. "Everywhere I turn right now, everybody wants to talk about Tom Brady here in New England. He's 43 and going to another Super Bowl. The bottom line is if anything, LeBron has continued to improve. You see it in so many different areas and so many different ways. I thought he was fantastic in the bubble. And I think he's picked right up off of that. There's not many guys who can play like that, this well, this late, but there weren't many guys like him before he got to this point."
Marcus Smart recalled Game 7 in 2018, when the Celtics held a small lead and were poised to make a precocious run to the NBA Finals during Jayson Tatum's rookie season. The series went to seven, and in Game 7, James did the heavy lifting to hoist the Cavaliers over the upstart Celtics.
"LeBron took us on and pretty much put the daggers in us himself," Smart said. "Just remember him on me … I'm up in his grill, and he takes a 30-footer fadeaway, shot clock running down and hits it. It just showed the type of player that he is, playmaker that he is. It doesn't matter what moment of the game, he's always going to make those big plays. So we're definitely expecting their best punch, and we've got to come out and give them ours."
Saturday's game will feel a lot different in an empty TD Garden, but the Celtics expect to take a haymaker punch from the defending champions who have lost two in a row.
"Any time you get a chance to play not only Celtics/Lakers, but the team that just won the championship, the team that's one of the best teams in the league, would be considered by most the favorite to win it again, they are a team you know you'll have to play your very best against," Stevens said. "And then you throw in the rivalry — the rivalry is obviously the rivalry. Each game is worth one until you add them all up at the end. But you also create opportunities to get more information and learn more about yourself."
Other pre-game notes:
– Both LeBron James and Anthony Davis are expected to be in the lineup for the Lakers after being listed as questionable.
– The Celtics' defense has struggled this season. Per Cleaning the Glass, the Celtics are ninth in opponent points per 100 possessions — not abysmal, but lower than previous years despite talented defensive personnel.
Smart, the team's defensive leader, has seen enough of it.
"Our effort just isn't there," Smart said. "We're dying on screens, me included. We're a step slow. We're confused. And we've got to fix it. There's no way we shouldn't be able to guard guys man-to-man and we have to go to a zone because we can't guard. It's definitely going to be fixed, but it's going to take us to fix it."
Celtics vs. Lakers tips off at 8:30 p.m. on ABC.
Get Boston.com's browser alerts:
Enable breaking news notifications straight to your internet browser.