Celtics
Here's why Celtics' Kemba Walker believes struggles vs. Lakers were 'more mental than anything'
"I'll take it on the chin. I understand I can be better."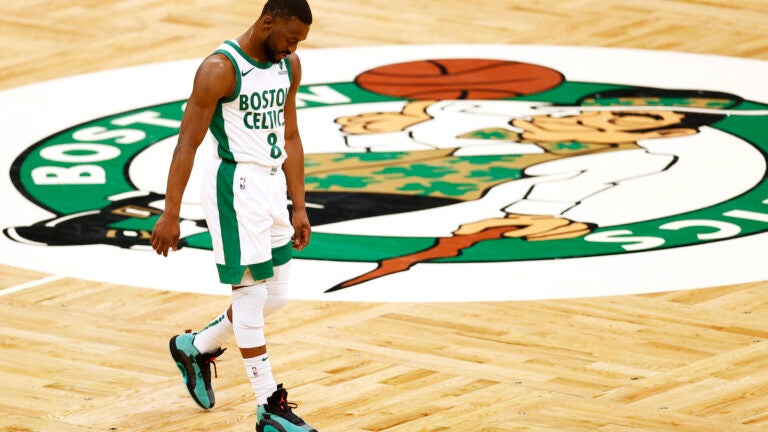 The Boston Celtics need much more out of Kemba Walker than they got in Saturday's 96-95 loss to the Los Angeles Lakers.
Perhaps nobody is aware of that more keenly than Kemba Walker.
"I'm a little disappointed in myself personally," Walker said after he finished 1-for-12 from the floor, with just four points.
Walker's struggles were wide-ranging. He set the tone early by missing a difficult-but-doable layup at the rim. His finger roll shortly after was swatted away by Marc Gasol. His first 3-point attempt barely grazed the front of the rim. Working to the baseline in the first quarter, Walker finally made his first basket — a mid-range jumper — but his next mid-range attempt was blocked by Montrezl Harrell.
His toughest miss of the night, though, was his last one. Defended by Dennis Schroeder with time running down in the fourth, Walker went to his patented step-back and created enough space for a jumper — a shot he has hit repeatedly under pressure in the past, which would have redeemed his entire evening.
But there was no redemption story. Walker's shot clanked off the rim, Daniel Theis' follow tip missed, and the Celtics fell to 10-8.
"I thought we had a great player have a great look," Brad Stevens said.
Walker was willing to take the heat for his performance. He didn't have to answer questions from the media — in general during the Zoom era, teams offer up players who performed well..
Walker's teammates, however, had nothing negative to say about him. Jaylen Brown, without prompting, praised Walker and expressed confidence in him going forward.
"Kemba's a great player and he knows that's a shot he's going to make," Brown said. "So we're going to need him. And he knows that for us to go far, we're going to need him. So next game, forget about it, move on."
Stevens noted that the Lakers hounded Walker defensively. Schroder frequently pressured Walker all the way up the floor, and when Walker drove to the hoop, Lakers bigs converged to challenge him.
He added that Walker has particularly lofty expectations of himself.
"Kemba has such a wonderful way about and is such the greatest teammate," Stevens said. "And he puts a lot of pressure on himself to be really good, and I think that tonight they put a lot of attention on him, they had a huge presence on him, and it just wasn't his night."
During the offseason, Walker received a stem-cell injection in his knee to calm the pain that limited his effectiveness against the Miami Heat in the Eastern Conference finals. Walker and the Celtics' training staff then embarked on a months-long training plan meant to build him back to full health.
In his first few games after returning, Walker looked healthy and quick. On Saturday, however, he didn't appear to be moving quite as explosively, although he never looked hobbled.
"I've been around for a minute now," Walker said. "This ain't the first time I've shot the ball bad, to be honest. Just got to look past it. I have no choice, man, but I would have loved to have shot the ball better, but unfortunately I didn't. I'll take it on the chin. I understand I can be better. I'll continue to work and find my rhythm and be better for this team. …
"I got into my own head and mentally I hurt myself and I can't do that for this team," he said. "These guys look to me, especially when things are going tough, these guys look at me and I can't put my head down and not mentally be engaged into the game like I was tonight. I got to be better on that end."
Still, the Celtics know that Kemba Walker sets their ceiling, and his struggles would be a painful blow to their hopes of winning the Eastern Conference for the first time since 2010. Fully realized on Boston's roster, Walker brings important depth — a third star who can create for himself and alleviate some of the pressure on Jaylen Brown and Jayson Tatum.
"We're riding Kemba," Stevens said. "He's a really good player who really cares about his team and really wants to be a part of something special with guys that are going to give for each other. And sometimes it's not your night. But more often than not, it is his night. And we believe strongly in that."
Get Boston.com's browser alerts:
Enable breaking news notifications straight to your internet browser.