Celtics
Celtics' Marcus Smart 'very sore' after suffering calf tear, still using crutches on Sunday
"Nobody does what Marcus does on the court."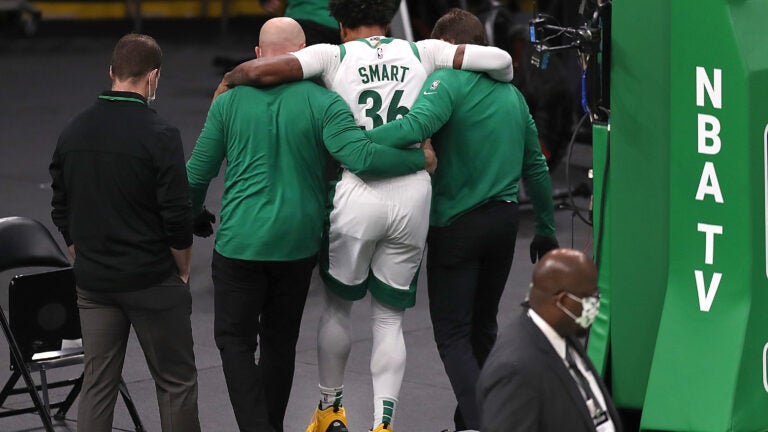 Boston Celtics coach Brad Stevens was hopeful Marcus Smart hadn't suffered a season-ending injury by the time he left TD Garden on Saturday, after the Celtics' 96-95 loss to the Los Angeles Lakers.
Still, getting the official news — that Smart had suffered a Grade I tear of his left medial gastrocnemius, which the team said would require roughly 2-3 weeks before he could return — was something of a relief, even if Smart might not feel the same.
"That was encouraging but probably didn't make it feel any better these first couple days," Stevens said. "I know Marcus was really sore yesterday and he still was using crutches, so we'll see how long it takes. He did not come with us, so obviously we'll get more information throughout the week and next week again."
Smart's injury — which, translated, amounts to a torn calf muscle — is a major blow for the Celtics until he returns. The Celtics are also without Payton Pritchard, who sprained his knee. Stevens said Pritchard planned to participate in elements of the Celtics' practice on Monday, but he wouldn't play live with the team.
Kemba Walker, meanwhile, remains on a minutes restriction as he continues to build up his left knee.
"He'll play pretty similarly to what he's done in the last few games," Stevens said. "Obviously, as far as rotating other guys and who gets those minutes, who has a chance to play, or hasn't played as much who is going to play more, or play a little bit, those things will all be determined based on opponent over the next five games that we're on this trip."
With or without Walker, the Celtics will miss Smart's presence on both ends.
"Nobody does what Marcus does on the court," Daniel Theis said. "For us, it's a collective — not just Marcus is out and one guy is going to take his role. For us, it's a team. He's missing as a playmaker as well, so whoever steps on the court has got to do whatever he can to help us win. For us as a team, you gotta make the next step. We can't go back and forth the whole season. Wins and losses, we want to just improve hold it down until Marcus is back."
Get Boston.com's browser alerts:
Enable breaking news notifications straight to your internet browser.