Celtics
Here's why Jayson Tatum, Jaylen Brown remind Stephen Curry of himself and Klay Thompson
"What makes them even better is their human qualities."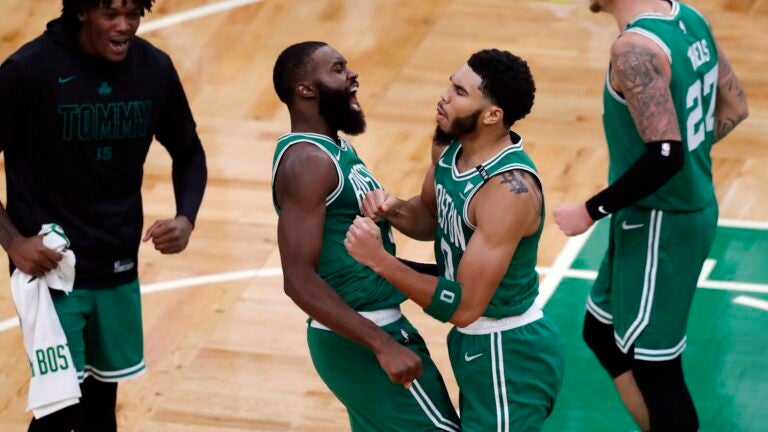 One of the biggest challenges for the Boston Celtics this season has been — and will be — figuring out how to balance the singular talents of Jayson Tatum and Jaylen Brown.
In this case, "balance" can mean a lot of things. The Celtics need balance in scoring between the two. They need to figure out how to balance players with some similar skillsets but key differences, maximizing the areas where each player stands out. They need to balance the minutes each player spends on the bench.
For the Celtics, helping Brown and Tatum play off each other could play a major role in how this season unfolds.
Golden State Warriors star Steph Curry — who had to figure out how to play with a similarly talented player in Klay Thompson — can relate.
"You have two talented guys that have to figure how to play off each other," Curry said. "If one guy's got it the other guy has to stay engaged and vice versa, and you guys have to both elevate yourselves in that same process. They got thrown into the fire where me and Klay and Draymond [Green], we didn't.
"They played in the Eastern Conference finals their first year when Jayson came on the scene. They were thrown into big stages, and they got that experience and I'm sure they benefited from that. But just understanding how they could both evolve and get the most of their individual talent but play together and balance it with the rest of the guys, definitely a lot of similarities there for sure."
Like Brown and Tatum, Curry and Thompson are similar players with a few key differences. But Curry and Thompson found balance and led the Warriors to immense success even before Kevin Durant joined the team.
Warriors coach Steve Kerr oversaw all of Curry and Thompson's championship years. Like Curry, Kerr — who coached both Tatum and Brown at the FIBA World Cup in China two offseasons ago — has been impressed by the rise of Tatum and Brown.
"They have the size and the speed and the quickness to guard every position," Kerr said. "And they have the skillset to score from any part of the floor. They can make threes. They can get out in transition and hammer dunks. They can score in the half court while using their footwork, so both guys are the modern archetype that we're all looking for.
"What makes them even better is their human qualities, their work ethic, the chemistry they generate on a team. They're fun guys to coach, fun guys to play with. When you have that combination of being a really good person and having that kind of God-given ability, it's a good combination."
Asked about the duo again before Tuesday's game, Kerr added that often their sheer size and muscle gets overlooked.
"Everybody sees their skill, their athleticism, but they're both really strong and powerful players," Kerr said. "So it means it's difficult to match up with them with smaller guys."
Like Curry and Thompson, Brown and Tatum have become the core of the Celtics. Other players — even stars — might come and go around them, but the team's success rides on its two talented young wings.
"We don't need them, any of them, overly concerned about getting others involved as much as just, just be you and we'll all get you involved," Brad Stevens said. "That's the task for the rest of us. I think that that's the bottom line on our team. We're going to need everything all those guys have."
Get Boston.com's browser alerts:
Enable breaking news notifications straight to your internet browser.