Celtics
5 takeaways as Jayson Tatum leads the Celtics to an ugly win over Steph Curry and the Warriors
Sometimes winning ugly is a good thing.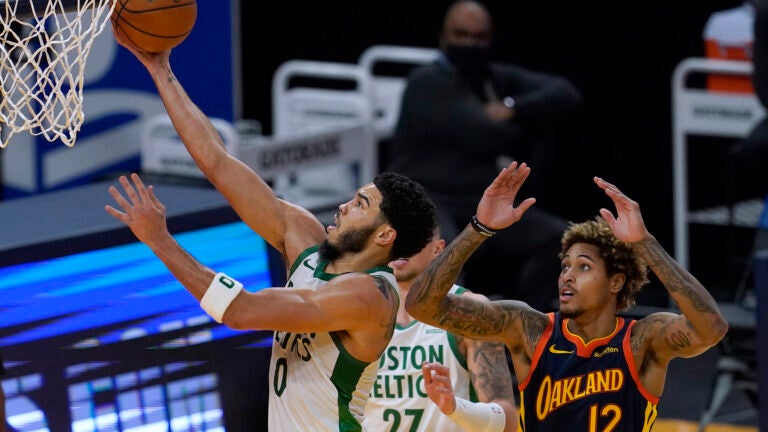 COMMENTARY
The Boston Celtics outlasted the Golden State Warriors 111-107, despite a spirited effort from a short-handed squad on Tuesday.
Warriors star Steph Curry poured in 38 points, and Jayson Tatum scored 28 for Boston as the Celtics got just enough from their bench and their defense to bounce back after their loss to the Lakers on Tuesday.
Here are five takeaways.
The Celtics won ugly.
Jaylen Brown scored 18 points on 8-for-20 shooting. Kemba Walker started hot, but he finished 6-for-18. If it weren't for contributions from less likely sources (Grant Williams, Tristan Thompson, Jeff Teague), Boston might very well have started its road trip off with a loss, followed by a game that likely will not include Kemba Walker.
Instead, the Celtics made just enough free throws, punished Golden State's lack of size just enough, and found just enough offense as Golden State's final rally fell short. Sometimes winning ugly seems to give a team a spark.
Jayson Tatum plus the bench sparked a big second-quarter run.
In the second quarter, playing a Tatum-plus-bench lineup, the Celtics rallied from a double-digit deficit with a 19-5 run.
One interesting wrinkle to Tatum's excellence is the way he props up Boston's second unit. Per Cleaning the Glass, lineups featuring Tatum but no Jaylen Brown, Kemba Walker, or Marcus Smart have outscored opponents by 18.6 points per 100 possession — a number relatively in line with last year's results.
Why those lineups work so well remains a bit of a mystery, but Tatum is at his best when he's a high-volume player. Maybe part of the reason those groups work is because he doesn't have to think about anything besides trying to get buckets. For a scorer like Tatum, that could be a freeing feeling.
The Warriors were not at full strength. 
The Warriors were already without James Wiseman — who was ruled out before the game with a wrist injury — before Kevon Looney twisted his ankle in the first half. That left only Draymond Green and wings available, and the Celtics took advantage. Boston drove directly at the rim repeatedly, even when it wasn't a particularly fruitful exercise, and the Warriors started to crack a bit from the pressure. Throughout the second half, the Celtics got whatever they wanted on the glass and repeatedly took advantage of the lack of rim protection.
Grant Williams has stayed ready with inconsistent minutes.
The start to Williams' season was a little discouraging, but he has had some nice performances recently. Tuesday was an example: Williams worked hard defensively, helped the Celtics on the offensive glass, and continued his torrid shooting pace from behind the 3-point arc — 46.9 percent entering Tuesday's game. He swatted Steph Curry in the first half. Shortly afterward, he channeled Steph Curry with a step-back 3-pointer.
By blocking Steph Curry, Grant Williams has become Steph Curry. pic.twitter.com/QDdYhPUUgQ

— Taylor Snow (@taylorcsnow) February 3, 2021
Williams might not always be a contributor — he received a DNP-CD against the Los Angeles Lakers on Saturday, although Brad Stevens pushed back postgame on the idea that Williams was out of the rotation. Performances like Tuesday's might buy him some more consistent stretches.
Steph Curry was a flamethrower.
Before the ball even left Steph Curry's hands on his second 3-point attempt of the first quarter, Brad Stevens was up calling a timeout, unhappy at what he was seeing (predictably, Curry splashed the attempt).
Early in Tuesday's game, the Celtics struggled to stay with Curry, which allowed the ever-hot Warriors star to start the game comfortably. Curry then punished the Celtics for the rest of the game, finishing with seven triples on 12-for-21 shooting. Boston's defense improved throughout the game, but the fuse was already lit.
To make matters worse, the Celtics didn't always take advantage of Curry's absence. The short-handed Warriors were able to keep pace with the Celtics, and even gained some ground for stretches without Curry.
On Tuesday, the Celtics got away with allowing an opponent's best player to go off. Against teams with a functional front court, they might not be as lucky.
Get Boston.com's browser alerts:
Enable breaking news notifications straight to your internet browser.