Celtics
Here's what Danny Ainge thinks the Celtics need before the NBA trade deadline
"That's what we have to try to identify."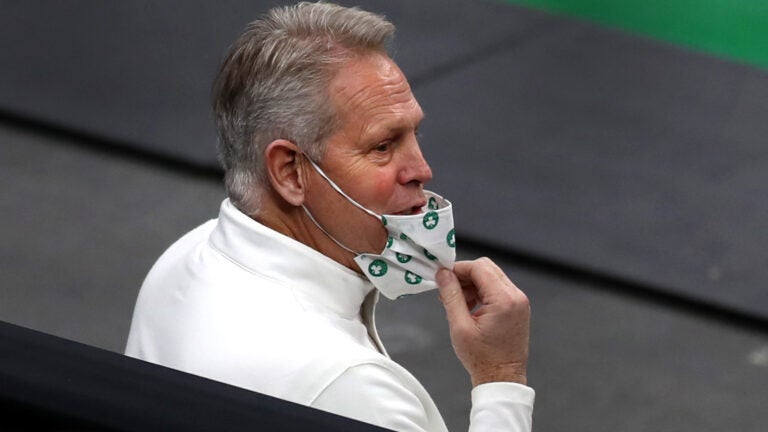 The Celtics are currently 11-9 and sit fourth in the NBA's Eastern Conference.
Boston, like every team in the league, has had to deal with the risks of COVID-19 along with injuries.
Assessing his team's roster, Celtics president of basketball operations Danny Ainge might feel the need to make a deal before the NBA trade deadline on March 25.
In his weekly interview with "Toucher & Rich" on 98.5 The Sports Hub, Ainge was asked when he thinks the optimal moment is for a potential trade.
"That's a good question," said Ainge. "Yeah, we are doing research on it. We have been all year, and we'll continue all the way up until the trade deadline, which is the end of March. I think that the sweet spot most likely is latter March. But we'd do it right now if we had a really good deal.
"The challenge is that deals that you could do to incrementally change your team might be able to be done shortly here within the next week or two," added Ainge, "but are you passing up a chance that would be even better down the road? And that's what we have to try to identify."
Ainge was pressed on what he thinks the Celtics' top need is currently.
"I would say maybe shooting with size," he replied.
"There are a lot of different ways that you can win in this league," said Ainge when asked specifically why he felt that way, "but I would say that shooting, we could use shooting, we could use passing, but you always need defense. Our team is built on defense. We've been winning with defense over the last few years. I know we haven't won a championship, but we need defense. It's hard to just find a shooter that can't guard anybody, and expect that person to just come in and make a major change on our team."
The longtime Celtics executive admitted that what he was describing is something any competitive team are also seeking.
"We're looking for complete players obviously," said Ainge, "but I think that shooting at the big position is something that we haven't had."