Celtics
Celtics will monitor Jaylen Brown's left knee as star wing misses game vs. Clippers
"Hopefully it's not something long term. We're certainly on top of it."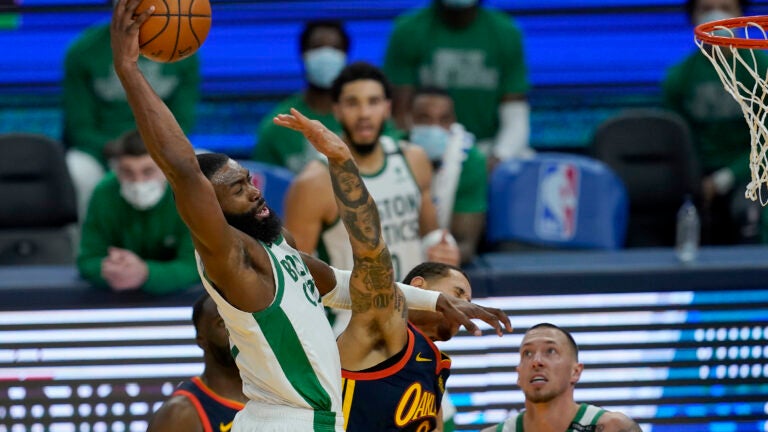 The Boston Celtics will be without Jaylen Brown on Friday when they take on the Los Angeles Clippers, as he deals with a sore left knee.
Brown showed signs of discomfort during the team's loss to the Sacramento Kings on Wednesday and told reporters after the game that he can play "with more energy, and stuff like that, getting healthy."
Prior to Friday's game, Brad Stevens said the Celtics are monitoring Brown's knee carefully and that the star wing is day-to-day.
"He really felt it more than he probably had been in the Sacramento game," Stevens said. "You saw the layup in front of our bench where he laid it in off one leg. I told him he looked like me on that one. He was sore that night, yesterday still sore, this morning still.
"He's dealing with the intensity of all the games that have come before that he hasn't missed any of. So hopefully it's not something long term. We're certainly on top of it. But it wasn't one moment that I know."
Stevens added that Brown does not have any tests scheduled. If the issue continues, the Celtics might consider load management to avoid bouncing Brown in and out of the lineup repeatedly.
"Certainly if we think it will be something where you play him and he has to sit, it would be something we'd have to look at," Stevens said.
Brown is averaging 26.4 points, 5.5 rebounds, and 3.4 assists this season and has made a strong case for his first All-Star appearance in the Eastern Conference.
"If there are 12 All-Stars, he might have been 13th last year, so it's not like he wasn't in the mix and it was not like he wasn't playing great at this time last year and I think that it's just another year of growth and hard work," Stevens said. "And then on top of that, there's just more opportunity, too. And I think that, when you add those things together, with his level of commitment, with his level of growth, the fact that we obviously are running more through him and Jayson, both, at the 32 to 33% usage rate, there's great opportunity for those guys and they've taken advantage of it."
Get Boston.com's browser alerts:
Enable breaking news notifications straight to your internet browser.