Celtics
5 takeaways as Kemba Walker's late jumper helps lift Celtics over Clippers
The Celtics needed, and got, big performances from Kemba Walker and Jayson Tatum.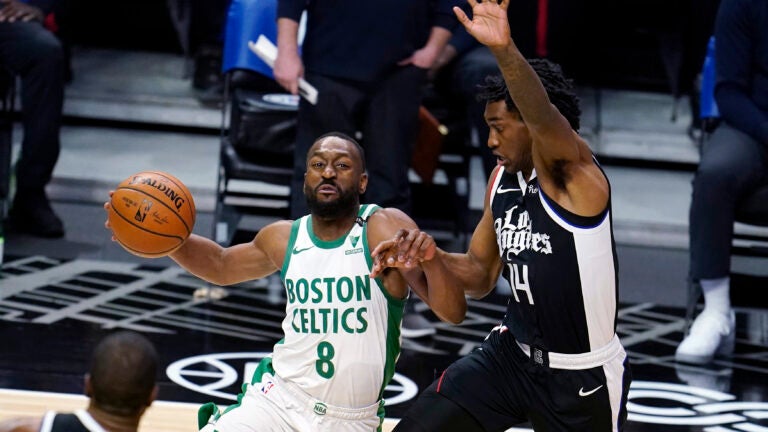 COMMENTARY
The Boston Celtics were dealt yet another blow to their depth when they announced that Jaylen Brown would miss Friday's game with knee soreness, but the remaining players rallied for an important 119-115 win over the Los Angeles Clippers despite a 16-point first-half deficit.
Here are five takeaways from a gutsy Celtics win.
Kemba Walker had a big second half.
After Walker struggled against the Lakers last Saturday, a large portion of Celtics fans seemed ready to give up on him.
In the first half on Friday, Walker appeared to be on course for another bad performance against a very good team. Early in the third quarter, however, he was gifted a wide-open 3-pointer, which he buried. Half a minute later, he cut to the basket and finished a sneaky layup over Serge Ibaka.
For the rest of the half, Walker looked a little more like himself. He hit a series of jumpers, including a step-back mid-range bucket with 30 seconds remaining that reclaimed the lead for the Celtics, and he went to the bench pumping his fist.
"I'm feeling pretty good," Walker said after the game. "It was good to see some shots go down late. My teammates really trust in me and believe in me to take those shots. So yeah, it felt good. I'm still trying to find my rhythm and keep going."
Walker's final stat line was solid — 24 on 9-for-19 shooting. Getting a nice performance from Walker, especially against a championship-caliber team, felt important.
How did this shot not go in?
Jayson Tatum was excellent — 34 points on 12-for-27 shooting with seven rebounds and four steals.
He also, somehow, missed this shot.
This shot didn't go in. pic.twitter.com/Ffk168KAQ6

— Tom Westerholm (@Tom_NBA) February 6, 2021
Sometimes, great backspin backfires.
Carsen Edwards is having a solid road trip.
Edwards has played in five of Boston's last seven games and has represented himself well — he was 10-for-18 from the floor and 4-for-10 from three before Friday's 16-point performance (5-for-8 from the field, 3-for-5 from three). A season into his NBA career, he looks significantly more comfortable, and his performance on the road trip seems to have temporarily bought him a spot in the rotation.
The additional comfort is to be expected for any second-year player, but Edwards was particularly prone to rookie struggles. At Purdue, he had a bright green light to shoot from wherever he wanted whenever he wanted. At Summer League, Edwards had a similar green light, and Celtics fans buzzed at the possibilities. Edwards, however, knew adjustments were coming when the regular season arrived, and he struggled in a smaller role with fewer touches and no real chance to build a rhythm.
According to Edwards, the difference this year is his mentality.
"You can always play hard," Edwards said. "Your effort is something you can control, just being positive. Just play hard, regardless of getting a shot or what happens, just continue to know I'm playing hard and that's just one thing I'm trying to learn and continue to learn since I got to the league last year. It's definitely something that's changed but I think it's a positive change to work on. I'm still working, I still have so much to work on."
On Friday, Edwards heated up in the first half to keep the Celtics in the game, and he cashed in a huge three-shot foul in the fourth quarter. Without his contributions, Boston might have been in a tough spot early.
Both Robert and Grant Williams are surging lately.
In a crucial development for the Celtics, Grant Williams has looked like an NBA player over the last few weeks. Defensively, he can play other positions besides just small-ball five. Offensively he has been white-hot from 3-point range — 45.7 percent from behind the arc prior to Friday (11 points, 3-for-6 from the field). Against the Clippers, Williams was an important part of the scrappy unit in the third quarter that set the tone for Boston's big second-half run.
"I think that he started a little slower coming out of the gates, but has really ramped up lately," Brad Stevens said. "He's a guy that we think when we come into a game he knows what the other team's trying to accomplish, he works hard to prepare himself and his skill has grown over the last 18 minutes and I think his comfort level. And I think in the last month there's a clear difference from the first month of the season."
Robert Williams, meanwhile, continues to show development on both sides, but most notable on Friday were his screens. Increasingly, Williams is finding good angles to carve out space for ball-handlers, which makes his pick-and-roll offense even more potent.
Celtics defense picked up significantly in the second half.
In the first half, the Celtics looked flat, allowing the Clippers to build a 16-point lead. Kawhi Leonard forced mismatches, which sent the Celtics scrambling, and the Clippers buried 3-pointer after 3-pointer as sluggish defensive rotations left shooters with seemingly infinite daylight.
The Celtics' defensive intensity spiked significantly in the second half, and the results showed. Grant Williams played hard against Leonard (more on this in a minute), and the Celtics flew out to 3-point shooters. As the defensive intensity picked up, the offensive looks got a little easier, and Boston outscored LA 38-20 in the third quarter.
"We couldn't guard them in our traditional stuff," Stevens said. "We were late to shooters and getting spread out all over the place, so we had to change, and switch a lot more and do that stuff. Guys did a good job communicating and team rebounding. We got beat on the glass a couple of times, but not as much as you would think. It became a little tough when we had the three guys who were smaller than me in, but other than that I thought we really did a good job of communicating and getting to the 3-point line better, and making them play a little bit more in isolation."
The glass-half-full take for Boston is that the defense picked up eventually. The glass-half-empty take would be that the Celtics, for whatever reason, came out slowly against a contender.
Get Boston.com's browser alerts:
Enable breaking news notifications straight to your internet browser.