Celtics
5 takeaways from Celtics vs. Suns, as Kemba Walker, Jayson Tatum struggle from field
The Celtics fell to 2-2 on their West Coast road trip.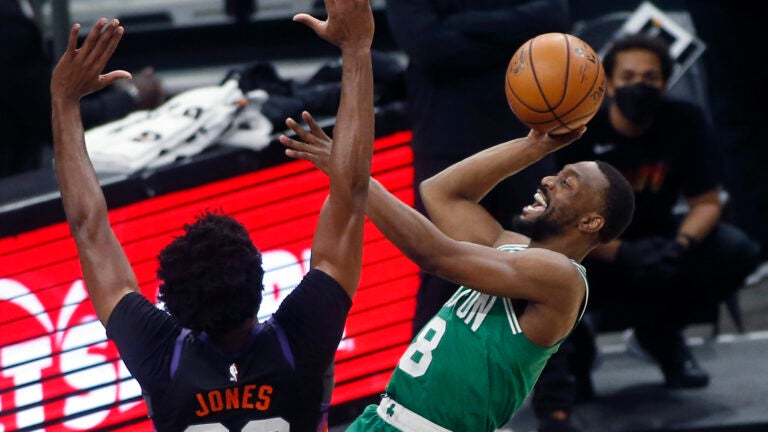 The Boston Celtics fell to the Phoenix Suns 100-91 on Sunday, dropping to 2-2 on their West Coast road trip.
Five takeaways as Boston's ice-cold shooting inside the arc and Phoenix's tough defense held the Celtics in check.
The Suns are a tough team again.
In previous years, a loss to the Suns would be an indictment. This year, Phoenix is a tough squad. Devin Booker has ascended and is a brutal cover. Deandre Ayton has some flaws, but he's enormous, athletic and skilled. Mikal Bridges is a defensive menace. The roster has plenty of reliable shooting. The defense is excellent.
"It's hard to get good looks against this defense, the way that they played not only with their pick-and-roll bigs, but also with how active everybody is and how long everybody is," Brad Stevens said. "They do a good job of reacting and playing with multiple efforts, making it tough. Just as I said, we didn't have a very good shooting day. I think there are things we would have, on a normal day, we make a few more. Their defense has a lot to do with that for sure, and they deserve a lot of credit for their defense."
And, of course, the addition of Chris Paul ties everything together. Purely from a skill set perspective, he's perfect for the Suns — an unselfish passer who can control the pace of the game and score when necessary. As a veteran presence who knows how to win and can lead a group of talented young players, he's ideal.
The road trip (and the injuries) might be getting to Boston.
No player ever wants to admit that fatigue has an impact, but the Celtics' situation is hard to ignore. Jaylen Brown remains out. Marcus Smart remains out. Boston's West Coast road trip is now four-fifths complete.
That isn't meant to be an excuse for Boston, nor should optimistic fans assume that everything will be fine when fatigue isn't a factor. The Celtics' defense hasn't been up to par, and their offense has been fine. Entering Sunday's game, their efficiency differential (offense points/100 possessions minus defense points/100 possessions) was +3.7 — the differential of good-but-unremarkable team. "Good but unremarkable" as a description of the Celtics passes the eye test as well.
Still, the Celtics are better than they looked on Sunday, and they still have a lot of potential if their best players click, once two of the best players return from injury.
The Celtics would have been dead in the water without Payton Pritchard.
The Celtics were flagging in the second half and were on the verge of getting blown out when Pritchard entered the game. Pritchard's energy was infectious (and disruptive) on the defensive end, and his 3-point shooting helped Boston take advantage of a sudden cold stretch by the Suns.
Pritchard missed some time and might have a little extra gas as a result, which helped the Celtics keep things respectable. His 12-point, 4-for-9 shooting stat line didn't do his performance justice.
Kemba Walker really struggled again.
It's a little unclear how concerned Celtics fans should be with Walker's continued struggles — he's trying to work his way back, and his athleticism still looks pretty good. But games like Sunday add a lot of fuel to the fire for the more pessimistic factions of the Celtics fanbase. Walker finished with 14 points on 4-for-20 shooting and missed a lot of shots he used to make consistently. All four of his makes were 3-pointers — Walker finished 0-for-9 inside the arc.
Walker still has plenty of time to find himself, which is both a true statement and also something we've been saying for a little longer than is comfortable at this point.
"It's going to change, there's no doubt," Stevens said. "He just came off a good solid game in Golden State followed by a really good game in LA. …
"I think one of the things we've got to do, we'll go back and look at some of his drives and how we can space the floor better. I think we all can do a better job for him. That's what we all will focus on. That's what I'll focus on, because I know he'll focus on himself."
Walker has shot 41.9 percent driving this season on 4.5 field-goal attempts per game (as opposed to 53 percent on 5.3 attempts by Jaylen Brown and 49.1 percent on 7.1 attempts by Jayson Tatum). A few more baskets around the rim might help.
Jayson Tatum could use some help.
Pritchard did his best. Grant Williams has been much improved. Daniel Theis has shot very well.
But Tatum — who still finished with 23 points on 8-for-22 shooting on Sunday — is dealing with a ton of defensive attention as teams try to take the ball out of his hands. When Jaylen Brown is in the game and able to pitch in, the additional attention is easier to exploit (and when Tatum is in with the bench, he dominates opposing second units). While players like Williams and Theis can help, another star would relieve a lot of pressure.
Get Boston.com's browser alerts:
Enable breaking news notifications straight to your internet browser.