Celtics
5 takeaways as Semi Ojeleye sparks Celtics' comfortable win over Raptors
Semi Ojeleye put in 24 points to lead the Celtics.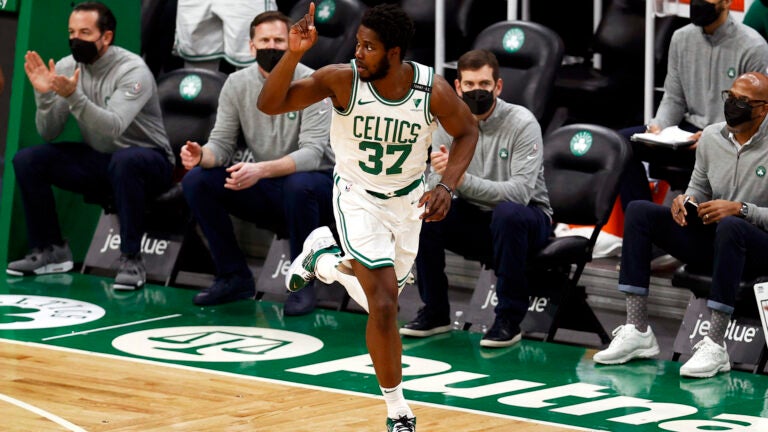 COMMENTARY
The Boston Celtics cruised to a 120-106 victory over the Toronto Raptors on Thursday on the strength of their 3-point shooting and ball movement.
Five takeaways from a win the Celtics really needed.
The Celtics needed some positives.
Before Celtics fans declare everything fixed, they should remember that Thursday's game wasn't really a fair representation of Toronto — the Raptors have had a grueling stretch and entered TD Garden on the second night of a back to back, with OG Anunoby on the bench.
But the Celtics just clicked on Thursday. The starters were excellent. The stars (including Kemba Walker) all played like stars, even when they didn't shoot well. The bench pitched in. The defense had some heft. After a brutal West Coast road trip with a difficult stretch of games looming, the Celtics needed some positives, and Thursday's game provided a lot of them.
Semi Ojeleye looked great as a starter.
Entrusted with a starting role, Ojeleye had one of his better games. He started with a layup, then made six of his eight 3-point attempts en route to 24 points, and he feasted in the corners from the spacing created by Boston's slashers (who we will get to).
Having a reliable 3-point shooter in the starting lineup seemed to make a big difference for the Celtics, who have struggled to find consistent starters. One game won't (and shouldn't) lock Ojeleye into that role, but a performance like Thursday might be enough to earn him another look. As always, the key for Ojeleye is to avoid going ice cold when he misses his first 3-point attempt.
"We are all really confident in Semi," Kemba Walker said. "He works so hard, and I'm always constantly talking to him and telling him to shoot those shots. Tonight, he shot it with confidence and we kept finding him. He kept shooting it, and you see the results."
Jaylen Brown and Jayson Tatum were facilitators.
As we noted above, Ojeleye — as well as Payton Pritchard, who scored 20 points on 6-for-8 shooting from three — benefitted enormously from Boston's slashers. Brown and Tatum were the slashers. Brown finished with 10 assists, while Tatum put up nine. The defense collapsed, and when it collapsed, Boston's stars were ready and willing to make the right play. While the duo finished a combined 8-for-27, they were crucial.
The passing mentality made a world of difference. Boston has plenty of talent to attack mismatches and punish inferior defenders, but doing so for an entire game is a recipe for stagnant offense. When the ball pops, baskets are much easier.
"They draw such a crowd, so they're going to have to draw a double-team or something, so it's our job to space the floor and find openings for them," Pritchard said. "But they did a tremendous job tonight."
It's a two-way street, of course: The Celtics' stars need to move the ball, and their role players need to make the shots created for them by the stars. If that continues, the Celtics will be in much better shape.
Grant Williams is slowly expanding his game.
Williams has quietly been doing a little bit more with his offense over the last two weeks. Most notable, of course, has been his shooting — Williams has hit 45.8 percent of his 3-pointers this season.
But he's expanding in other areas as well. On Thursday, Williams hit a one-dribble pull-up, a floater after a multi-dribble drive, and he slung a pass along the baseline to an open shooter in the corner for a 3-pointer.
Productive role players make a big difference. It remains to be seen whether players like Williams, Pritchard and Ojeleye can contribute consistently, but the ceiling rises if they can.
Kemba Walker had a good night.
If Walker's struggles are a takeaway every time they occur, it's only fair to note when he has a good game. Walker finished with 21 points on 5-for-12 shooting and buried a flurry of triples — 5-for-7 from behind the arc.
The Raptors are a strong matchup for Walker, with two players who are a good size for his defense. But like Tatum and Brown, Walker benefitted quite a bit from having consistent production around him.
Walker credited Brown and Tatum in part for his success.
"Those guys are so talented," he said. "There is going to be so much attention on those guys so they just made the right play tonight. They are very capable of that. Two special guys and they wanted to get guys involved, especially me. They really wanted to get me involved tonight, they know I've been struggling. Big ups to those guys for real."
Get Boston.com's browser alerts:
Enable breaking news notifications straight to your internet browser.