Celtics
5 takeaways as Saddiq Bey's career-high helps bury Celtics vs. Pistons
The Pistons continue their excellence exclusively against good teams.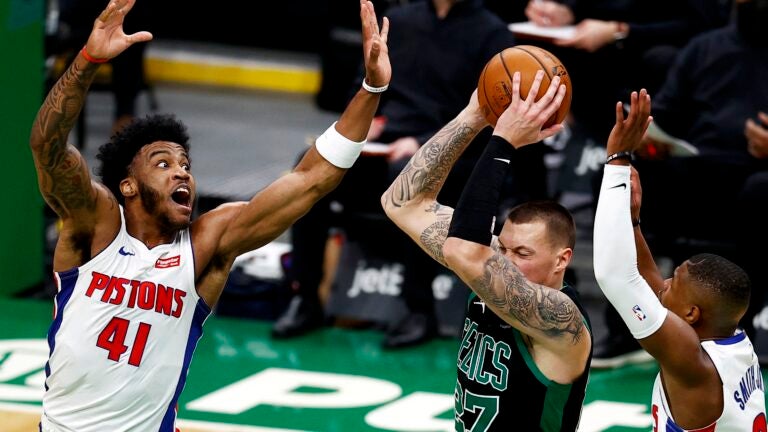 The Boston Celtics lost their second game of the season to the Detroit Pistons on Friday, falling 108-102 as Pistons rookie Saddiq Bey buried 3-pointer after 3-pointer en route to the best game of his young career.
Here are five takeaways as the Celtics gave back the ground they gained with Thursday's win.
The Saddiq Bey vs. Aaron Nesmith battle has an early leader. 
Bey and Nesmith were tied together during the pre-draft process — a pair of talented shooters projected to go in roughly the same range (many mock drafts projected one right after the other). Ultimately, of course, Nesmith went No. 14 to Boston while Bey went 19th to Detroit.
The early returns favor Detroit. Bey is shooting 37.6 percent from deep, and he poured in 30 points on 10-for-12 shooting against Boston. Bey has exploded twice against the Celtics now — he dropped 17 points and made five 3-pointers on Jan. 1.
Nesmith, meanwhile, didn't play in Friday's game. Nesmith's circumstances, of course, are very different — Bey is getting minutes for a team tied for the worst record in the league, while Nesmith is trying to break into the rotation for a team with aspirations for a deep playoff run. Still, the optics are tough for Boston, especially since Nesmith was drafted in part because the Celtics hoped he could plug and play.
Jaylen Brown's up-fake in traffic is a nice addition to his game. 
On three occasions Friday, Brown drove hard to the hoop, stopped on a dime in the middle of the lane, and pump-faked his defender into the air, creating a good look near the rim.
That's just one move, but it's an intriguing addition to Brown's bag. His first step is lightning quick, which puts the defender at a disadvantage. Throwing on the breaks exacerbates the situation, and the up-fake often removes the trailing defender as a potential shot-blocker.
Brown struggled from the field on Friday in stretches, but he keeps showing little improvements that bode well going forward. The game looks very slow for him now.
The Pistons are an enigma. 
Detroit's six wins prior to Friday: Boston, Phoenix, Miami, Philadelphia, Los Angeles Lakers, and Brooklyn. Their losses: Everybody else.
A closer look at Detroit doesn't really clarify much. The Pistons have a good player in Jerami Grant, and an encouraging young prospect in Bey. They have a good coach in Dwane Casey. Other than that, they are a strange, mismatched roster with seven wins against seven pretty good teams and a whole bunch of losses.
There might not be enough good teams in the league for the Pistons to make the playoffs, but they continue to frustrate the ones they face.
Payton Pritchard struggled in his first career start.
Fresh off a 20-point outing against the Raptors, Pritchard couldn't find his footing. He finished with two points on 1-for-5 shooting, 0-for-3 from three, and the Pistons made him pay defensively with their size.
Pritchard's future is bright, and he will start plenty of games in the NBA. His debut, however, was inauspicious.
Marcus Smart was relatively subdued in his TV debut. 
Before the game, Brad Stevens was asked about Marcus Smart's plan to go on NBC Sports Boston during the second quarter.
"I didn't know that," Stevens said. "I'm sure he'll be entertaining."
Smart is often an open book as an interview, and his teammates often talk about him as one of the funniest players on the team.
But in his television debut, Smart went a relatively safe route. Unlike Klay Thompson, who called out Rodney McGruder on a broadcast earlier this year, Smart supported his teammates and analyzed defensive schemes, but he didn't talk much trash and expressed admiration for Saddiq Bey's shooting prowess.
Smart was invited back on the broadcast by NBC Sports Boston's Mike Gorman, so perhaps Smart was saving the drama for his second appearance.
Get Boston.com's browser alerts:
Enable breaking news notifications straight to your internet browser.