Celtics
Marcus Smart describes calf popping twice vs. Lakers: 'Thank God it wasn't my Achilles'
"It's definitely going to take some time."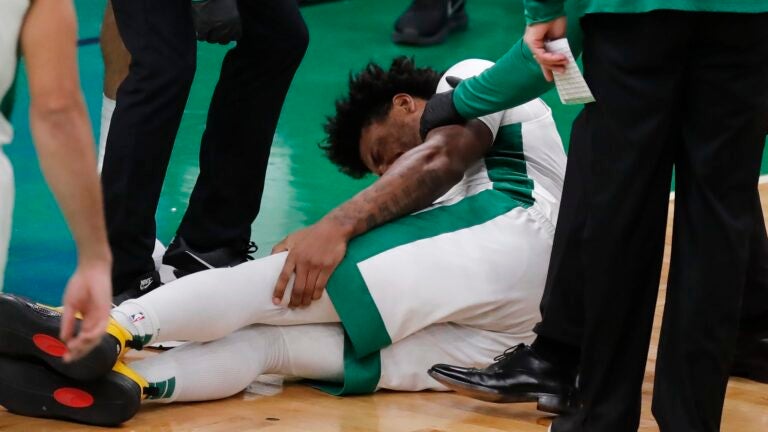 Boston Celtics guard Marcus Smart said there's "no real timeline" yet for his return to action after he suffered a calf strain against the Los Angeles Lakers in late January.
Smart, speaking to reporters for the first time since his injury on Friday, said his body is progressing properly, but the Celtics are taking his injury day by day.
"It's tough just because being hurt, the whole process, it takes time," Smart said. "As a player, as a competitor, you obviously want it to be faster, but it doesn't happen that way. You have to listen to your body and let your body do what it does."
Smart crumpled to the floor in the second half of Boston's 96-95 loss to the Lakers on Jan. 30. He was helped to the locker room without putting any weight on his left leg.
"When I stepped back with my left foot after blocking the original shot by Montrezl (Harrell), when I went to gather, I planted and put all the pressure to load to jump, my calf literally popped," Smart said. "I felt it, I heard it. Then when I stepped forward to jump and when I went to plant to jump up to try to contest his shot the second time, it popped again. That pop just really sent this burning painful sensation down my whole leg.
"So thank God it wasn't my Achilles, anything worse. Thankful for that. Still hurts like hell, but like I said, blessed it was nothing worse."
While many observers feared the worst, Smart said he knew it wasn't an Achilles injury right away.
"I immediately felt it in my calf and nowhere else in my body," Smart said. "And where I felt it in my calf, I knew exactly it was my calf. But it could've been worse, so I'm thankful for that."
Smart said he is able to walk with a slight limp and put a little pressure on the leg.
"We're doing light basketball activities right now," Smart said. "Nothing crazy. I'm steady able to get my shots up. I'm able to run a little bit off it, not as much. I'm probably, I would say, 30- to 40-percent running-wise. But just mostly doing a lot of testing, getting my calf stronger and doing a lot of calf raises and things of that nature to strengthen it, and just getting ready to hopefully get to the standpoint of stage 3 or 4 where I'm full-court running and really just going all out to really test this thing."
Smart added that he is making "great strides."
"We were definitely ahead of schedule then what we thought we would be with the type of injury," Smart said. "… Definitely have a ways to go, but we're headed in the right direction."
Get Boston.com's browser alerts:
Enable breaking news notifications straight to your internet browser.