Celtics
Celtics need to lessen the load on Jaylen Brown, Jayson Tatum per Brad Stevens
Brown and Tatum combined for more than half of the Celtics' field goal attempts in their loss to the Pistons.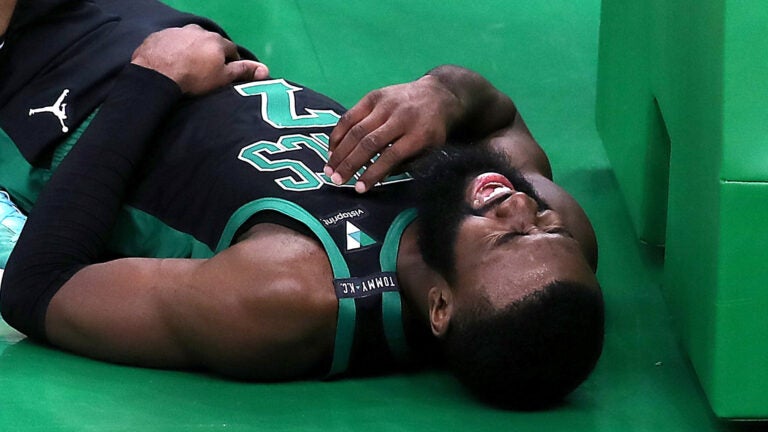 In the second half of Friday's 108-102 loss to the Detroit Pistons, Boston Celtics wing Jaylen Brown took a hit to the face from Josh Jackson.
Brown went down hard and stayed down for a second, holding his nose. When he got up, the Celtics needed a timeout to staunch the bleeding, and most observers assumed the officials would take a look at the monitor for a potential flagrant foul.
They did not, however, to Brown's annoyance.
"I don't know how many times I hit the floor today, but I feel like I might as well have brought a mop to mop the floor, man," Brown said. "Detroit was a physical team, but I think at this point it's just getting ridiculous. I don't understand that. I don't want to comment too much on it because I'm not getting fined but I thought I got hit in the face. Pretty hard, too. And, nothing."
The call might not have saved the Celtics, who struggled to get stops and couldn't piece together consistent offense. Still, Brown and the Celtics have a grueling stretch ahead with nine games in 15 days, which makes Friday's loss even more grating for Boston. Jayson Tatum played 41 minutes, while Brown tallied 36. The duo was excellent — a combined 21-for-43 from the field with 60 total points. They still lost.
Tatum was asked how he and Brown are dealing with the physical challenges of this season.
"We've got to find a balance," Jayson Tatum said. "You got to get rest at nighttime, and cold tub, and getting treatment. Good thing we have youth on our side, so it's a little easier to recover, but just making sure you're eating the right way, taking care of your body. Obviously you know Brad doesn't want us playing 40 minutes consistently right now but, in the midst of it, trying to figure out how to win games, sometimes you got to do that."
Still, Brown and Tatum could really use a boost. In a win over the Toronto Raptors Thursday, the Celtics clicked as their star duo combined for 19 assists and role players got hot behind the 3-point line. On Friday, the Celtics as a team tallied 15 assists total.
"I've said that all year, we've asked a lot of those guys," Brad Stevens said. "There's a large burden, a large load to carry. Yesterday we had a lot of great contributions, but we got a lot of great open looks. The looks weren't as open today and when they were we didn't find them. So we have to do that as a team to help lessen the burden on those guys."
Brown admitted this has been a challenging stretch.
"I'm learning and growing on the fly, trying to find ways to let the game come to me and also make my teammates better," Brown said. "And also inspiring our guys to fight every single night. It's definitely a challenge, even in myself. So we've just got to get better. We've just got to continue to grow and get better. That's all I really can say right now."
How does Brown feel physically, though?
"I don't even have a comment for that one," Brown said. "I think we've just got to do the best we can to help our team win. No excuses."
Get Boston.com's browser alerts:
Enable breaking news notifications straight to your internet browser.