Celtics
Danny Ainge takes responsibility for Celtics' recent struggles, says it's 'not a time to panic'
Ainge said it "may have to come" to the Celtics making a trade.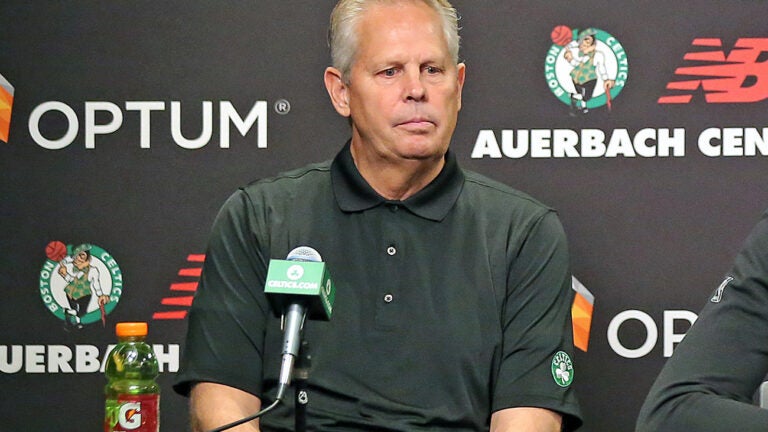 The Celtics' play couldn't be much worse as of late.
Following an 8-3 start to the season, Boston has lost 10 of its last 15 games, giving the team a 13-13 record as the season approaches the halfway point.
Perhaps the lowest point of the season for the Celtics came on Sunday when they were embarrassed by the Eastern Conference's worst team, the Washington Wizards, 104-91. Sunday's loss came less than 48 hours after they lost to the Pistons, who hold the second-worst record in the Eastern Conference.
The Celtics' play hasn't been encouraging as of late. Celtics President of Basketball Operations Danny Ainge seems to know that too. In an interview with The Boston Globe's Dan Shaughnessy, Ainge took blame for the team's recent play and said the coaching staff is not at fault.
"Sure!" Ainge said in response to a question if it's time to start criticizing him. "We're not playing with the passion that we need. I think that's on the players. And the players on the team are on me."
Ainge told Shaughnessy that "There are things I could have done better" and he'll "take this responsibility."
"This is a team that was put together by me, and we're not playing with enough consistency and urgency," Ainge said, "and it's my job to look to see what we can do to improve the team, but that's always much harder than improving from within."
With the March 25 trade deadline just a little more than a month away, some are speculating if it's time for the Celtics to make a trade in order to get them out of their skid. Ainge didn't rule out the possibility of a trade.
"Just changing faces doesn't always change things," Ainge said, "but it may have to come to that."
If the Celtics do decide to make a trade, they've got some assets at their disposal. They've got the $28.5 million trade exception they received when Gordon Hayward left for the Hornets in November. They also have five players that have been selected in the first round in the last three drafts plus Tristan Thompson, who is now eligible to be traded after signing a two-year, $19 million deal in the offseason.
While the Celtics do have some avenues for a trade if they decide to pursue one, Ainge doesn't seem ready to go there yet. He told Shaughnessy that now is "definitely not a time to panic, but it's always a time to reflect."
Ainge said that he has seen a "lack of consistent urgency" from his team at this point, but said the team's recent playoff runs and the 8-3 start to the season could be the cause of that. Because of that, the team's youth, and the injuries they've dealt with this season, Ainge said he doesn't think "it's rock bottom."
"Rock bottom would be if we expected to win a playoff series and lost to a team we were supposed to beat," Ainge said. "That would be rock bottom. I've seen too many bad stretches of regular-season basketball to consider this rock bottom. But having said that, we've been playing very, very poorly and inconsistent and not with enough urgency for the last few weeks."
Ainge knows his fanbase has been harsh during the struggles, too. However, he appreciates that.
"I like the fact that the fans aren't patient," Ainge said. "We need to have more urgency. I like when players come to the realization that our fans hold our players and all of us to high accountability.
"To wear this uniform, there's a lot goes into it. People are gunning for you because of the success you've had, and part of it is you've got to go out and perform and live up to the expectations."
You can read Ainge's interview with Shaughnessy, here.
Get Boston.com's browser alerts:
Enable breaking news notifications straight to your internet browser.