Celtics
Kemba Walker, Jaylen Brown see room for improvement after loss to Wizards but 'it ain't many positives'
"We just are not good right now. But it's very controllable."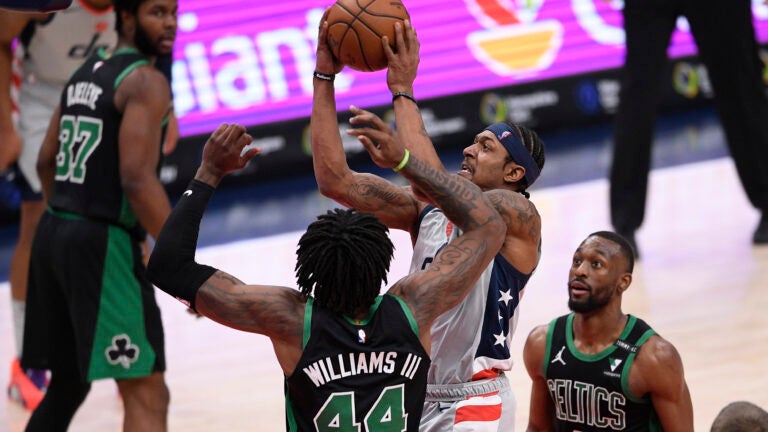 The good news for the Boston Celtics is that Brad Stevens saw some positives to take away from Sunday's 104-91 loss.
The bad news is that those positives all came in the final five minutes, when the bench unit entered the game and the starters were all nursing wounds inflicted by a 20-point deficit to the last-in-the-Eastern-Conference Washington Wizards.
"If we take anything from this game, we take the last five minutes and we clip up how that group that came in played together," Stevens said. "How we pressured the ball, how we were communicative, especially Tacko on the backline, how we shared it, and even though we missed some shots, we got great looks.
"If our team can play more like that last five minutes, then we can be as good as we can be. If not, we will be average."
The Celtics were a lot worse than average on Sunday. As a team, they shot 35.6 percent from the field. Remove Jaylen Brown and Kemba Walker from the equation, the only two rotation players who played well, and their total drops to 12-for-51 from the field — a blood-curdling 24 percent as a team.
Perhaps worse: The Celtics had a negative assist-to-turnover ratio — 14 assists paired with 17 turnovers. Defensively, they allowed Bradley Beal to drop 35 points on 18 shots, which would be excusable — Beal might be the best scorer in the NBA right now — except that they also allowed Rui Hachimura and Mo Wagner to add 26 points on 16 shots. The Celtics got blown out even though Russell Westbrook finished 6-for-19.
"It ain't many positives, I'm gonna be honest," Walker said. "We just are not good right now."
Ticking down some of the potential positives: Walker was good after struggling the last few games. The Celtics need him to play at a high level, and he posted 25 points on 9-for-18 shooting. Jaylen Brown dropped 25 points on 11-for-21 shooting.
That was roughly the extent of it. Asked about the lack of ball movement, Jaylen Brown paused for a very long moment — seemingly either searching for something to say or trying not to say something — and offered a "no comment."
"It could be," Brown said, when asked if this game is rock bottom. "It's up to the mentality of everybody, how we come in every day and prepare to work. If you let it be rock-bottom mentality then that's what it's going to be. You come to play, then it'll show. And today we weren't very good."
The solutions are simultaneously simple and difficult. The Celtics need Jayson Tatum to be better (3-for-14), and presumably, he will be in the near future. Defensively, the Celtics need to move much quicker and will have to contain the perimeter better. Offensively, they can't have stretches like the third quarter when they committed eight incredibly sloppy turnovers as the deficit ballooned to insurmountable levels.
"It's very controllable," Walker said. "I don't think it's anything that's uncontrollable. I think it's us as a whole, we just have to be better. I think I can do a better job just getting my teammates prepared to play a game. We'll get better. Some very disappointing losses. We're just not playing the way that we know we're capable of playing. That has to be fixed. And soon."
Brown, for all of his frustration, concurred.
"I think we can flip things around at any moment" Brown said. "I always have faith in this organization and team, and our coaching staff. We sucked today. We haven't played well over the last few games for whatever reason, but I believe we can turn it around at any moment."
If the Celtics have reached rock bottom, the lesson is simple: They can beat some of the good teams, but they certainly aren't good enough to cruise over the bad ones.
"It's not like we are going to roll the balls out and win that game," Stevens said. "We have to play well so when we don't play well and we don't take care of the little things, we definitely have no chance.
Get Boston.com's browser alerts:
Enable breaking news notifications straight to your internet browser.