Celtics
5 takeaways as Trae Young's 40 points lift Hawks over Jayson Tatum and the Celtics
Trae Young's brilliance is part of a recent trend.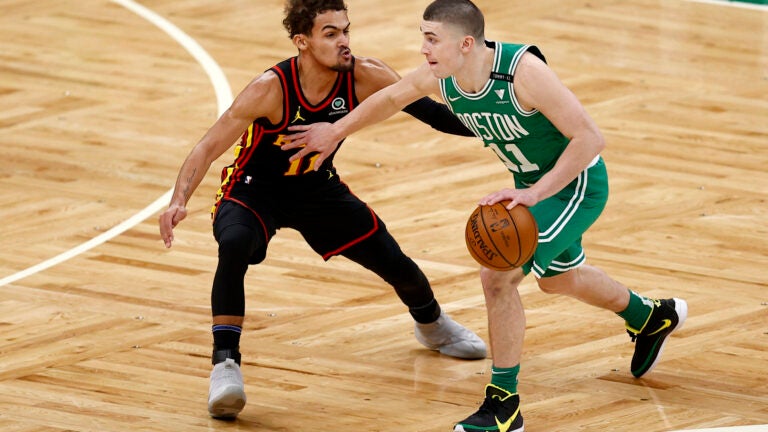 After an encouraging win against the Denver Nuggets on Tuesday, the Boston Celtics tripped again on Wednesday, falling to the Atlanta Hawks 122-114.
Here are five takeaways from yet another uninspiring Celtics loss.
The Celtics' perimeter defense was unimpressive at best.
Boston's defense fell off a cliff, picked apart primarily by Trae Young. Young finished with 40 points on 14-for-20 shooting and destroyed the Celtics in the fourth quarter. The rest of the Hawks pitched in plenty, though, as the Celtics' interior defense was catastrophic. Atlanta finished with 72 points on 68-percent shooting inside the arc.
"I thought our perimeter defense made it really hard on our paint defense," Brad Stevens said. "Our guys protecting us, either rotating over or in pick-and-roll, there were a couple times where our bigs certainly got beat off the bounce and those type of things, but I'm not sure that we had a huge impact on them on the ball, certainly not the way that they impacted us."
Plenty of blame can be assigned across the roster, but the Celtics' perimeter defense has struggled to keep opponents from getting where they want to go, and talented guards like Young and Bradley Beal have feasted recently. That's a disturbing trend, no matter how talented the opponent.
Getting Marcus Smart back, whenever that happens, will certainly help, but as anyone who has watched the Celtics over the last few weeks can tell you, asking him to fix everything going wrong on the perimeter is asking a lot.
Aaron Nesmith is willing to throw himself after loose balls. 
Nesmith, like most Celtics rookies over the last few years, seems to have discovered that the way to get on the floor is to defend. He's doing so enthusiastically — throwing his body all over the court and hustling in transition. At one point in the fourth quarter, Nesmith had a scary fall chasing down a block in transition, and he might need to learn to fall a little more gracefully to avoid injury.
But Nesmith is showing flashes of skills and athleticism that weren't especially evident at Vanderbilt. When his 3-point shot comes around — and it almost certainly will — he will be an intriguing player. Sooner would be better than later for Boston.
The Celtics will get something from Robert Williams.
Increasingly, Robert Williams looks like a rotation player. Reliably, the Celtics can expect him to give them something on both ends.
The only question is what that "something" will be. Defensively, he is still twitchy, and at this stage, one has to wonder how much his tendency to jump for every pump fake will improve over the years. But he's an intimidating presence around the rim, and he hoovers up rebounds with big hands and a huge catch radius.
Offensively, he does things like this.
— Boston Celtics (@celtics) February 18, 2021
Tristan Thompson keeps defenders in front of him. Daniel Theis — when he's available — can switch. Grant Williams can play small ball. The Celtics have a lot of bigs, and trying to get them all in the game is a bit of a cluster. But Williams has a lot of promise, and when the big rotation is shortened be necessity, he gets a chance to show it.
With Kemba Walker and Marcus Smart out, the Celtics punted on point guards.
Brad Stevens' decision to start Javonte Green in place of Kemba Walker was interesting — he has hinted in the past that he might want to run that lineup out at times. With two primary ball-handlers in Jayson Tatum and Jaylen Brown available, the group looked fine, even if Atlanta paraded to the rim repeatedly.
The look wasn't much of a game-changer, and the Celtics played a point guard — either Teague or Payton Pritchard — for most of the rest of the game, but it was a reminder of how desperate Boston's point-guard situation is right now.
Should the Celtics trade for John Collins?
Collins finished with 20 points on 6-for-9 shooting on Wednesday, and he continued a recent trend of giving the Celtics a nice look at a player they have been tied to in trade rumors.
Collins is having a solid season — 18.1 points and 7.6 rebounds per game while shooting 54.4 percent from the field and 41.1 percent from deep. He would certainly help one issue the Celtics have run up against frequently: The lack of a true power forward, which has forced Daniel Theis to the four at times. His floor spacing would help as well.
Still, as the Celtics broadcast noted, the money would be difficult. Collins is clearly expecting a big payday after he reportedly turned down a $90 million deal in the offseason, and he would be an expensive acquisition. The expense of acquiring him would essentially handcuff the Celtics to paying him, and other teams would likely be willing to offer him money and drive up the price.
Collins is a good player, and the idea of trading for him without using the TPE is attractive. The bill — in both assets and actual dollars — might be too high, though.
Get Boston.com's browser alerts:
Enable breaking news notifications straight to your internet browser.