Celtics
Celtics' Marcus Smart looked 'a lot' better when Brad Stevens last saw him on court
"Looking better in a 1-on-0 shooting drill doesn't always translate to being cleared to play 5-on-5."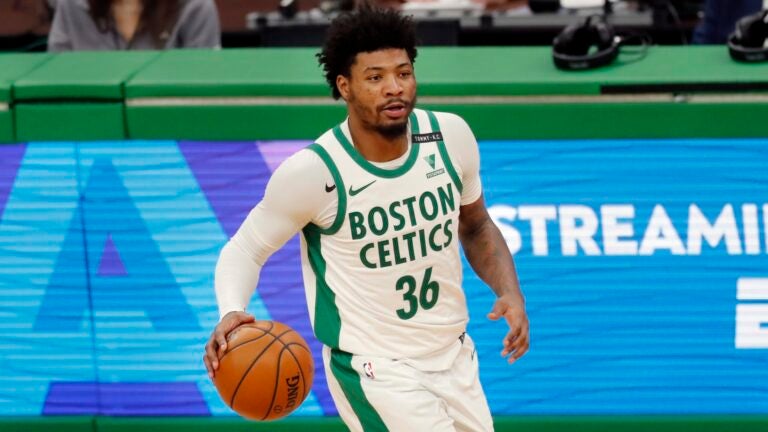 Boston Celtics guard Marcus Smart told reporters recently that he still isn't running particularly well after suffering a calf strain against the Los Angeles Lakers on Jan. 30.
"We are making great strides," Smart said. "I've done some things on the court, just trying to test it out. Light basketball activities right now. I can get my shot up. I can run a little bit off of it, about 30-40 percent. But mostly just getting my calf stronger, doing a lot of calf raises and things of that nature."
On Wednesday, Brad Stevens was asked whether he thinks the Celtics have to wait to get Smart back after the All-Star break.
"The last time I saw him on the court was a couple days ago," Stevens said. "I thought he looked a lot better, and I know he's working hard to try to get back. But looking better in a 1-on-0 shooting drill doesn't always translate to being cleared to play 5-on-5 when you're talking about that injury."
The Celtics have missed Smart, who doubles as both the Celtics' primary defensive presence on the perimeter as well as their leader in assists per game at 6.1.
"He's a really good player," Stevens said. "He's a really good player on both ends of the court. He moves the ball, he's our leader in assists on our team, he's obviously capable of scoring the ball and he's one of the game's really good perimeter defenders, so obviously when you are missing a guy like that you're going to be missing something. But everybody goes through that, every team loses guys, and so it's not only on everybody else to step up but it also is a great opportunity. We're seeing that right now."
Smart told reporters last week he doesn't plan to hurry back.
"I'm feeling good," he said. "Each day getting better. It's obviously nowhere near where we wanted to be to coming back. We're just taking it slow. Taking it day by day. There's no big timeline I can give.
"My body is definitely healing. We expected it to. but it's definitely going to take some time."
Get Boston.com's browser alerts:
Enable breaking news notifications straight to your internet browser.