Celtics
Jayson Tatum responds to Shaquille O'Neal and Charles Barkley leaving him off their list of All-Star reserves
"I mean, I'm sure some people last year didn't have me on there."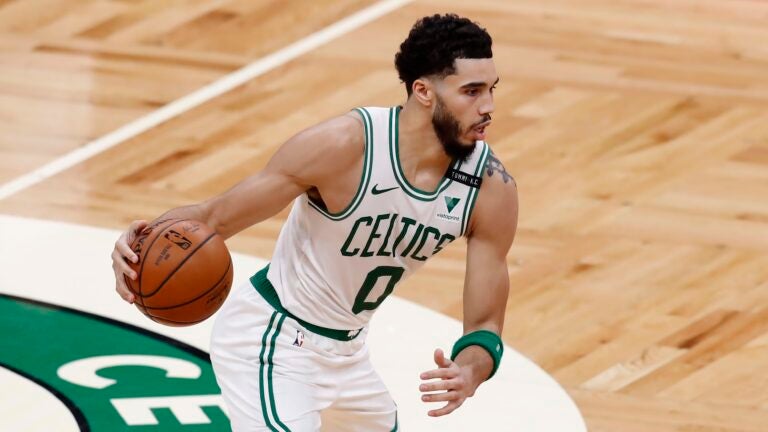 Shaquille O'Neal and Charles Barkley recently revealed their picks for All-Star reserves, and Celtics star Jayson Tatum didn't appear on either of their lists.
O'Neal, Barkley, Kenny Smith, and Ernie Johnson – who don't have an official vote – all deemed Jaylen Brown as a reserve, yet only Smith and Johnson selected Tatum. Barkley chose Jimmy Butler of the Miami Heat over Tatum and O'Neal went with Trae Young of the Atlanta Hawks.
Tatum, who made the team last year for the first time, finished fourth in the fan vote and fifth in both the player and media votes that determined the starters this season. Eastern Conference coaches will select the reserves, and the names will be revealed this Thursday.
The forward Tatum hadn't heard about Barkley and O'Neal's choices until a reporter mentioned the situation Friday night after the Celtics' 121-109 win over the Atlanta Hawks. Once he did, he didn't seem too bothered by their picks.
"I mean, I'm sure some people last year didn't have me on there … But, I mean, everybody has their own respective opinion," Tatum said. "I mean, I didn't see it. So everybody has their opinion on who they think should make it. There's a lot of guys that deserve to make it. And we'll see."
Heres who the TNT Crew would pick as their East reserves pic.twitter.com/Teiy7Cjcl7

— Shake4ndbake (@ItsShake4ndbake) February 19, 2021
Tatum is averaging 25.8 points, 7.0 rebounds, and 4.7 assists per game while shooting 44.9 percent from the floor, 38.9 percent from 3-point range, and 88.6 percent from the free-throw line. While his numbers certainly put him in the mix, some other factors may hurt his chances.
He missed five games after testing positive for COVID-19, and overall he hasn't looked the same since he re-entered the lineup. Tatum, who has had more positive moments of late, acknowledged earlier this week that his breathing is still off.
"Just running up and down the court a few times, it's easier to get out of breath or tired a lot faster," Tatum told reporters Tuesday. "I've noticed that since I've had COVID. It's just something I'm working on. It's gotten better since the first game I played, but I still deal with it from time to time."
Another factor, of course, is that the Celtics are only 15-14 as of Saturday, and teams that are close to .500 are less likely to get multiple All-Stars than teams at the top of the standings.
For context on who he might be up against, Butler is averaging 19.1 points, 7.8 rebounds, and 7.7 assists per game for the 12-17 Heat, Young is putting up 26.5 points, 8.3 assists, and 3.8 rebounds a night for the 12-17 Hawks, and Zach LaVine of the 12-16 Chicago Bulls is posting 28.5 points, 5.5 rebounds, and 5.2 assists on average.
The All-Star game, which was originally a major question mark, is now set for March 7 in Atlanta.
Get Boston.com's browser alerts:
Enable breaking news notifications straight to your internet browser.