Celtics
5 takeaways as the Celtics blow a 24-point lead, fall to Zion Williamson and Pelicans in overtime
The Celtics lost 120-115 in overtime.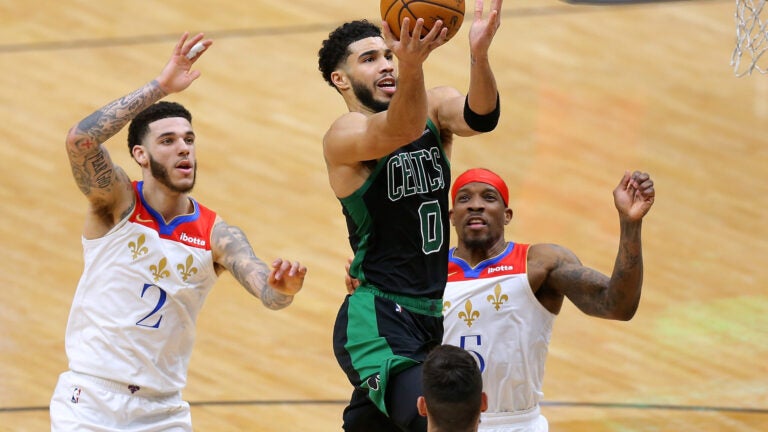 COMMENTARY
The Boston Celtics let go of the rope and allowed the New Orleans Pelicans to roar back and claim a 120-115 overtime victory on Sunday.
Five takeaways from a game that felt all too familiar for Boston.
The Celtics' fourth-quarter struggles are becoming inexplicable (and inexcusable).
On Sunday, Boston's biggest lead stretched out to 24 with 6:29 left in the third quarter. After three quarters, the Celtics led by 13. With fewer than five minutes remaining, Nicolo Melli buried a 3-pointer to put the Pelicans up three.
Once again, the Celtics — whose -6.4 net rating before Sunday's debacle was 26th in the NBA — blew a big lead in the fourth quarter, and this time, they couldn't dig themselves back out. After seven promising quarters spanning Friday's win and most of Sunday's loss, the discussion will once again focus on how these contests keep getting away. Until they figure out why these games go haywire, every lead will feel tenuous.
"It's enough of a trend, enough of a concern," Brad Stevens said. "We've got to stop it. Last year at this time we were in really good shape in those moments. This year we're not. It has not been good. This was a lot like the game I watched them play the other night. They got a big lead, there was a lot of game left, and you have to do touch things on the defensive end. You've got to make tough shots in the offensive end, and they did more than us."
Boston's defense against Zion worked … for a while.
One of Brad Stevens' real strengths over the years has been designing defenses that can deal with players like Zion Williamson — skilled, physically imposing athletes who aren't elite shooters.
On Sunday, Williamson experienced the thicket of arms swiping and poking at the ball that has plagued the likes of Joel Embiid, Ben Simmons and Giannis Antetokounmpo over the years. Williamson finished with 28 points on 11-for-21 shooting, but in the first half, he appeared particularly bothered by the defensive attention. Tristan Thompson was excellent utilizing his size against Williamson's strength.
Williamson, like Antetokounmpo, was at his best when he started with the ball on the perimeter and muscled his way toward the hoop. That opened up the game before the Pelicans' defensive pressure in the fourth quarter helped them climb back in.
"Coaches make adjustments," Rob Williams said. "He saw something he liked. Feel like we could have handled the pick-and-roll better, we could have helped each other better. Got to take stuff and learn from it."
Kemba Walker really struggled after several good games in a row.
Much was made of Walker's recent surge, and justifiably so — he was shooting well from the field, and the Celtics were having some success when he was on the floor.
Sunday's performance was a call-back to Walker's worst struggles, however. He finished with 14 points on 5-for-21 shooting and made just one of his 12 3-point attempts. The Celtics will hope that his recent larger sample size of good basketball is a better indicator than Sunday's problems.
Here's why afternoon games are so strange for teams during COVID
Afternoon games can be a strange experience since players who are normally getting ready for 7 or 7:30 p.m. tipoffs are forced to show up early in the afternoon, or even in the morning to warm up for 1 p.m. tips.
During COVID, the process is backed up even further, as teams need to test before the game as well.
"It's really significant, just because our guys have to test at 11 p.m. before the afternoon games the night before, and then again in the morning," Stevens said. "Whereas generally you'd go for testing at 5 for a night game, and then you'd go testing late morning. So the 11 p.m. is the biggest difference from a testing standpoint. But I think most guys, we've played enough afternoon games, or a couple afternoon games now, I think we're probably more used to it, but that's the unique part of playing in the afternoon with the testing."
ESPN keeps getting the 'Timelord' origin wrong, and the originator is fed up.
Robert Williams was dubbed "Timelord" by the Weird Celtics Twitter subsection of Celtics fans, who initially gave him the name to needle journalists and media pundits who overreacted to Williams missing the first day of Summer League practice his rookie season. The nickname has stuck, and ESPN frequently comments on it. On Sunday, color commentator Doris Burke walked viewers through the origin story.
The only problem: ESPN got the origin wrong.
Here you go pic.twitter.com/T9Moc5sU44

— Kumar Ramanathan (@kumarhk) February 21, 2021
The graphic the network showed missed a key distinction, saying that Williams is called "Timelord" because he was late, not because media pundits made a big deal of his tardiness.
Two Twitter users — @Riffsman and @Cosmis — were the originators of the nickname. Riffsman was a huge fan of Williams in college and hoped to speak Williams to Boston into existence. Contacted by Boston.com on Sunday after ESPN aired its graphic, he said he was frustrated by the network's mistake because it continued to shine light on the wrong part of Williams' early tenure.
"I defended him when he was late," he said. "I was the only person who defended him, I felt like, because it was a stupid thing for people to get mad at, and it's turned into this thing where they talk about it every single day, and I'm sick of it. He's been an incredible citizen and athlete the entire time.
"Tell them to get it right or cut the crap."
Get Boston.com's browser alerts:
Enable breaking news notifications straight to your internet browser.