Celtics
Here's why Brad Stevens might consider Aaron Nesmith for the Celtics' closing lineup
"It gives us more space, more ability to spread the floor."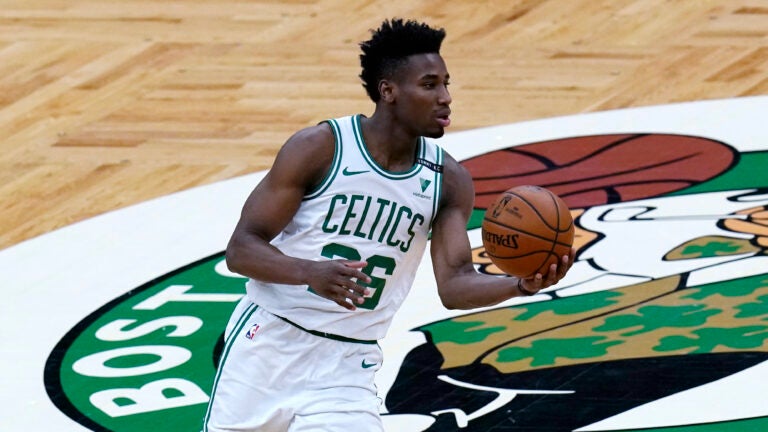 The Boston Celtics' issues closing a game have been well documented.
On Sunday, the Celtics put together one of their most embarrassing late-game performances of the season — a 24-point lead midway through the third quarter evaporated completely as the Pelicans stormed back and sent the game to overtime, before defeating the Celtics 120-115.
The Celtics' myriad of problems require a myriad of solutions. One idea Brad Stevens said he will consider is playing rookie wing Aaron Nesmith with the closing lineup.
"Aaron's energy makes a huge difference and I think it's really helped us," Stevens said. "I think we've got to get to the point where he can be in a closing lineup, potentially, until we're back full, just because it gives us more space, more ability to spread the floor, more ability to play when teams really attack our best players, to play in that space and get open looks."
After the Celtics' two-big lineup fell on its face late on Sunday, the Nesmith logic makes some sense. In college, he was a movement shooter who scored flying around screens and squaring his body to the hoop with lightning speed. In the NBA, his role has been a little different — less like JJ Redick shooting tough 3s and more like Danny Green spotting up and drifting around the 3-point line while the offense develops.
"It's always an adjustment," Nesmith said last week. "Shooting is what I do, but I did a lot of shooting off the move. I'm not really doing as much of that. So just trying to adjust to the role change and regardless I've got to knock down the open shot."
On Sunday, Nesmith finished 3-for-4 and made one of his two 3-point attempts. In his last 10 games, Nesmith has hit 40.7 percent of his triples after struggling early, and the Celtics are starting to see some progress from a rookie they drafted hoping he could contribute this year.
Nesmith, who played just 13 games as a sophomore at Vanderbilt, is also adjusting to the NBA schedule. Most seasons, rookies are forced to adjust to 82 games (at least). This year, Nesmith has fewer regular season games, but they come at a furious pace.
"This is the most games we've ever played in one season, so to play this many games back-to-back and make sure that you're prepared for each one, it's a hard thing to do," he said. "But as long as you stay consistent in your body of work, consistent in the things that you're supposed to be doing every day, that will help you through and help you keep from hitting that rookie wall, as they say."
Stevens has appreciated Nesmith's dedication to consistency, as well as his hustle. Seemingly every game, Nesmith hits the deck chasing a loose ball or crashes into the hoop trying to chase down an opponent in transition.
All of those moments have led to Nesmith's recent opportunities.
"We knew he had good energy, he's a high character person, he plays the game with integrity," Stevens said. "He hustles, he works, he runs, he stays in plays, we've seen him block a couple shots, he corner crashes for rebounds. He does all those little things. And I think the biggest thing, the biggest challenge, and then you have to just kind of let that play out, is just adjusting to the speed of the game on offense. And he's done a better job of that as the last few weeks have gone on.
"Obviously we're playing young off the bench and I think he's done a pretty good job over the last couple weeks. There's a lot to build off there."
Get Boston.com's browser alerts:
Enable breaking news notifications straight to your internet browser.