Celtics
Morning sports update: ESPN analyst calls Celtics' defeat to Pelicans 'the worst loss of the year'
"You've got to close that out if you want to be taken seriously as a contender in this league, particularly with that much offensive talent."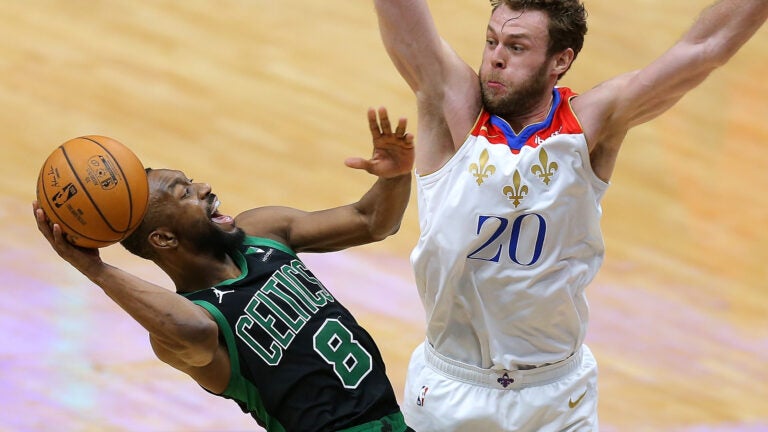 Set to the picturesque backdrop on the shore of Lake Tahoe, the Bruins defeated the Flyers 7-3 on Sunday night.
Boston, attending the game with a '90s theme look, scored three goals in 99 seconds on their way to victory. David Pastrnak unsurprisingly led the Bruins in scoring, notching a hat-trick. Afterward, however, Pastrnak's thoughts were elsewhere:
.@pastrnak96 on the #NHLBruins victory at Lake Tahoe: "It was beautiful…the dark is beautiful too…overall, it was an unbelievable experience. It was great bonding, we had fun with the guys getting dressed up and stuff like that. It's great win." pic.twitter.com/YShG91V2SG

— Boston Bruins (@NHLBruins) February 22, 2021
Also on Sunday, the Celtics lost to the Pelicans in overtime, 120-115. Jayson Tatum led Boston with 32 points, but it wasn't enough as the team suffered another frustrating defeat.
The state of the Celtics: At 15-15, the Celtics have underachieved compared with the team's preseason expectations.
And following the 120-115 overtime loss to the Pelicans on Sunday — in which Boston let a 24-point third quarter lead slip away — analysis of the Celtics has become increasingly critical.
"When you're up 24 points if you're Boston with six minutes left in the third quarter to a mediocre-t0-below-average defensive team, you just can't lose the game," said ESPN analyst Tim Legler in an interview on Sunday.
Legler presented video analysis showing how despite Celtics forward Jayson Tatum making passes to open players when he drew double-teams from the Pelicans, Boston was unable to score. He concluded that the Celtics' loss on Sunday stood out, even in comparison to a bevy of recent defeats.
"You've got to close that out if you want to be taken seriously as a contender in this league, particularly with that much offensive talent," Legler explained. "For me, in a series full of bad losses for the Celtics, this to me is the cherry on the sundae.
"This is the worst loss of the year because of the lead they had against a team that wasn't playing well, was very frustrated, and is not a good defensive team," Legler added. "You can't have that kind of a drought to allow a team back into the game. Eventually their great offensive players took over, Zion [Williamson] and Brandon Ingram."
Boston is back on the court on Tuesday against the Mavericks in Dallas at 7:30 p.m.
Trivia: Before Sunday, the last time the Bruins and Flyers played outdoors was at Fenway Park on New Year's Day in 2010. Boston won in overtime, 2-1. Who scored the winning goal for the Bruins?
(Answer at the bottom).
Hint: He was born in Dingolfing, Germany.
More from Boston.com:
Trent Frederic's first career NHL goal came in outdoor hockey: The replay shows the shot from a perfect angle.
What a memory for 11.#NHLBruins | #NHLOutdoors pic.twitter.com/MLpcRvFPax

— Boston Bruins (@NHLBruins) February 22, 2021
California native Max Homa's emotional reaction after winning his hometown tournament: Homa, 30, defeated Tony Finau in a playoff to win the Genesis Invitational.
Max Homa emotional after his win:

"Been watching this tournament my whole life. It's why I fell in love with golf … I was too scared to talk to Tiger the other day but he's forced to talk to me now so it's gonna be pretty awesome." 😂@maxhoma23 pic.twitter.com/1BWi7kflyH

— CBS Sports HQ (@CBSSportsHQ) February 21, 2021
On this day: In 1980, Al Michaels delivered his famous line at the end of the United States men's Olympic hockey team's truly miraculous 4-3 upset over the Soviet Union in the Lake Placid medal round.
'Miracle on Ice': The day USA hockey did the impossible.

It's been 40 years since the United States ice hockey team, composed exclusively of amateur players, stunned the defending gold medalist Soviet Union at the Winter Olympics. pic.twitter.com/a15vYRUvor

— ESPN Australia & NZ (@ESPNAusNZ) February 22, 2021
Daily highlight: Grant Smith of Indiana Tech sprinted to get open before catching a perfectly thrown inbounds pass with just 1.3 seconds remaining. He then turned and launched an off-balance shot, nailing the buzzer-beater 3-pointer to secure a win over Lourdes, 81-80.
𝗪𝗔𝗥𝗥𝗜𝗢𝗥𝗦 𝗘𝗡𝗗 𝗧𝗛𝗘 𝗟𝗔𝗦𝗧 𝗥𝗘𝗚𝗨𝗟𝗔𝗥 𝗦𝗘𝗔𝗦𝗢𝗡 𝗛𝗢𝗠𝗘 𝗚𝗔𝗠𝗘 𝗪𝗜𝗧𝗛 𝗧𝗛𝗜𝗦💥💥💥@ESPNAssignDesk @espn @SportsCenter @NAIAHoopsReport #Top10 #ESPN #SCTop10 #WinIT pic.twitter.com/zpoPvJK7ly

— Indiana Tech Men's Basketball (@INTechMBB) February 21, 2021
Trivia answer: Marco Sturm
Get Boston.com's browser alerts:
Enable breaking news notifications straight to your internet browser.