Celtics
Jaylen Brown says the Celtics need to 'mature and grow up' after blowing 24-point lead
"We dropped the ball tonight."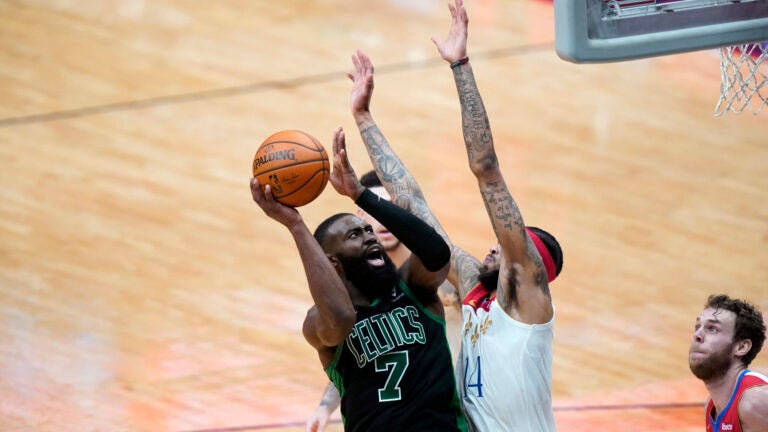 The Boston Celtics quietly began to unravel late in the third quarter of Sunday's matchup with the New Orleans Pelicans.
The fourth-quarter struggles were noisier. Boston entered the game 26th in the NBA in fourth-quarter net rating, a metric which is only going to go down after Sunday's 120-115 loss. But the work of blowing a 24-point third-quarter lead began as the third quarter wound down.
Late in the period, Aaron Nesmith banked in a tough floater through contact and made the free throw, boosting Boston's lead to 17. On the next possession, Zion Williamson fought through contact to lay in an offensive rebound, cutting the lead to 15. The Celtics had a chance to answer, but Tristan Thompson missed a pair of free throws, and Jayson Tatum committed a charge. Williamson bulled into the front court as time expired, and the Celtics' defense let him get all the way to the rim for a layup, and — as Mark Jones put it on the ESPN broadcast — the Pelicans entered the fourth quarter "within striking distance."
"We had a couple of major errors in transition at that time," Brad Stevens said. "There were times we could have handled the drive better, but there were also times where Zion Williamson and Ingram put their shoulders down and got to exactly where they wanted."
The Celtics had chances to win late as well, but the damage was done.
"We ended up losing to a team that got comfortable and got rolling on their own floor with some talented players," Jaylen Brown said. "Then it becomes really hard to try to cut that water off, at that point."
Brown finished with 25 points on 7-for-23 shooting. Both he and Jayson Tatum played more than 40 minutes in the overtime loss, and both were high usage once again.
That has been a common theme for Tatum and Brown. Brown's usage has spiked enormously, from 23.3 percent usage to 29.6 percent, per Cleaning the Glass. He is in the 95th percentile among all wings, while Jayson Tatum is in the 99th percentile among forwards. Kemba Walker has an enormous usage as well.
The Celtics rely heavily on those three players — only the Celtics and Brooklyn Nets (with James Harden, Kyrie Irving, and Kevin Durant) have three players with 29 percent usage or more on the roster.
"I think we played exceptionally well for a large part of the time [on Friday]," Brown said. "We've just got to mature and grow up. We were really moving and getting guys involved. I liked Rob [Williams'] play today. I think Rob played extremely well. And just trying to get other guys involved. That's one of the things that I've been trying to do, to look to get other guys involved. I think that's better for our team, but definitely gotta come out and find ways to win. We dropped the ball tonight."
Jayson Tatum put it more simply.
"If we want to be a really good team we've got to put teams away earlier, especially being up 20-something points," he said.
The Celtics are now 15-15 with an intense schedule before the All-Star break — six games in 10 nights, five of which are against teams who would make either the playoffs or the play-in game if the season ended now. Sunday's loss could mean the Celtics enter the All-Star break below .500 if they don't find a new track quickly.
"It's tough, just a tough loss," Brown said. "We 100 percent should have won. I would have liked to play better on both ends of the ball. Just a tough loss."
Get Boston.com's browser alerts:
Enable breaking news notifications straight to your internet browser.