Celtics
5 takeaways as Danilo Gallinari, Atlanta Hawks embarrass Boston Celtics
Danilo Gallinari, Trae Young and the Hawks blew out the Celtics from the start.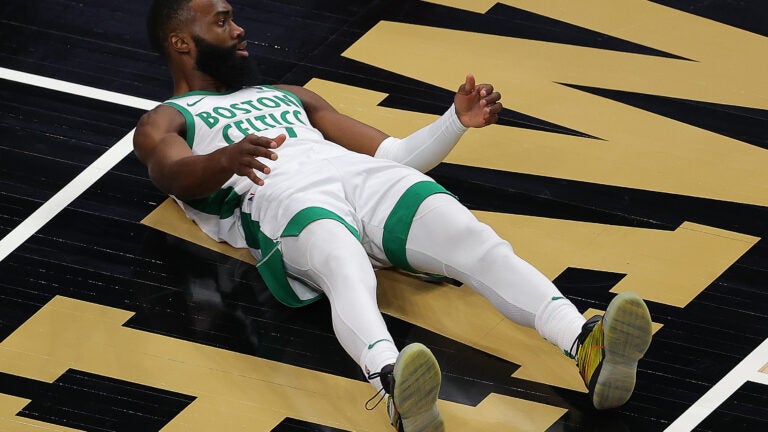 COMMENTARY
The Boston Celtics ended their road trip with a devastating loss to the Atlanta Hawks on Wednesday, falling 127-112.
Five takeaways as the Celtics found a new rock bottom.
The Celtics had nothing left.
Like it or not, one thing appeared abundantly clear: The Celtics were exhausted, both physically and mentally. After Atlanta threw a haymaker of a punch in the first half, Boston had nothing left in the tank for a response.
Still, as Brad Stevens put it: "We may have beaten tonight anyway because sometimes you get hit with a flurry of haymakers in the NBA like these guys did to us tonight, but we could have been in a better position had we played better."
A very brief rally in the third quarter fell flat on its face when Atlanta buried a series of 3-pointers again and pushed the lead back out. By the fourth quarter, the Celtics' bench unit was in. It felt like that would have been an acceptable substitution much earlier, perhaps around the moment in the second quarter when Danilo Gallinari drilled a 3-pointer from near the logo — Trae Young's usual range.
After Tuesday's loss to the Mavericks, Jayson Tatum sighed wearily.
"I mean, s—, we got a game tomorrow," he said. "Just try to move on to the next one. That's all you can do."
After Wednesday's game, the same message rings true.
Sometimes shooters get hot (and this season, 3-pointers decide games).
The variance between wins and losses this season essentially seems to break down along the lines of 3-point shooters, and Atlanta destroyed Boston behind the arc on Wednesday — outshooting the Celtics 54.8 percent to 25.8 percent.
Young, of course, pitched in with 33 points on 12-for-23 shooting and led Atlanta's charge but the real difference was Gallinari, who hit 10 of his 12 3-point attempts and finished with 38 points.
The Celtics had four starters in double figures (Jaylen Brown, Tristan Thompson, Jeff Teague, and Jayson Tatum), but Brown and Tatum finished with 17 and 13 respectively. Against the offensive onslaught from the Hawks, Boston needed a lot more from its stars. That has been a familiar refrain this season.
Boston's youth continued to bring energy. 
Aaron Nesmith finished with 13 points on 5-for-7 shooting. Rob Williams once again posted a few highlights. The Celtics' youngest players aren't ready to help turn Boston into a good team by being reliable role players, but they have submitted a few solid performances.
What that means going forward is unclear. Nesmith and Williams in particular have earned more minutes, but the Celtics can't find wins. That's a difficult equation to solve.
The calls for change are only going to increase in volume.
Celtics fans have been calling for trades, for firings, for anything that could bring the Celtics closer to respectability.
Those calls will only increase in volume after Wednesday's debacle, but it's not clear what exactly the Celtics can do. Tatum and Brown are, of course, untouchable. Others on the team could certainly be shipped out, but while rookies like Nesmith and Payton Pritchard have shown flashes, and while Rob Williams looks like a real player now, they aren't likely to offer a haul that could change Boston's fortunes this season.
Meanwhile, as Grousbeck noted on 98.5 The Sports Hub earlier on Wednesday, firing Stevens or Ainge would immediately make them top options on the open market. Both are talented at their jobs, which makes the team's current situation all the more confusing and exasperating.
Stevens was asked if his message is getting through to players.
"I would say that what I say to you and everyone else is not what I say in the locker room, necessarily," Stevens said. "And how you say it is certainly very important, and I've had my moments. Let's put it that way. That said, I think this team looks like, right now, it's balancing playing unconfidently and unsure with the fact that we've had a couple that slipped away. And so the only way I know to get that back, is to dive on the floor, is to take charges, is to sprint to help your teammates up, is to fight for every single possession. And that's our charge. …
"Listen, none of us are happy with the job that we have done, and I should be first and foremost on that list with where we are."
Something is going on.
We can't say exactly what ails the Celtics. Their offense has gone stagnant. Their defense can't stop anyone. Opposing stars get wherever they want to go and take whatever shots they want to take.
And yet, the Celtics still have plenty of talent. It's a confounding situation that can't really be comfortably explained away.
Maybe Jayson Tatum is still dealing with COVID issues. Maybe Kemba Walker will rally at some point. Maybe none of those things come together and the team continues to spiral.
"It can't get no worse than this," Kemba Walker said 10 days ago, after the Celtics lost to the Washington Wizards.
Clearly, Walker was wrong at the time. The concerning thing is that it still might not be true.
Get Boston.com's browser alerts:
Enable breaking news notifications straight to your internet browser.