Celtics
Here's who Jayson Tatum would pick for his All-Star team if he was a captain
Jaylen Brown, Bradley Beal and others made the cut.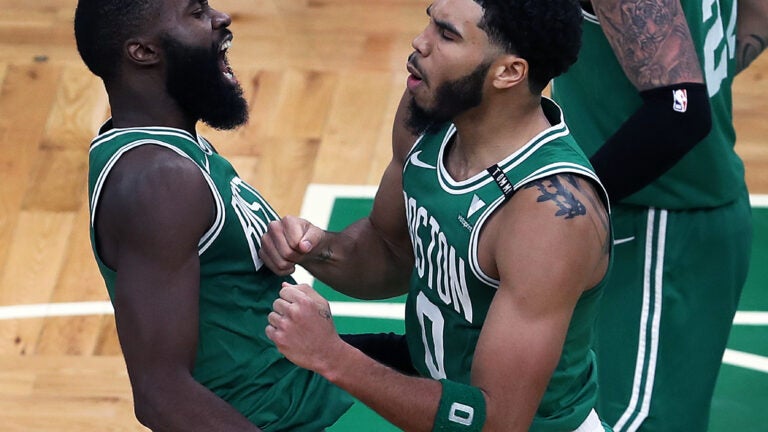 Boston Celtics star Jayson Tatum doesn't really feel like guarding Jaylen Brown, even though they are on opposite sides in Sunday's NBA All-Star Game.
In fact, if Tatum had been a captain, he and Brown probably would have been on the same team. Asked by a reporter who he would have chosen, Tatum listed LeBron James, Steph Curry, his childhood friend (and the NBA's leading scorer) Bradley Beal, and Brown.
Tatum and Brown have proven to be a formidable duo, but Tatum also seems tired of playing against his talented teammate.
"I've been playing JB so much in practice in 1-on-1," Tatum said. "I mean, I'm sure we're on the court at the same time, it might happen, but I was thinking about guarding somebody else. But if it does happen, I know all of his moves. I know what he's going to do, so I ain't going to let him score."
The Tatum vs. Brown All-Star rivalry began after the Celtics' win on Thursday. Tatum was drafted by Kevin Durant, while LeBron James selected "Jaylen 'under-appreciated' Brown."
Informed by reporters that he and Tatum would be on opposite teams, Brown joked that reporters should "tell [Tatum] don't guard me, that's all I'm going to say."
Brown and Tatum have spent a lot of time at the Celtics facility together — working out, playing 1-on-1 and running through shooting competitions. When they first entered the league, they shared a shooting coach — Micah Shrewsberry, who is now the associate head coach at Purdue.
"Especially when I came in, [we were] just two young guys trying to prove themselves," Tatum said. "Obviously [Brown] had been here a year before me. When I first got here, first two years, we had the same shooting coach, Shrewsberry, so we always kind of shot together, and we just always in the gym, always working, always trying to get better, just trying to push each other. A lot of one on one games a lot of shooting drills. Just came kind of natural."
Couldn't be more excited to watch the NBA All Star festivities. I get to see my guys @FCHWPO & @jaytatum0 compete in the game + 3 point contest. A word of advice: don't wear a headband tonight! pic.twitter.com/Ujf88qELBW

— Micah Shrewsberry (@Shrews1244) March 7, 2021
Tatum made the All-Star game last year. Two years prior, he won the Skills Competition with a half-court shot over Trae Young. Sunday's event will look a lot different.
"I'm curious to see how it's going to look," Tatum said. "We've got all the events happening today. It's a lot different than how it was last year. But I'm grateful to be an All-Star, second year in a row, and try to enjoy it as much as we can."
For Brown, meanwhile, his first All-Star experience will take place in his home town of Atlanta in front of a very limited number of fans.
"It's a lot different. The world is now," Brown said. "COVID is still out there. Definitely, our approach is different, understanding everything. That limits family time, that limits festivities, that limits everything or stops it completely. Having the awareness of that is still important."
Still, fans or no fans, Brown is ready on the off chance he and Tatum do find themselves matched up.
"He thinks he knows my moves but I tell him all the time like I ain't got to do too much," Brown said. "He thinks he knows my moves."
Get Boston.com's browser alerts:
Enable breaking news notifications straight to your internet browser.