Celtics
Bradley Beal was 'ecstatic' to play alongside childhood friend Jayson Tatum at All-Star Game
"That in itself was a little honor."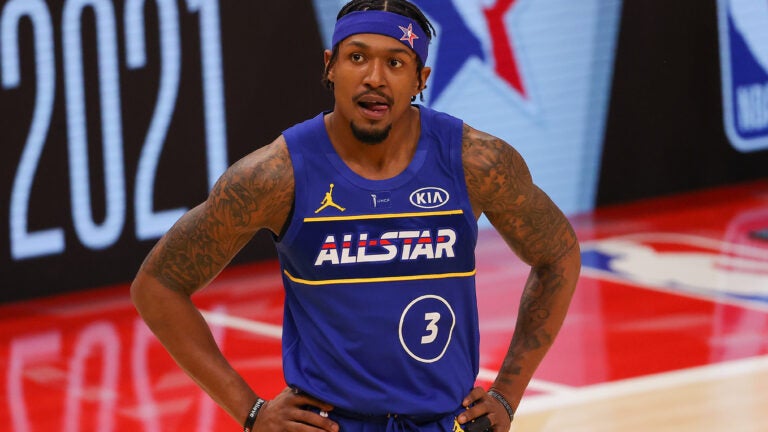 Bradley Beal and Jayson Tatum have been friends since they were kids, growing up together in St. Louis.
But even though they went to the same high school, Sunday's NBA All-Star Game was the first time the duo played together on an official team after Kevin Durant drafted them both onto his squad.
The results weren't always pretty. Both Durant and Joel Embiid were absent, and LeBron James's team rolled to a 170-150 win, claiming all four quarters.
But Beal and Tatum had a chance to share the court for the first time, which was a positive experience for both players.
"It was fun," Beal said. "It was fun, man. That's my brother. That's my brother forever. It was very unique and awesome to be able to share a floor with him, for us both to get going. Like I said before, we've never been on the same team. That in itself was a little honor. We were both ecstatic about it, and we were happy. St. Louis boys have to stick together.
"We were happy we were selected on the same team, and we got to come out tonight and showcase that for the world."
On Thursday, prior to the game, Tatum said playing with Beal was what he was hoping for all along.
"Everybody knows how close we are and the history we have, and it's just a really special moment," Tatum said. "Two guys from the same high school, same neighborhood, kind of grew up together, starting in the All-Star game from St. Louis, it don't get no better than that."
Beal led Team Durant in scoring with 26 on 10-for-16 shooting, while Tatum pitched in 21 points on 9-for-16 shooting.
Beal made his third All-Star appearance on Sunday and his first start. He didn't make the team last year despite averaging more than 30 points per game.
"It was amazing just to be able to be out on the floor with 20-plus other guys in the league who are phenomenal at what they do," Beal said. "For me to start, that felt great. I was happy about it. I enjoyed every single moment of being out there on the floor and happy we were able to compete and have fun with it."
Sunday was Tatum's second All-Star appearance.
"I wasn't nearly as nervous as I was [last year]," Tatum said. "Just with the overall environment, I kind of knew what to expect, how it was going to go. I was much more comfortable."
Get Boston.com's browser alerts:
Enable breaking news notifications straight to your internet browser.