Celtics
6 things Celtics fans should know about potential trade target Nikola Vucevic
Vucevic would be a nice player, but he wouldn't come cheap.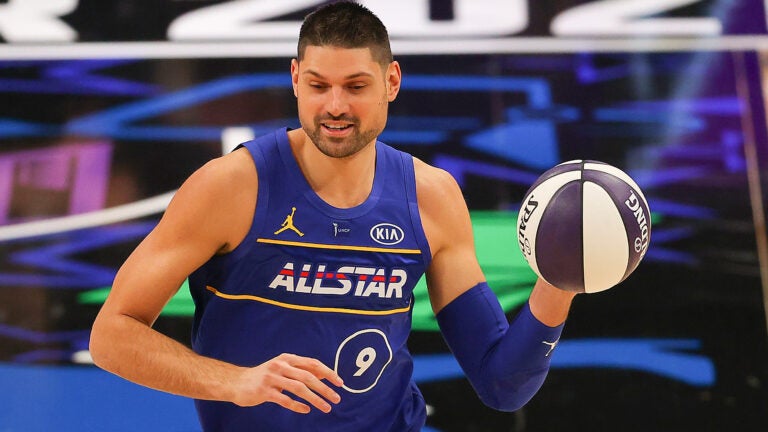 Now that the NBA's All-Star break is over, the league's attention can turn to the March 25 trade deadline in earnest, and the Boston Celtics promise to be one of the more intriguing teams on the market.
The Celtics entered the break on a four-game winning streak that boosted them two games above .500, but they have not looked like a contender despite high preseason expectations. With the biggest TPE in NBA history in his back pocket — a $28.5 million tool — Celtics GM Danny Ainge has some options.
According to the Ringer's Kevin O'Connor, writing in his latest power rankings, Ainge is eyeing Orlando Magic center Nikola Vucevic.
"The Heat, Spurs, Celtics, and Hornets have all expressed significant interest in acquiring All-Star center Nikola Vucevic, league sources say," O'Connor wrote, adding that league executives are "skeptical" Orlando will make a deal.
"If they do, the price would be high," O'Connor wrote.
This is not the first report tying the Celtics to Vucevic. So who is the Magic big man, and what would he bring to the table? Here's a closer look.
The big picture
The son of former Euroleague champion Borislav Vucevic, Nikola Vucevic was drafted with the No. 16 pick in 2011 by the Philadelphia 76ers. The next season, he was part of Orlando's haul in the four-team deal that sent Dwight Howard to the Los Angeles Lakers the first time. Almost immediately, Vucevic became a double-double machine in Orlando — in his first season with the Magic, he averaged 13.1 points and 11.9 rebounds per game, and he set the team record for rebounds in a single game with 29.
Vucevic made his first All-Star team during the 2018-19 season, when he averaged 20.8 points and 12 rebounds per game. He was selected to this year's All-Star game as well on the strength of his career-high 24.6 points per game (with efficient 48.3/41.2/85.1 shooting splits) while pulling down 11.6 rebounds per game and dishing out 3.7 assists.
Vucevic will be 30 for the remainder of this season. He is owed $26 million this year and has two years left on his deal. The money descends by $2 million every season.
What would it take to get Vucevic?
As O'Connor wrote, Vucevic will not be cheap. While the Magic hold the second-worst record in the Eastern Conference and could use a couple of draft picks, Vucevic is a deserving All-Star.
The Celtics would be able to fit Vucevic into their TPE, but they would need to trade back enough salary to stay under the hard cap. That probably wouldn't be complicated.
Presumably, the Celtics would not be interested in trading any of their top players — Jayson Tatum, Jaylen Brown, Marcus Smart, or Kemba Walker. That leaves bare cupboards in terms of trade value (Robert Williams? Aaron Nesmith? Romeo Langford?), but Ainge does still have all of his future draft picks. Perhaps the Magic could be intrigued by a combination of Williams and several first-rounders, but teams like Charlotte and Miami — the two other suitors O'Connor noted in his power rankings — would be in a position to spark a bidding war by offering similar packages.
Also, do the Celtics want to give up on Robert Williams at this stage?
What is Vucevic good at?
Vucevic is as pure a scorer as exists at center in the NBA. Others are certainly better players — Joel Embiid and Nikola Jokic are both MVP candidates — but Vucevic can space to the 3-point line more comfortably than both and operates well in the pick-and-roll. Per the NBA's stat site, Vucevic averages more possessions as the roll man (5.6) than any other player in the league, and he converts them at an efficient clip: 1.17 points per possession.
Vucevic can score out of the post as well — 23.9 percent of his offense is the result of post-ups. He's much less efficient (0.93 points per possession, 47th percentile), but dumping the ball into him isn't a bad option in a pinch.
Vucevic is an elite rebounder who has averaged single-digit rebounds just three out of his 10 NBA seasons. His assist numbers are encouraging as well, and he can pass with his back to the basket.
What are the concerns?
Since 2013-14, Vucevic has had a usage rate of 23 percent or higher every season, which is annually in the 90th percentiles. Would he be as effective with high-usage wings and guards gobbling up the lion's share of the possessions?
Defensively, Vucevic isn't a disaster, but he also isn't the classic defensive anchor most teams covet at center. He's in position more often than not, and he's a big body, but he's relatively slow-footed and wouldn't be switchable.
How would he fit?
Offensively, the Vucevic vision makes a lot of sense. Brad Stevens's teams excelled with Al Horford at center. Vucevic isn't as solid a passer and he certainly isn't as good defensively, but he would be a more reliable scorer, especially from the 3-point line, and he's a passable distributor.
Most crucially, Vucevic would open up the paint in ways Daniel Theis, Tristan Thompson, and Robert Williams simply can't. Tatum, Brown, and Walker consistently beat defenders to the rim. With Vucevic operating at the top of the key as a pick-and-pop shooter/dribble hand-off initiator who pulls out the opposing center, the Celtics' offense might get a potent shot in the arm.
The hope, then, would be that the Celtics' defense — which has faltered this season — could make up the difference. Marcus Smart, Jaylen Brown, and Jayson Tatum are all versatile, but having Kemba Walker at the point of attack and Vucevic at the rim might be challenging for Stevens to scheme defensively.
Perhaps also worth noting: Joel Embiid hasn't scored 30 points against Vucevic since 2018. Whether that would hold over the course of a playoff series is questionable, but while Vucevic isn't an Embiid stopper, his 6-foot-11, 240-pound frame might be a better option than anything the Celtics can currently throw at the Sixers' star.
The bottom line
The case for Vucevic is pretty clear: He's bigger, stronger, and significantly more talented than any of the Celtics' other options at center. The floor spacing is perhaps the most intriguing element and would grease the offensive gears quite a bit.
Will the Magic be willing to deal? If so, can the Celtics muster up the most compelling package? Would the Celtics rather shore up their paper-thin wing/forward depth with a veteran like Harrison Barnes or a (presumably) cheaper option like Larry Nance?
Vucevic is a talented player, but plenty of big questions remain.
Get Boston.com's browser alerts:
Enable breaking news notifications straight to your internet browser.