Celtics
Why a Mason Plumlee-Wayne Ellington trade could be a consolation prize for the Celtics
The Athletic's James Edwards III writes Plumlee would be a significant upgrade over Tristan Thompson, and Ellington could elevate the bench's scoring.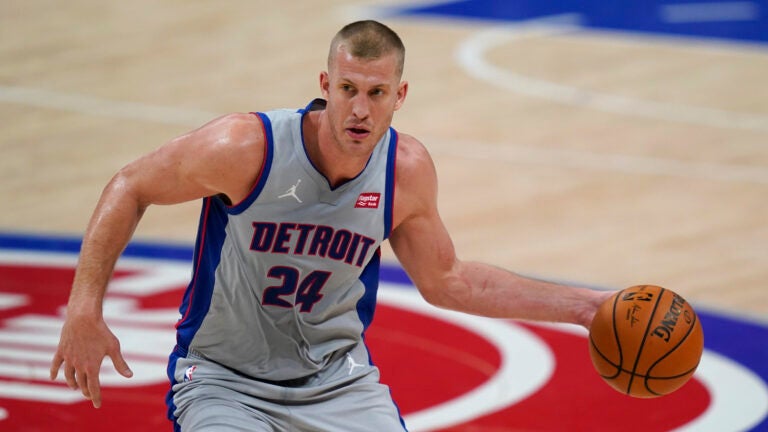 The Boston Celtics missed out on the biggest fish in the open market as they gear up for a postseason run, with Blake Griffin agreeing to a deal with the Brooklyn Nets after the Detroit Pistons bought out the remainder of his contract.
As the team shifts its focus back to the upcoming trade deadline (March 25), the Celtics have reportedly targeted frontcourt players like Orlando's Nikola Vucevic, Cleveland's Larry Nance Jr., and Griffin's ex-teammate in Detroit Jerami Grant to complement their perimeter-heavy structure with Jayson Tatum, Jaylen Brown and Kemba Walker.
Vucevic and Grant would be the best gets of that group. But the All-Star Vucevic would likely fetch an enormous price, while the Pistons don't appear interested in trading Grant.
But if Boston strikes out on its top options, the Athletic's Pistons writer James Edwards III and former NBA executive John Hollinger write the Celtics could pivot to upgrading their depth by trading Tristan Thompson, Javonte Green, and next year's first-round pick for Detroit big man Mason Plumlee and guard Wayne Ellington.
Neither Plumlee (10.4 points, 9.1 rebounds and 3.8 assists per game) nor Ellington (10.8 points, 1.7 rebounds, 1.4 assists per game) is lighting the world on fire this year. But Edwards makes the case for the veteran depth and relatively better production both could bring over the counterparts Boston would lose, specifically Thompson (7.9 points, 8.3 rebounds, one assist per game).
"Plumlee, with his frontcourt playmaking and efficiency around the rim, would be an offensive upgrade over Thompson," Edwards explains. "And believe it or not, Plumlee is probably a better rim protector than Thompson. Boston is shooting pretty well from 3 this season, but Ellington adds some depth to a bench that is lacking a scoring punch on the wing."
While Edwards acknowledges such a trade would likely be more of a last-ditch transaction for Boston should they strike out on bigger names, Plumlee and Ellington could be a suitable consolation prize. Plus, he says the Pistons would be "saving Danny Ainge from drafting another fringe NBA player late in the first round" by taking on the first-round pick.
Hollinger also sees such a move as a win for the Celtics, especially given the chance to avoid paying the remaining $9 million of Thompson's two-year, $19 million contract next season. "I didn't love Plumlee's (three-year, $25 million) deal either but compared to Thompson, the Plumdog Millionaire was a steal." In addition to Ellington, Hollinger says Detroit guard Delon Wright would also work as an added piece to a Plumlee trade.
And that's not all: the former NBA executive also suggested the Celtics could float a couple of bench guards to potentially sweeten the deal.
"I'd also expect Boston," Hollinger writes, "to enjoin in some extended 'Are you sure we can't interest you in a lightly used Romeo Langford?' and 'What it would take for you to drive off this lot with Jeff Teague?' discussions before eventually coughing up a protected first, one that would be top-14 protected for three seasons before turning into two seconds."
Langford, the Celtics' 14th pick in the 2019 NBA Draft, has not played in a game this season after undergoing wrist surgery last fall. The veteran guard Teague, meanwhile, has struggled to score off the bench this year and has been in and out of Stevens's rotation, though his production has seen an uptick in his last six games.
Furthermore, with Boston's $28 million traded-player exception (TPE) in play, Hollinger states the Celtics could absorb some of the salary difference in a possible trade without sending cash back to the Pistons. Though president of basketball operations Danny Ainge has said Boston might save some or all of its TPE for the offseason, he also has said using a portion of the exception at the deadline was still on the table.
Get Boston.com's browser alerts:
Enable breaking news notifications straight to your internet browser.