Celtics
Celtics' path to catching Kyrie Irving and the Nets won't be easy
The Celtics have a formidable foe for the foreseeable future in the East.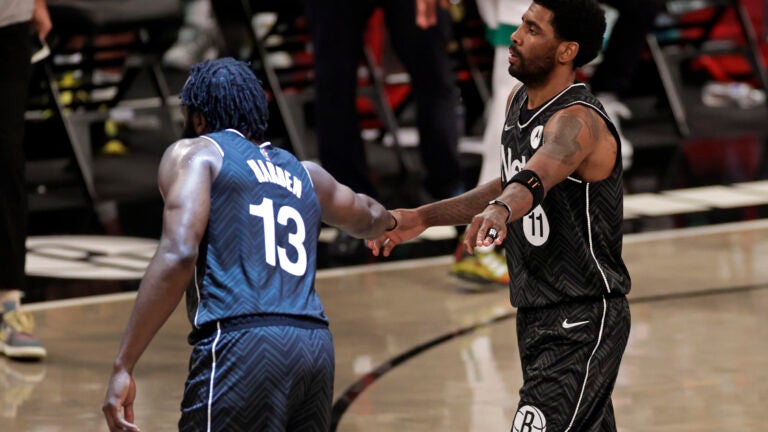 COMMENTARY
The Boston Celtics lost to the Brooklyn Nets on Thursday for a variety of smaller reasons and one big one.
The smaller reasons include Jaylen Brown's off night (he led the Celtics in field-goal attempts but finished just 5-for-23 from the field), Marcus Smart's minutes limit (20) and Kemba Walker's sudden icy-cold shooting (he started 4-for-5 but finished 5-for-12).
The big one: The Nets are just better.
"We're still trying to get to that level," Marcus Smart said after the game. "And as you've seen, they even started off the season not as well as they wanted to, so it can be done."
Smart left out an important element, however: The Nets became their current iteration by essentially trading Caris LeVert (a good young player), Jarrett Allen (a good young player) and a bunch of picks (abstract value) for James Harden (one of the best players in the NBA). Those trades can ruin a team when they go wrong, but they can turn a contender into a favorite when they go right.
The Nets also may have struck gold — either accidentally or using singularly brilliant foresight — by finding a way to mesh three players that haven't always meshed with teammates. Kevin Durant and Kyrie Irving both have a history of discontent. Harden executed an exit from the Houston Rockets so ugly, he half-apologized for "how it went down."
But on the floor for the Nets, that trio can work wonders. Harden handles the ball and does a little bit of everything (22 points, 10 rebounds, eight assists against the Celtics). Irving scores when he's feeling hot, and he deep fried the Celtics for 40 points on 23 shots on Thursday. Durant, when healthy, remains one of the greatest scorers in the history of the league. All three have usage rates higher than 30 percent, so all three are getting plenty of opportunities.
Meanwhile, the Nets surrounded those three singular talents with shooters and athletic bigs, all of whom are happy to produce but look just as happy facilitating the production of the superstars. The defense isn't good (23rd in the NBA, per Cleaning the Glass), but it might improve when the playoffs roll around, and if it doesn't, the offense might be good enough to make the point moot. There's plenty of time for the Nets to lose their footing and chafe at each other, but early returns suggest they could be a genuine Eastern Conference super team.
The Celtics were competitive against the Durant-less Nets on Thursday until they weren't. They hung around for three quarters and made a fourth-quarter push that closed a 10-point deficit to three, but Irving's flurry of late baskets combined with Landry Shamet's sharp-shooting put an oddly undramatic end to Boston's four-game winning streak. The Nets built their final margin — 121-109 — with the two things the Celtics perhaps lack most: Fourth-quarter production and bench scoring.
Jayson Tatum was asked if the Celtics feel like they are "a couple plays here and there" from competing, or if the gulf feels wider.
"Regardless of if you win a game or lose it, especially in the regular season, it's still one game," Tatum said. "You can't get too excited about it, you can't get too low."
He's right, of course, but it's hard not to come away from Thursday's matchup thinking the Celtics are in a tough spot. Tatum and Brown are ready to win as soon as possible, and the Celtics have a massive traded player exception at their disposal, but the TPE is just low enough that it can't net a max player. The Celtics could use it to acquire a nice player, but they can't add a James Harden (or, perhaps more to the point, a Bradley Beal).
The Nets, of course, are the team the Celtics fleeced in 2013, which helped them reach their current stage. Danny Ainge shrewdly drafted Jaylen Brown and Jayson Tatum, and the Celtics built a competitive team with an eye to the future. The plan was good, although the Celtics' visions of their own super-team fell apart due to lack of enthusiasm (Anthony Davis), unbelievable bad luck (the Gordon Hayward injury, among other things) and overall team disaster (the entirety of the 2018-19 season).
Now an Eastern Conference competitor employs Durant, Harden and Irving. Whether the Nets are as formidable as the LeBron James seawall that repeatedly rebuffed the Celtics from 2015 to 2018 remains to be seen, but the star talent and depth are undeniable.
The Celtics' future has always been very bright, if a little blurry. Having Jayson Tatum and Jaylen Brown is a brilliant starting point, and drafting them both accomplished the hardest part of team building: Acquiring young star talent.
Tatum and Brown are under contract for a long time — Tatum through 2025 and Brown through 2024. The Nets' trio all have player options after the 2021-22 season, which puts Brooklyn under pressure to win immediately to keep everyone happy.
But for years, observers warned that a bright future doesn't guarantee anything, and that the NBA landscape can shift quickly. Twice in three years now, the Celtics were within two games of an NBA Finals appearance. Both times, they were thwarted.
Now, as the Celtics' best players near their primes, getting back to that point looks harder than ever.
Get Boston.com's browser alerts:
Enable breaking news notifications straight to your internet browser.