Celtics
Here's why Celtics rookie Aaron Nesmith has been out of the rotation, per Brad Stevens
"He will get his opportunities. He will play."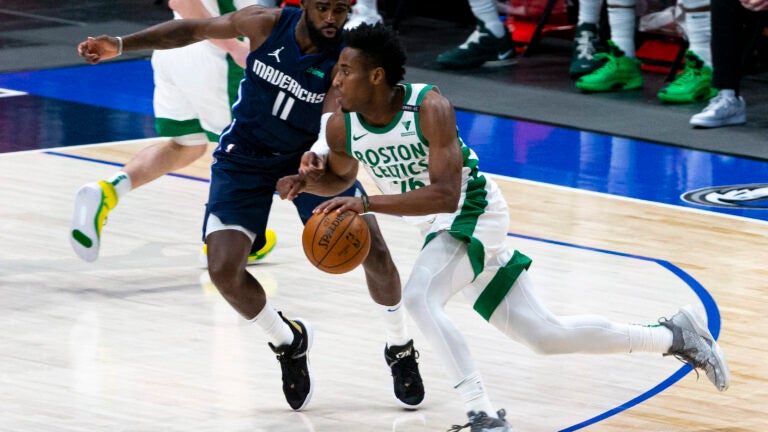 Celtics rookie Aaron Nesmith has not played in the team's last four games after earning his way into the rotation for a two-week stretch.
During those two weeks, Nesmith averaged more than 20 minutes per game. He dropped a career-high 13 points against the Atlanta Hawks on Feb. 24, perhaps the Celtics' most embarrassing loss of the year.
According to Brad Stevens, Nesmith's recent DNP-CDs aren't his fault.
"I thought he did a lot of good things and has come along well," Stevens said. "But I think one of the things, when you've got Payton out there with that second group — he's a first-year player, Aaron I thought again did good things, but rotating them together as we get more fully healthy is just more difficult. But he will get his opportunities, he will play."
Expectations were sky-high for Nesmith after he was selected 14th by the Celtics. Fans (and the team) hoped he could immediately plug in as a 3-and-D shooter on the wing — Nesmith shot 52.2 percent on 8.2 3-pointers per game in his sophomore season at Vanderbilt.
Danny Ainge added fuel to Nesmith's hype in November.
"He can come in the gym and out-shoot most of our guys right this second," Ainge said, adding "I'm guessing Jayson Tatum will have a little dispute with that."
But Nesmith — who played only 14 games as a sophomore — has struggled to fully acclimate himself to the NBA game. He's shooting just 39.7 percent from the field and 35.4 percent from deep, and his minutes have been spotty all season. Nesmith has played extremely hard (perhaps even recklessly at times), but the speed of the NBA game still seems to be a little too much.
For his part, Nesmith seems to understand that many rookies have a rocky first year. His own rookie season — with COVID restrictions, a condensed schedule, and limited practice time — is particularly challenging.
"There's going to be ups and downs in the NBA season for a lot of rookies, including myself," Nesmith said last month. "This is the most games we've ever played in one season, so to play this many games back-to-back and make sure that you're prepared for each one, it's a hard thing to do. But as long as you stay consistent in your body of work, consistent in the things that you're supposed to be doing every day, that will help you through and help you keep from hitting that rookie wall, as they say."
Get Boston.com's browser alerts:
Enable breaking news notifications straight to your internet browser.