Celtics
5 takeaways as Jaylen Brown helps Celtics pull away for easy win over Rockets
The Celtics blew out a short-handed Rockets team on Sunday.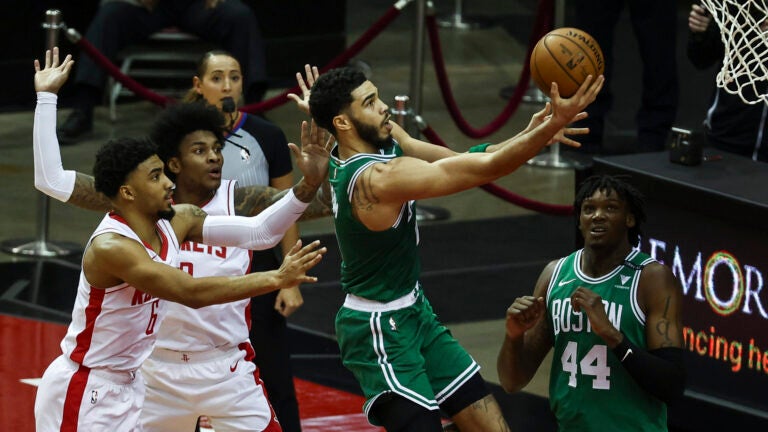 The Boston Celtics had a rare easy win on Sunday, blowing out the short-handed Houston Rockets 134-107.
Here's what transpired.
The big picture
The Celtics messed around just long enough to worry fans that they might be the reason the lowly Rockets broke the league's longest losing streak, but they got their act together late in the first quarter and spent the rest of the game building a 27-point victory to get back on track. The banged-up Rockets, somehow, have now lost 16 games in a row.
Star of the game
Jaylen Brown – 24 points, 9-for-14 shooting, 2-for-3 from three, 27 mins.
None of the Celtics' stars played enough to build a huge stat line, but Brown helped the Celtics pull away in the second quarter and set the table for the rest of the game. He made several very difficult jumpers and abused mismatches en route to a hyper-efficient evening.
What it means
The Celtics got a few things from Sunday's win. Most importantly, they got a victory, and as Brad Stevens put it before the game: "Every game is worth one."
The Celtics also got a blow out, which crucially gave their starters some time off before a grueling stretch of games. The next few weeks will be incredibly taxing. Starting them off with a win and limited wins for the stars is helpful.
Takeaways
1. The Celtics' double-big lineup once again struggled in the early going, as Victor Oladipo and Kevin Porter Jr. paced the Rockets to an early eight-point lead. But the second unit — led by Marcus Smart, Semi Ojeleye, and Rob Williams (16 points, 7-for-7) — helped right the ship.
But Ojeleye made several 3-pointers, and Williams played his game and even made a couple of moves in the post. Smart has twice now helped change the game for the Celtics since his return.
2. The Celtics more or less seemed to be on a good track after the first quarter (see: No. 3), but Kemba Walker really put the game away early in the third quarter. He got to the rim and finished a layup, drew three free throws out of the pick-and-roll, buried two consecutive triples and found Jayson Tatum for a layup.
Those 13 points helped push the lead to 22, and the Celtics never let up. Walker finished with 16 points on 4-for-11 shooting.
"We wanted to give [Walker] a chance to attack down hill," Brad Stevens said. "His energy was great all night and he was loud and he was engaged, and then I thought the game honored him by letting the ball go through the net a few times to start the third quarter. We always talk about the game rewards you if you approach it the right way and he does that for us, so it's good to see that."
3. The Rockets are really bad, and they are even worse when John Wall and Christian Wood are off the floor. The Celtics are not above a good letdown game against a bad team, but the Rockets were too short-handed and talent-deprived to mount a serious run against the Celtics when they got down to business.
Houston has embraced tanking and will probably get a really nice piece in the offseason — the 2021 NBA Draft has a lot of talent, especially at the top (make sure to catch Cade Cunningham and Oklahoma State as the NCAA tournament tips off this week). Rebuilding after James Harden's departure won't be easy, but the Rockets might find themselves with a good building block whenever the draft rolls around.
4. Jayson Tatum made this move look very easy.
Wild that Tatum makes this look easy lol pic.twitter.com/rINIGM1d5L

— Tom Westerholm (@Tom_NBA) March 15, 2021
Tatum is a very talented player, which makes free-flowing blowout performances fun to watch.
5. Robert Williams finished with 16 points on 7-for-7 shooting as well as 13 rebounds and three blocked shots. After yet another lackluster performance by Boston's double-big lineup, it's worth pointing out once again (seriously, we point this out often) that the Celtics are trying to keep Williams healthy for a late-season push, but Williams keeps making the case for extended minutes now.
Stevens is in a tough spot — Daniel Theis and Tristan Thompson are too talented to keep on the bench. With the trade deadline looming, one has to wonder whether Danny Ainge might consider simplifying Stevens' job a little bit.
"I just think we can make it so that he can play more, and more and more as the season goes on," Brad Stevens said. "Again, the density of the games and his history, especially last year, we're just being conservative. But he's getting a lot better. You can see that. And he's able to play a little bit longer stints than he has in the past, because he plays really hard when he's out there. So that's all encouraging."
Get Boston.com's browser alerts:
Enable breaking news notifications straight to your internet browser.