Celtics
Celtics' Robert Williams wants as many minutes as he can get: 'I just have to lock in more'
"Obviously I want as many minutes as I can get."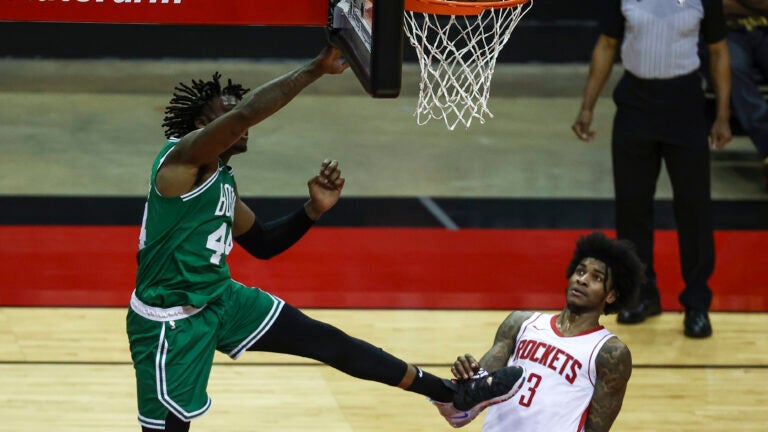 The Celtics have too many bigs who need minutes, and Brad Stevens knows it.
On Sunday, as the Celtics rolled over the undermanned and overmatched Houston Rockets, Daniel Theis started the game, then barely played the rest of the way. At halftime, Stevens said he pulled Theis — who finished with a little more than six minutes total on the floor — aside.
"We're going to be in a situation more now where one of those guys isn't playing as much as we're smaller," Stevens said. "It won't be the same guys every night, because it'll be matchup dependent, and kind of who's going."
Early in the season, Stevens tried to make room for all three of the Celtics' bigs — Daniel Theis, Tristan Thompson, and Rob Williams. Stevens' solution made some sense: He started Theis and Thompson so Williams could play major minutes as the back-up center.
After a disastrous start, the double-big lineup has surged — with Theis and Thompson on the floor, the Celtics have outscored opponents by 1.3 points per 100 possessions. In addition, Theis on the floor without Thompson has produced great results (+7.8/100 possessions).
Williams' numbers have been low, but the flashes are undeniable. On Sunday he scored 16 points and went 7-for-7 from the floor. All seven field goals were dunks or tip-ins at the rim. Meanwhile, he pulled down 13 rebounds and swatted away three shots in just 19 minutes.
After the game, Stevens was asked about Williams' limited minutes. In the past, Stevens has said the Celtics hope to preserve their bouncy center's occasionally balky hip for later in the season. On Sunday, Stevens once again noted how difficult the compressed schedule might be for Williams' health.
"I just think we can make it so that he can play more, and more and more as the season goes on," Stevens said. "Again, the density of the games and his history, especially last year, we're just being conservative. But he's getting a lot better. You can see that. And he's able to play a little bit longer stints than he has in the past, because he plays really hard when he's out there. So that's all encouraging."
For his part, however, Williams says his hip is feeling significantly better.
"To be honest, obviously I want as many minutes as I can get," Williams said.
Increasingly, he's earning them. Pace-adjusted stats aren't always reliable, but Williams is averaging 15.7 points, 13.4 rebounds and 3.7 blocks per 36 minutes. He has never played more than 23:04, however — a 10-point output in the Celtics' win over the Raptors immediately before the All-Star break.
"Rob has been great for us," Jaylen Brown said. "He's even getting better as the days are going on — feeling it as we play off of each other. Rob has been really good."
While Williams' minutes have been low, his playing time has been more consistent this season despite missing a week due to a positive COVID-19 test. Staying on the floor consistently has allowed Williams to build some continuity with his teammates.
"It's just obviously a great confidence booster," Williams said. "Obviously the best ability is availability, shout out to [Danny Ainge] for always telling me that. But like I said, it's a big blessing just to be able to go out there every day and run."
The trade deadline is coming, and the Celtics have the potential to be very active. Stevens' center logjam might be taken care of if Danny Ainge uses a big to make a move for depth elsewhere.
But whether or not the murky lineup clarifies this season, Stevens sees what everyone else is noticing: Williams' potential is as high as his vertical leap.
"Rob, obviously, gives us an upside there that I think we just need to keep building and building and building," Stevens said.
Get Boston.com's browser alerts:
Enable breaking news notifications straight to your internet browser.