Celtics
How the Evan Fournier, Daniel Theis trades change the Celtics' outlook this season
The Celtics gain another scorer to take pressure off of their stars, but lose a stalwart contributor in the frontcourt.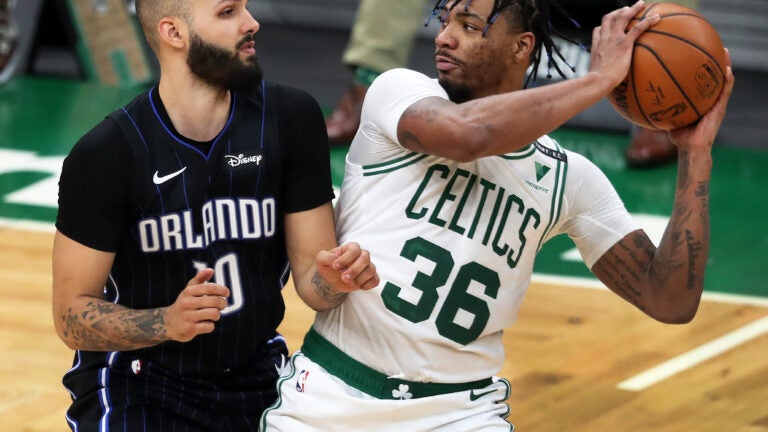 COMMENTARY
The blockbuster trade Boston Celtics fans hoped to see didn't come before Thursday's trade deadline. But Danny Ainge did finally snap his six-year streak of standing pat on in-season trades in an attempt to inject new life into a disappointing Celtics season.
Boston dealt two second-round picks to the Orlando Magic to acquire scoring guard Evan Fournier and then traded away center Daniel Theis and guards Jeff Teague and Javonte Green in a three-team swap that netted Boston two young big men in Washington's Moritz Wagner and Chicago's Luke Kornet.
Only one of the Celtics' new additions, Fournier, figures to matter much as both Wagner and Kornet are largely nominal bench players. But the loss of the team's best frontcourt player in Theis could have immediate implications for Boston's offense as it fights to stay in the Eastern Conference playoff picture.
Here are a few ways the team's trades change, or don't change, the Celtics' outlook for the 2021 season.
Fournier will help carry the offensive load.
The former 20th-overall pick in the 2012 NBA Draft certainly wasn't the most enticing Magic player the Celtics were pursuing in the trade market. I'm sure many fans would have preferred All-Star Nikola Vucevic or high-flying Aaron Gordon.
But make no mistake: Fournier's addition will make the Celtics better.
A closer look at the numbers shows the 6-foot-7 guard is one of the most efficient scorers in the league this season. His overall points per possession (+9.5; 95th percentile) and points per play generated in the halfcourt (+13.2; 99th percentile) are among the NBA's elite, according to Cleaning The Glass.
He can score from anywhere on the court and has consistently improved as a playmaker as his career has progressed, even assisting on a career-best 19 percent of his teammates' baskets this year (89th percentile in the NBA).
Assuming he comes off the bench with Boston, his usage won't be nearly as high as it's been in Orlando. But he would undoubtedly be the team's best bench scorer and could perhaps play a steadying role similar to what Gordon Hayward played on the Celtics' second unit last year. It also gives Brad Stevens the ability to provide more rest to his backcourt stars with less fear of scoring droughts.
Fournier won't provide much in the way of defense, but his offensive ability should outweigh those negatives and ultimately make the team's second unit more dangerous.
The Celtics lose their most versatile big man.
Theis at times struggled to stand out while usually flanked by backcourt stars Jayson Tatum, Jaylen Brown, and Kemba Walker and often had his hands full on the defensive end, giving up several inches and a good deal of weight to opposing big men.
But the 6-foot-9 center out of Germany carved out a niche as a do-it-all big man who did whatever dirty work was needed to complement the Celtics' guard-centric lineups.
Theis departs as one of Boston's most valuable players in halfcourt offense this year — his 6.2 points per play in that metric ranked in the 88th percentile among all NBA players and was better than every Celtic except Teague. He transformed himself into a dependable shooter both from the midrange and from 3-point land, extending his range beyond the arc this season in a way no other Celtics big provided.
He also proved a solid defender as well, allowing the Celtics to switch defensively and also blocking more shots than you would expect for an undersized big.
Boston will likely miss his stretch-5 skillset the most as he leaves town to join the Bulls. But his departure opens the door for a promising young big to show what he's got.
It's time for "Time Lord."
All the folks clamoring for Rob Williams to get more minutes got their wish.
With Theis out of the picture, the path is now clear for Williams to seize more minutes at the center spot opposite Tristan Thompson. Neither Wagner nor Kornet poses any real threat to siphon playing time away from him.
In limited action, he's proven himself an effective inside scorer — his shooting percentages at the rim and in the short-midrange (4-14 feet) are elite among NBA big men — and has shown flashes of ability as a pick-and-pop shooter from the free-throw line and elbow.
In fact, he generates more points per possession as a pick-and-roll man (1.32) than any player on the Celtics aside from Tatum (1.45), according to NBA.com Stats, in no small part because he can finish any lob as long as you keep it inside the building.
Robert Williams with some bounce 👀

(via @NBA) pic.twitter.com/u0gKRhxceh

— NBA on ESPN (@ESPNNBA) March 3, 2021
They'll need him in that capacity even more without Theis, though he doesn't need to develop Theis's confidence as a 3-point shooter at this point.
Williams is also the team's best interior defender, ranking among the league's best bigs in block, steal, and rebounding percentage. If he can keep his foul numbers down, his presence might help the Celtics improve on their porous defense in the paint.
The Celtics still didn't make themselves a meaningful contender.
Adding Fournier to the lineup should help take some of the burden off Boston's trio of top scorers as a primary scoring option off the bench. Furthermore, Ainge has said he intends to keep Fournier around long-term, possibly opening the door for the veteran guard to replace Walker in the starting lineup down the line. They also opened up space for Williams to show more fully what he can do by letting Theis go.
But these moves don't move the needle far enough to put them past the Eastern Conference's best teams.
Even with the potential for greater change down the line, the Celtics, for now, remain more or less what they've been: a top-heavy team that's largely reliant on perimeter scoring with a lot of young, unproven players.
Signing a player like Andre Drummond on the buyout market won't change that; he's essentially a more expensive Thompson, and one could argue they already have that kind of player in Williams. Bringing in LaMarcus Aldridge, who might hit the market via buyout, might help given his ability to score in the post and in the midrange, but a past-his-prime big man probably isn't the key to winning the East. On top of that, Ainge's desire to see what he has in Williams might preclude such moves (unless it means cutting ties with Thompson or sending him to the bench).
In the end, barring an epic Tatum or Brown supernova experience in the playoffs, the talent gap between them and teams like the Brooklyn Nets remains too vast to bridge for now.
Get Boston.com's browser alerts:
Enable breaking news notifications straight to your internet browser.