Celtics
Danny Ainge on the Celtics' deadline deals, 'made up' trade reports, and Marcus Smart's shooting slump
"I want our coach to feel hope, and I sensed some discouragement internally with our guys."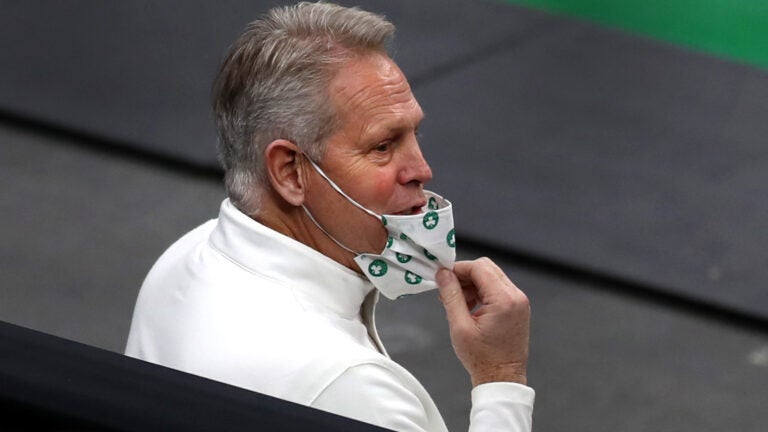 Following the NBA trade deadline on Thursday, Celtics president of basketball operations Danny Ainge first met with reporters in a virtual press conference before calling in to 98.5 The Sports Hub's "Toucher & Rich" for a second interview.
Boston added Evan Fournier, Moritz Wagner, and Luke Kornet in a pair of trades, sending Javonte Green, Daniel Theis, and Jeff Teague in exchange (along with pair of second-round picks). The moves came amid questions over the current ceiling of the Celtics' 2021 season, as the team is 4-6 over the last 10 games and sit eighth in the Eastern Conference.
In the press conference, Ainge said that despite the team's struggles — the Celtics are currently 21-23 following lofty preseason expectations — he didn't think he had been forced to make a trade.
"I didn't feel pressure to do any of these things," said Ainge in response to Gary Washburn of The Boston Globe. "I feel that this is a deal I would've done at any time over the last few years, probably, with this opportunity.
Ainge immediately added that he did feel pressure, but in a different sense.
"I guess the greatest pressure is just I want our players to feel hope," said Ainge. "I want our coach to feel hope, and I sensed some discouragement internally with our guys. So that was one reason why I did something now as opposed to waiting somewhere down the road."
In a follow-up question from Washburn, Ainge elaborated, noting that the "discouragement" is not unique to the current Celtics team.
"I talk to the players, I'm around the team in the locker room, and I can just sense a feeling of discouragement and frustration like would happen with any team that's playing below what they believe they can play," Ainge explained. "It's not any one incident or any one personality.
"There's a difference when things are going really well and when things aren't," Ainge continued. "I know guys are trying. Our coaching staff works relentlessly and our players are in working everyday, putting in the time. They go through stretches of real optimism and hope. I can see it in their play. But when you're not living up to your expectations, then the opportunity for discouragement and frustration creeps in. I think that happens with every team. It's happened with every team I've been associated with."
Ainge, referencing Fournier, said his hope was that the veteran would "give us a jolt."
One theory regarding the trades was that both were done partly to get some of Boston's younger players more playing time.
"They're not moves specifically for that, with the exception of Robert," Ainge told "Toucher & Rich," referencing center Robert Williams. "I think that he's getting better and better, and we're excited about his progress."
And like any trade deadline, much of the discussion beforehand was accompanied by unsubstantiated rumors.
Ainge was asked if the reports in the last few days about the possibility of a trade involving Marcus Smart had any truth to them.
"Those were all just made up stuff," replied Ainge. "I did read one headline that said something about the Celtics are going to trade a few first-round picks and Marcus Smart for this specific guy. I don't even know where that comes from."
"I'm not sure I've assured anybody that I would never trade them," Ainge added when asked if he personally told Smart the reports weren't true. "But I probably disputed any of the trades that were being talked about. I don't want to trade Marcus."
On the subject of Smart, who has hit just eight percent of his 3-point attempts in the fourth quarter this season, Ainge reiterated the 27-year-old's importance to the team.
"Listen, guys go through crazy slumps. Good players go through slumps," Ainge noted. "Marcus has been through shooting slumps before and I'm confidenct that he'll come out of it. We need Marcus to take and make shots, just like every other player that's on the court."
Get Boston.com's browser alerts:
Enable breaking news notifications straight to your internet browser.