Celtics
Evan Fournier had a false positive COVID test before joining Celtics
Fournier spoke to the media for the first time prior to Monday's game.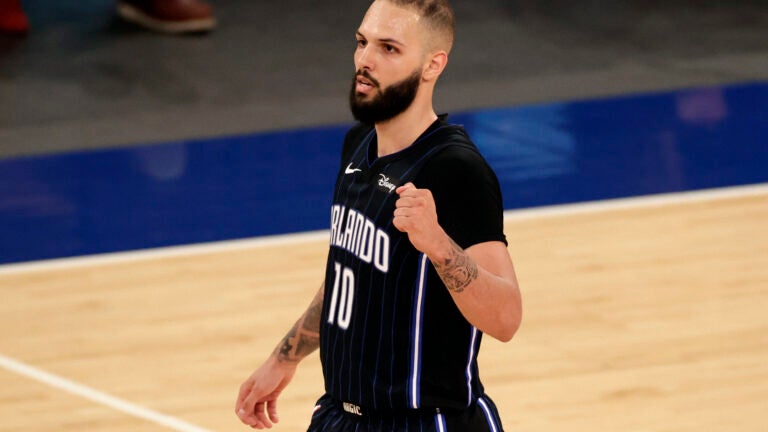 Evan Fournier, the newest member of the Celtics, was nearly forced to miss extended time after testing positive for COVID-19 when he joined the team.
After flying to Boston, Fournier took a COVID test prior to the Celtics' game against the Oklahoma City Thunder, which came back positive. According to Fournier, multiple subsequent tests all came back negative, and the doctor told him his COVID levels were very low on the positive test.
"I'm glad it's over because that was not the best timing for that to happen, me just getting started," Fournier said. "I'm glad it's over."
Fournier, who spoke to the media on Monday for the first time since he was traded, said his transition has otherwise been smooth. He said he spoke to former Celtic big man Vincent Poirier — another French NBA player — about Boston and the best places to eat ("He only had great things to say"). He also addressed the odd experience of being traded from his long-time team, the Orlando Magic. Fournier spent seven seasons in Orlando after the Denver Nuggets dealt him to the Magic for Arron Afflalo in 2014.
"It's a bit of a shock, because you never know if it's going to happen or not," Fournier said. "Obviously there are rumors, but when you spend seven years in one place it's a little bit shocking at first. But once it settles in you can reflect on your situation and it's a great opportunity for me."
Fournier will be a free agent after the season. After using the better portion of their enormous traded player exception to acquire him, the Celtics have plenty of incentive to re-sign him, and Danny Ainge has expressed optimism the two sides will be able to find a deal.
Fournier, however, isn't ready to talk about the offseason yet, although he said he was open to the idea of re-signing.
"Obviously yes but that's not my focus at all, to be honest," Fournier said. "My focus right now is just to learn the plays, learn how to play with my teammate, and win games. Obviously, if I can have success here and help the team win and have an impact on winning, that's too forward. I like to stay in the present, stay in the moment. Just help the team win tonight."
Brad Stevens said the Celtics are excited to have a player who fills a major need.
"We had an obvious need for another wing that can do what he does, and we're fortunate he's with us, and he's on our team," Stevens said. "So I got a chance to go over to the gym yesterday while he was shooting around when we got back and then this morning we went through some stuff prior to our shoot around, we shot around as a team for 30 minutes, so he's gotten the crash course in a very short amount of time.
"He's a veteran. He's been there, done that. He's played against us, you know, tons of times, probably knows our plays as well as anybody, and certainly we just want him to play to his strengths and not worry about anything else."
Fournier is available on Monday as the Celtics take on the New Orleans Pelicans.